Jan Vesely, 6-11, Small Forward, Partizan Belgrade, 1990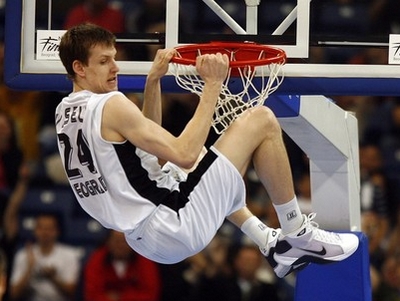 Continuing where we left off in our previous report, with quite a bit more information now at our disposal, we can comfortably say that
Jan Vesely
looks like a different player than when we last evaluated him in November.
Not looking nearly as tentative as he did early on in the season, Vesely is playing with huge emotion and appears to have an incredible amount of confidence right now.
A knee injury to Partizan Belgrade's offensive focal point
Aleks Maric
in early January opened up a great deal of room for Vesely to step up and show he can shoulder a bigger role, and the teenage Czech small forward took advantage of this situation about as well as he possibly could.
Getting the chance to evaluate him in person on four different occasions truly allows you to appreciate the terrific physical tools Vesely brings to the table. A legit 6-11, with a nice wingspan, a great frame and outstanding athleticism, Vesely won't have much of an issue making the transition to the NBA from a physical standpoint. He still looks far from being a finished product either, as his lower body still needs quite a bit of work, while his upper body is just now starting to fill out.
Offensively, Vesely can still be described as a fairly raw player, but he's made huge strides from when we first saw him play at the Reebok EuroCamp in Treviso back in June of 2008. His role has increased significantly as this season has moved on, and he's recently looking much more comfortable putting the ball on the floor and attempting to create his own shot.
Still obviously not a great ball-handler or shot-creator, Vesely is showing more and more potential in this area, mixing in the occasional crossover or hesitation move, and being able to get to the basket very well thanks to his long strides and terrific first step. While he appears to be gaining confidence in his ability to put the ball on the floor, he still looks more comfortable in a complimentary role. Considering the different ways he can impact the game, that's not a bad thing at all when projecting him to the NBA.
Vesely is the type of player who is constantly out in transition thanks to the speed and determination in which he runs the floor, and will attempt to finish everything around the rim with a powerful dunk, often looking like he's trying to tear the basket down in the process. The terrific 62% he shoots from inside the arc clearly isn't a fluke. He doesn't have much of a post-game at this stage, but is getting more opportunities to utilize his size in the paint with quick moves, something that he can clearly continue to develop as his frame fills out.
As a shooter is where Vesely needs to continue to improve, as he's just 11/38 (29%) from beyond the arc on the season in 33 games, not being neither prolific nor consistent at this stage. His release is a bit on the slow side, as he gets quite a bit of legs underneath him, but considering his 6-11 size, getting his shot off isn't going to be much of an issue, its more about improving his range and consistency. The 62% he shoots from the free throw line probably needs work as well.
Looking a bit mechanical at times, and clearly not the most naturally skilled or talented offensive player you'll find—as opposed to a
Donatas Motiejunas
for example-- Vesely must continue to put the work in to improve his overall polish, something that he's obviously more than willing to do based on the strides he's made over the last two years. His basketball IQ is clearly not off the charts—he's prone to making some questionable decisions from time to time, but we must remember that he doesn't come from a traditional background as most European prospects and is very much in the early stages of his development still.
Defensively, Vesely is the key to the style of play that head coach Dule Vujosevic likes to employ, as we
discussed earlier this week.
He often spearheads Partizan's full-court press and sees minutes at the top of the key in the their triangle formation in the half-court as well, constantly harassing the ball-handler with his terrific size, length and athleticism, putting in a great effort, and coming up with plenty of blocks and steals in the process.
This also gets him in quite a bit of foul trouble, though, as he averages 4.3 fouls a game in the Euroleague, ranking him tops in the entire competition. His lateral quickness can get exposed at times defending players a half a foot or more shorter than him at the small forward position, but it's not rare at all to see him recover spectacularly and still make a big play from behind. His off-ball defense looks a lot better these days, as its not rare at all to see him step in for a charge, and he doesn't get lost as much as he once did.
Vesely's rebounding numbers continue to look bafflingly poor, something that has been a trend throughout his career in every competition he's played in. Playing at the top of the key defensively and often the first one leaking out after a shot goes obviously hurts his production here, but so does the average awareness he shows tracking down loose balls and his poor lower body strength, which allows him to get boxed out with relative ease.
Although clearly projecting as more of a terrific all-around role-player than a star at the NBA level, Vesely's performances at the highest level of European competition has to be opening up some eyes as of late. There are still some question marks about whether or not he'll be able to come over to the NBA right away, due to the fact that he has a prohibitive buyout clause in his contract for this summer, which fluctuates depending on where he gets picked. The statements Vesely himself made to us ("the NBA is my goal," "my dream," etc) when we talked to him are fairly encouraging, though, and it appears that his camp will clearly try to get him to the States as soon as next season.
With the success that European small forwards such as
Nicolas Batum
and
Omri Casspi
are enjoying in the NBA these days, it's pretty obvious that players in Vesely's mold can be very valuable in the right system. Furthermore, he comes with the added versatility of being able to spend minutes at the power forward (or even center) position thanks to his terrific size, which is where a coach like Mike D'Antoni would probably use him. Still nowhere near a finished product, we can't rule out seeing him continue to improve substantially over the next few years.
Miroslav Raduljica, 7-0, Center, FMP Zeleznik, 1988
Considered by some NBA scouts to be the most underrated prospect in Europe, this season has clearly been a coming out party for Serbian center
Miroslav Raduljica
, now draft-eligible as a 1988 born international. We got to watch him play on four separate occasions over the course of our trip, and each time came away impressed by a different facet of his game.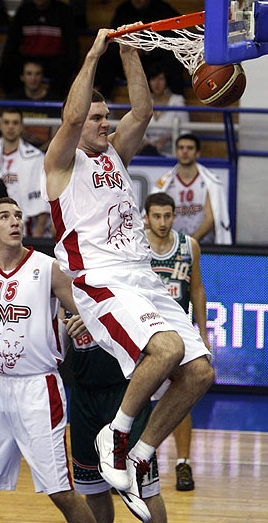 Slowly, but surely improving year after year, this has been the season that FMP Zeleznik has opted to put him front and center as the focal point of their offense. It's also not-coincidentally the last year they can hope to make money off the investment they made in him, as his contract is up at the end of the season. That's their business model after all.
The intrigue around Raduljica has to start with the physical attributes he brings to the table. Showing excellent size for the center position, to go along with a strong frame, a solid wingspan, great hands, and decent athleticism, Raduljica passes the initial test for an NBA center. He runs the floor well, is a fairly mobile player, and is capable of getting up off his feet and finishing plays with a strong dunk, particularly when he has a moment to gather himself, even if he's not what you would call an incredibly explosive athlete.
Very much capable of operating in the low post, Raduljica has an array of moves he can use to get an efficient shot off, helping him shoot an excellent 57% from the field. His footwork is solid, showing nice spin-moves, pivots, jump-hooks, drop-steps, turn-around jumpers and the ability to utilize shot-fakes, Raduljica is a fundamentally sound player who can score with either hand and has very nice touch around the basket. He is a very good passer finding the open man when doubled, at times making some pretty spectacular passes, and generally seems to have a nice feel for operating on the block.
Facing the basket, Raduljica did not appear to be incredibly consistent with his jump-shot from the tape we evaluated, but looked to be quite a bit more effective in the live games we were at, knocking down a number of jumpers from both inside and outside the arc, and looking very comfortable hitting shots consistently when we observed him in warm-ups. The fact that he sports solid mechanics, has very good touch and shoots 77% from the free throw line indicates that he should have no problem developing into a solid catch and shoot mid-range threat in the NBA.
Raduljica is a lot more skilled than the typical 6-11 center you'll find at the college ranks, as not only can he score facing or with his back to the basket, and is a very creative passer, but he's also an above average ball-handler. We saw him put the ball on the floor and create his own shot on a couple of occasions, getting to the rim off a couple of dribbles and still having the body control to finish effectively. These are not easy moves to make for a player his size to make.
Defensively is where Raduljica might have the most question marks regarding his NBA potential. He gives up position too easily at times in the low post, and doesn't always fight as hard as you might hope to keep his man off the block, possibly to avoid foul trouble. He doesn't rotate all that well from the weak-side to protect the paint either, not being much of a shot-blocker at all due to his lack of explosiveness, and shows just average awareness, intensity and hustle on this end of the floor.
Seeing heavy minutes alongside similarly sized center
Peja Samardziski
, Raduljica's lateral quickness doesn't appear to be anything special out on the perimeter, often looking heavy footed and at times a bit disinterested, which probably will become more of an issue in today's pick and roll heavy NBA.
Just an average rebounder, Raduljica is capable of going out and grabbing the boards that are in his immediate area, but he's not intense or explosive enough to go out of his area for the most part. This is something that he must improve on if he wants to become a legit rotation player in the NBA, as he won't be anywhere as much of an offensive option as he currently is for FMP.
Off the court, Raduljica is reportedly a very intelligent person and is often described as a book worm by those that have been around him the most.
All in all, Raduljica displays many intriguing characteristics at his size that are increasingly difficult to find in college basketball, making him a fairly interesting draft prospect that should certainly get some looks from NBA teams drafting in the latter part of the first round. Concerns about his interest level in playing in the NBA and whether or not he'll even come over if locked into an unattractive salary slot will likely drop him a bit further that, but considering the premium NBA teams put on size and the amount of money that is thrown at middling backup centers, Raduljica has to be viewed as a pretty attractive option early in the second round.
Figuring out who is actually his agent (his father?), whether or not a controversial clause in his contract means that a buyout needs to be paid to FMP, if he's even interested in playing in the NBA, and if he in fact already signed with Turkish powerhouse Efes Pilsen for next season —all matters which we received an array of conflicting reports on while traveling through Serbia-- are the first things that need to be addressed. Obviously there is a lot of work to be done.
Tomorrow- 2nd Round Prospects: Nemanja Bjelica, Stefan Markovic