After a full 10 days in Serbia, seeing all of the NBA draft prospects here numerous times live as well on film, it's time to sit down and evaluate what we learned over the course of our trip, continuing with two players who should receive consideration for the second round, small forward
Nemanja Bjelica
and point guard
Stefan Markovic
.
Nemanja Bjelica, 6-10, Small Forward, Red Star Belgrade, 1988
One of the most unique players in this year's draft class in terms of the rare combination of skills he possesses as a 6-10 guard, few prospects evoke such a wide array of opinions as Red Star Belgrade's
Nemanja Bjelica
.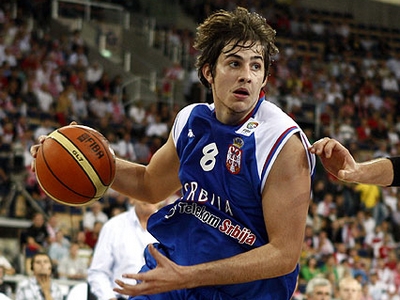 Possessing outstanding height at 6-10, to go along with an average frame, wingspan and overall athleticism, Bjelica is essentially a point guard trapped in a power forward's body. He possesses an average first step by NBA standards and isn't particularly explosive, but is an extremely fluid and coordinated player with a very unique skill-set.
Bjelica's biggest strengths revolve around his terrific ball-handling ability and passing skills. He can grab a rebound and take the ball coast to coast without the slightest bit of hesitation, and is extremely dangerous creating shot-opportunities for himself and others out of pick and roll situations. He does an excellent job of finding the open man in transition, and makes some extremely creative drive and dish passes thanks to his terrific court vision. Watching him play, it doesn't take long to come to the conclusion that his feel for the game is obviously very good.
While his first step is nothing to write home about, Bjelica's unique timing, ability to go left or right and extremely long strides makes him an intriguing mismatch threat at the European level. On top of that, he's the type of player who has great confidence in his abilities and wants to take responsibilities for his team, being very aggressive looking to make things happen, particularly in clutch moments.
The fact that he can create off the dribble and get his shot off at his size puts a lot of pressure on the defense, particularly when operating at the power forward position like he does quite a bit at Red Star. At this juncture that doesn't always result in high percentage shot opportunities for himself or his teammates, though.
Bjelica is far from being an efficient player at this point in time, as he's not a prolific scorer, is extremely turnover prone, and is a very inconsistent 3-point shooter on top of that, as evidenced by the 17-61 (28%) he's shooting from beyond the arc in 25 games this season. His shooting mechanics don't look particularly flawed, although his shot-selection at times does, having a tendency to settle excessively for tough, contested pull-up jumpers, especially once he's stopped on his initial slashing move.
As talented and creative a ball-handler as Bjelica is, his decision making skills still need a significant amount of work, as we can tell by his incredibly high turnover rate, coughing the ball up on 26% of his possessions in the Adriatic League. He tends to overestimate his shot-creating ability quite a bit, dribbling the ball into traffic with his head down, trying to get too fancy with his passes, and making careless turnovers in the process.
He has a lot of trouble finishing around the basket in traffic as well due to his lack of strength and explosiveness, something that will likely become much more pronounced against the far more athletic big men he'll face in the NBA.
Bjelica the type of player who needs the ball in his hands quite a bit in order to be effective, most likely to play pick and roll from the top of the key in a
Hedo Turkoglu
-type role, but there are significant question marks about whether an NBA team would actually grant him such a significant role considering his limitations in other areas. He would need to become a much better spot-up shooter spending far more time playing off the ball than he currently is, something that he's could very well be capable of doing down the road.
Bjelica's defense is also a big question mark for the NBA ranks, as there are plenty of concerns regarding his poor lateral quickness and how he'd fare as a man to man defender on the perimeter. He gets beat off the dribble quite a bit already at the NBA level, so it's not a stretch to say that he would be somewhat of a defensive liability once teams catch on and decide to isolate him against athletic slashing types.
Bjelica does have nice timing and anticipation skills, though, something that shows up in particular on the glass, where he is an above average rebounder. He gets his hands on a lot of loose balls and does a nice job getting in the passing lanes as well. His size and length, combined with his smarts gives him a chance to develop into at least a decent defender in time. He'll have to put a lot of work into this part of his game, starting with adding strength to his lanky frame, in order to get there down the road.
Only a 21-year old playing his second real season of professional basketball (he played for his agent's team in Austria in 2007-2008), but already a contributing member of the Serbian National Team squad which reached the finals of the European Championships in Poland this past summer, Bjelica still obviously has a lot more room to grow as a player.
Players with his combination of size, skills and basketball IQ are quite rare, which is why many respected NBA scouts are very high on him, even if he has some glaring flaws to his game that must be addressed. Reportedly not being in a huge rush to make the jump to the NBA at this point, Bjelica is the type of player a team can draft and stash in Europe to see how he develops over the next few seasons, which makes him a solid candidate to hear his name called somewhere in the second round.
Stefan Markovic, 6-5, Point Guard, Hemofarm Vrsac, 1988
Not a prospect who was very high up on our scouting list going into this trip,
Stefan Markovic
nevertheless made a fairly strong impression with his performance in the Serbian Cup.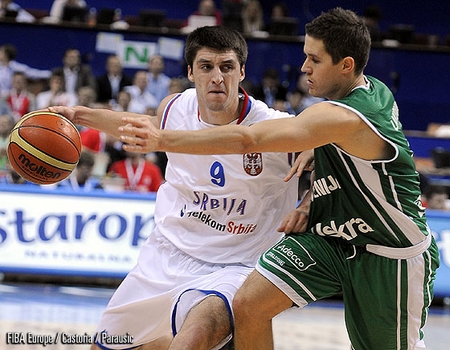 A point guard with excellent size at 6-5, Markovic has average length and strength for an NBA guard prospect, but is probably a better athlete than we've given him credit for in the past.
Showing quick feet, strong ball-handling skills and an excellent knack for getting to different places on the floor, Markovic is a very dynamic shot-creating threat at this level, showing the type of shake and flair that you don't usually see out of European point guard.
He's a crafty guy who rarely hesitates in anything he does, being very effective running the pick and roll and showing terrific court vision and an excellent basketball IQ. He is an advanced passer who whips the ball all over the floor with some extremely creative passes, looking very flashy at times in transition in particular, but also having no problem running his team's half-court offense and especially getting the ball into the post.
His biggest Achilles heel throughout his career has always been his perimeter shot, and while he's shooting the ball at a very good rate this season (40% from 3-point range in the Adriatic League, on under 3 attempts per game), he had a very hard time sticking open jumpers in the Serbian Cup semifinal game we saw against Partizan Belgrade. He's also had his fair share of difficulties in European competition and with the Serbian national team (going 0/16 at the Eurobasket this summer in Poland), indicating that his struggles as a shooter may not yet be behind him.
From a technical perspective, there isn't a great deal wrong with his shot, besides the fact that his release might not be the quickest and he doesn't get much elevation on his jumper, so there might still be hope for him to improve this part of his game down the road. His mid-range pull-up jumper does need work, though, as his percentages tend to fall off dramatically when he isn't able to simply catch and shoot. Becoming a consistent shooter is a big key for him considering that he'd likely have to spend more time playing off the ball in the NBA than he currently does as the all-controlling floor general for Hemofarm.
Markovic puts a good effort in defensively and certainly has his moments putting strong pressure on the ball and doing a decent job staying in front of his man, but there are some question marks about his ability to defend his position at the NBA level, which is a significant concern. His average wingspan, frame and lateral quickness will not do him any favors in this area, and could be the main thing NBA teams will want to study in a private workout setting before making any definitive conclusions about his NBA potential.
One thing working in Markovic's favor is the wealth of experience he brings to the table as a seasoned veteran, something that simply can't be compared with the resume of your typical college senior. Markovic has been seeing significant playing time at the senior level with Hemofarm (a good team in both the Adriatic League and often on the European stage) for years, and was a major contributor on the Serbian National team that made a deep run in last summer's Eurobasket competition in Poland. His intangibles look quite strong, as he's a vocal guy with solid leadership skills and a high level intensity level—all big pluses considering the position he plays.
There have been guards with some similarities to Markovic who have made it in the NBA, such as
Goran Dragic
or
Beno Udrih
, but there are quite a few who haven't as well. Considering how weak of a class this appears to be in terms of point guards, Markovic may have a chance to hear his name called in late June, but he has just as much of a chance to go undrafted as well.