We continue our look at the top NBA draft prospects in the ACC with players ranked 6-10.
C.J. Leslie
,
Bernard James
,
Reggie Bullock
,
Dexter Strickland
and
Ian Miller
highlight this batch.
Freshmen have been excluded from these previews, as we'd like to wait and see what they have to offer on the NCAA level before we come to any long-term conclusions.
-
Top NBA Draft Prospects in the ACC, Part One (#1-5)
-Top NBA Draft Prospects in the Big Ten, #1-5
-
Top NBA Draft Prospects in the Big Ten, #6-10
-
Top NBA Draft Prospects in the Big Ten, #11-15
-
Top NBA Draft Prospects in the Big Ten, #16-20
#6 C.J. Leslie, 6-8, Sophomore, SF/PF, North Carolina State
Having profiled Leslie fairly late in the season with a comprehensive scouting report, we've elected to wait and see what type of progress he's made with a fresh perspective in a few months, rather than rehashing many of the same comments made last year based off his 2010-2011 game footage.
#7 Bernard James, 6-10, Senior, Center, Florida State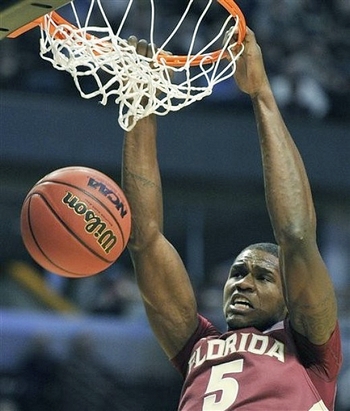 Derek Bodner
Florida State's
Bernard James
took a fairly unique route to establishing himself as one of the best big men in the ACC last season. James dropped out of high school at 16, instead earning his GED and pursuing a career with the Air Force. James served 6 years in the Air Force, in volatile destinations such as Iraq, Qatar, and Kuwait.
This leads to a very composed and physically mature player, but also one that will be 27 years old by the time the 2012 draft rolls around.
James physical profile is where the intrigue begins, as he stands a legitimate 6'10", with good length and a developed upper body. He used that length to be a contributor on the top defensive team in the country, and it's where his biggest contributions would come at the next level.
James combines his wingspan with quick leaping ability and excellent timing to create one of the better shot blocking threats in college basketball last season, as his 4.4 blocks per 40 minutes pace adjusted
ranked fourth
in our database last year.
James also uses his length well as a post defender, having had considerable success against a number of NBA caliber big men last year. He does a solid job of denying position, although he could still stand to improve his lower body strength even further. Overall, he does a good job of not biting on pump fakes or leaving his feet early, and keeps himself out of foul trouble well for a shot blocker of his caliber.
Defending the pick and roll could be a little bit of a question mark, as James' lateral mobility is only average. He uses his length well denying the ball handler on picks, but struggles at times to recover and get back to his man, as he's not the quickest at changing direction.
Despite James' advanced age, he is relatively young in terms of basketball development. James was only 6'5" when he entered the Air Force and had never played organized basketball before that. On the offensive side is where this shows the most.
The lefty has a decent hook shot over his right shoulder, but other than that virtually all of his offense comes from cuts, offensive rebounds, and in transition. His post moves are methodical and predictable, and he struggles to finish through contact. He lacks any sort of advanced counter move, his footwork is a work in progress, and he struggles to finish with his right hand.
James sets solid picks and can cover ground quickly on pick and hard rolls to the basket, but his hands and touch are only average, and it's hard to envision him making a living at the next level in this role.
His offensive game outside of the paint is non-existent, as he attempted virtually no jump shots last year, and was not utilized in pick and pop or isolation situations at all, probably for good reason. While it's a good trait that he plays within himself offensively (he topped
our entire database in FG%
last season), his glaring weaknesses will make him an easy cover defensively.
Showing year to year progression is crucial for any draft prospect, but perhaps none more-so than
Bernard James
. The skill sets he does have are ones typically valued highly, and he does a good job of playing within himself. Despite his advanced age, it's easy to forget how early he is in his basketball development process. That being said, with a player who may very well be in his physical prime by the time he enters the draft, it's crucial James shows substantial progression in shoring up his many deficiencies.
#8 Reggie Bullock, 6-7, Sophomore, Small Forward, North Carolina
Not seeing major minutes as a freshman, and having missed a portion of the season due to injury, we've elected to wait and see what type of progress Bullock's made with a fresh perspective in a few months, rather than rehashing many of the same comments made last year based off his 2010-2011 game footage.
#9 Dexter Strickland, 6'3, Junior, Shooting Guard, North Carolina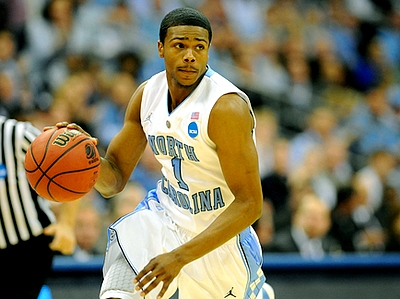 Matt Williams
After seeing solid playing time as a freshman,
Dexter Strickland
stepped into a starting role for a dramatically improved Tar Heels squad last season as a sophomore. Now a junior, The St. Patrick product faces a unique challenge in taking the next step as a prospect, as he finds himself on arguably the deepest, most talented roster in the nation.
Finishing fourth on the team in scoring and third in assists, Strickland did show some improvement as a sophomore and was a catalyst for a number of key North Carolina runs throughout the season. As we've noted in the past, the guard's speed and first step are NBA-level tools that make him a game-breaker on a deep Tar Heel roster. Though he wasn't a featured option and won't be one this season, he put things together on a number of occasions, showing marginally improved decision-making and settling for fewer jump shots.
Despite the flashes he showed and the incremental improvements he made, Strickland has not yet taken the large step forward in terms of skill development that he needed to in order to solidify himself as a draft prospect. He remains a non-factor away from the basket in half-court sets, knocking down just 26.1% of his jump shots according to Synergy Sports Technology. Considering that he showed little in the way of true point guard ability, Strickland's lack of efficiency scoring from the outside, sometimes erratic drives to the basket, and lack of size for the shooting guard position at the NBA level are legitimate concerns at this point.
With those things being said, Strickland did show some nice things on the defensive end last season. Often guarding the opposition's most talented scoring guard, Strickland's speed makes him a pest in the passing lanes and allows him to deny penetration fairly effectively one-on-one. Though he struggles to some degree to fight through screens and certainly would be well served to add some muscle to his frame to help him on the next level, he had some terrific defensive possessions when he was dialed in.
Leslie McDonald
, Strickland's main competition for minutes at the two, went down with a knee injury this summer, meaning Strickland should see substantial playing time once again this season. Despite the talented group around him, and the return of
Reggie Bullock
, if Strickland can show progress as a jump shooter, even if it is in a small role, he'll boost his perception considerably among scouts. Many prospects we look at lack a definable NBA skill, so Strickland's phenomenal quickness adds an intriguing dimension potential. This will be a key year for Strickland, as he needs to start developing the skills that he may have a golden opportunity to showcase on a possibly less crowded Tar Heel roster as a senior.
#10 Ian Miller, 6-3, Sophomore, PG/SG, Florida State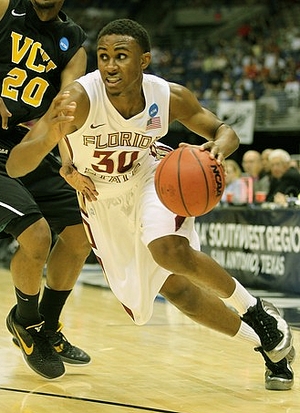 Jonathan Givony
A highly regarded high school recruit according to some services—Dave Telep had him ranked as the #21 prospect in the country for example—
Ian Miller
struggled to make much of an impact in his freshman season due to academic issues which continue to rear their head.
From a physical standpoint, it's not difficult to see what scouts might like about Miller, as he's got great size for a guard at 6-3, to go along with a strong frame, long arms and very good athleticism.
Billed as a point guard coming out of high school, Miller played mostly off the ball as a freshman, and showed mostly a scoring mentality when given freedom to operate.
Blessed with a picture perfect shooting stroke, Miller appears to have considerable potential as both a catch and shoot and off the dribble threat, elevating well on his jumper and showing a quick release and an excellent follow through. He made 36% of his 3-pointers as a freshman and 93% from the free throw line, despite fighting through bouts of inconsistency stemming from his erratic playing time and off-court issues.
Defensively, Miller has very good tools with his excellent size, length and quickness, and appears to have the versatility to guard both backcourt positions, which is a major plus. He puts a very good effort in, doing a nice job moving his feet and contesting shots, which is a prerequisite for getting minutes on the team he plays for, one of the best defensive squads in college basketball.
As a playmaker and shot-creator, Miller isn't quite as effective at this stage. Capable of scoring in transition thanks to his strong physical tools, Miller doesn't show great polish in the half-court, only converting a paltry 43% of his two-point attempts last season. He's just an average ball-handler and isn't able to get to the rim as much as you'd expect considering his athleticism. He doesn't show much of a left hand, only plays at one speed, and doesn't do a great job finishing through contact at this stage.
Miller's court vision and decision making skills are still underdeveloped, and his shot selection often leaves something to be desired. He tends to dribble with his head down, and will force the issue trying to thread the needle with a spectacular pass, instead of just making the simple play.
He sported a negative assist to turnover ratio last season, but did make some very nice passes on occasion that hinted at good things that might come in the future. Unfortunately, his lack of experience definitely held him back at times, and he really could have used a full year running the point this season, which unfortunately does not look likely at this stage.
According to the word on the street, Miller will not be eligible to play during the fall semester at Florida State, due to the fact that he did not pass the minimum amount of credits required from him last spring.
Florida State thus went out and recruited an experienced point guard in Jeff Peterson who is eligible to play out his last season of college basketball immediately since he graduated from Arkansas already.
If he's able to make the grade, Miller will likely be able to play starting in December, which puts him at a pretty big disadvantage as far as this season goes.
While Miller definitely shows strong long-term potential, the fact that NBA scouts haven't been able to see much from him thus far means that he's likely a ways away from being discussed as a serious prospect. A player to keep an eye on in the in-conference portion of Florida State's schedule, it will likely be at least another year until we're able to get a full gauge on his pro potential.