We continue our coverage on the top NBA prospects in the Big 12 with part three, players ranked 3-5:
Cory Jefferson
,
LeBryan Nash
,
Markel Brown
.
Incoming freshmen have been excluded from these previews, as we'd like to wait and see what they have to offer on the NCAA level before we come to any long-term conclusions.
-
Top 30 NBA Draft Prospects in the ACC
-
Top 15 NBA Draft Prospects in the Big Ten
-
Top NBA Prospects in the Big 12, Part One
(#1) Marcus Smart
(Scouting Video)
-
Top NBA Prospects in the Big 12, Part Two
(#2) Isaiah Austin
(Scouting Video)
#3 Cory Jefferson, 6'9, Senior, Power Forward, Baylor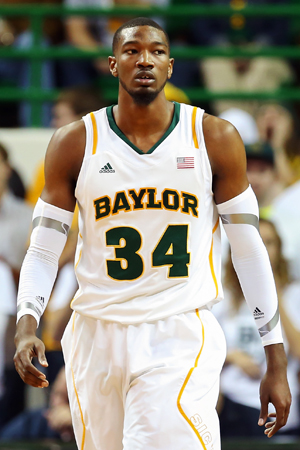 Kyle Nelson
We last covered power forward Cory Jefferson
nine months ago
, as the Baylor junior was in the midst of a breakout season. Why are we writing about him again so soon? His breakout season ended even better than expected. After a tough winter, Jefferson averaged 16.9 points and 7.3 rebounds over the course of his last 10 games of the season, a stretch that included #4 Kansas, #13 Kansas State, #14 Oklahoma State, and an NIT Championship run.
After graduating from Baylor and flirting with the NBA Draft
, he decided to return as a fifth year senior, ready to embrace a larger role as a player and as a leader.
At 6'9 and with a 7'0 wingspan, Jefferson has excellent size and length for the power forward position. Though he must continue to add muscle to his wiry 220-pound frame, he is much stronger than he looks and has put on
nearly 50-pounds since high school
. He is also an elite athlete, extremely explosive around the rim and quick in the open floor.
That Jefferson possesses an NBA-caliber physical profile is nothing new; his increased productivity and efficiency, on the other hand, have left scouts impressed. After seeing just 10.5 minutes per game and 4.8% of Baylor's offensive possessions as a sophomore, Jefferson earned 28.1 minutes per game and 14.5% of its possessions as a junior. He responded by posting 18.3 points per 40 minutes pace adjusted -- up from 13.3 as a sophomore -- while making 61.3% of his field goals. He ranks as the third most efficient scorer in our top-100.
On film, it's easy to see why he is so efficient, as he has emerged as one of the most powerful and prolific finishers in the NCAA while displaying a soft shooting touch, as well. Additionally, he has developed some rudimentary footwork in the post, which allows him to add elements of a back-to-the-basket game, particularly variations on spin moves and jump hooks, to his proficiency finishing off of cuts, dump offs, and put backs. While his post game is still raw at this point, his development has been impressive and scouts will be watching to see if he continues to improve.
In addition to further developing his post repertoire, he must also get stronger, an issue that manifests itself in his subpar 5.5 free throw attempts per 40 minutes pace adjusted. He is able to power through many post defenders at this level, but his occasional struggles will only multiply at the next. Furthermore, scouts will be watching to see how he adapts to Pierre Jackson's absence, as Jackson and Jefferson displayed good chemistry in the pick-and-roll.
Most impressive, however, is his emergence as a jump shooter. As a sophomore, he took just 12 jump shots and made three; as a junior, he took 43 and made 21. Displaying a soft shooting touch, fluid mechanics, and a very high release point, Jefferson not only looked far more comfortable as a shooter down the stretch, but also should be able to translate his jump shooting to the next level. His shot selection could improve, and it remains to be seen whether he can consistently knock down mid-range jump shots, but his junior season left quite a bit of room for optimism.
His defensive profile is mixed, however, stemming from his lack of lower body strength.
As we have mentioned before
, he likely will struggle to guard NBA power forwards in the post due to his lack of lower body strength. Furthermore, it remains to be seen whether he has the lateral quickness to defend the pick-and-roll at the next level. Also worth noting are his struggles as a rebounder, as he failed to improve as the season wore on, not looking particularly engaged and lacking the instincts to fully utilize his stellar physical profile. Still, he grabbed 21.4% of Baylor's rebounds – even while sharing the frontcourt with Isaiah Austin and Ricardo Gathers – and ranked as the
ninth best rebounder in our top-100.
Like we have written in the past, his length and athleticism will allow him to develop into a very good post defensive presence in time should he get stronger and develop his fundamentals. After all, his 2.7 blocks per 40 minutes pace adjusted are a testament to the kind of impact that he can have defensively, even if he is not always fully engaged.
Currently ranked 47th in our Top-100 and a projected second round pick in this year's draft, Jefferson has come a long way since his #78 ranking in a lackluster class of 2009. He is a year older than his class due to his red-shirt year and he will turn 24-years-old during his rookie season. That being said, he was one of the biggest surprises of the 2012-2013 season and even at 22-years-old seems as though he has plenty of room to grow, on the floor and in the weight room. Matching his offensive intensity on the defensive end of the floor and as a rebounder will go a long way to help scouts overlook some of his more glaring weaknesses. For these reasons, expect his stock to rise significantly with continued improvement, and it is safe to say that, between Jefferson and his frontcourt-mate Isaiah Austin, scouts will have plenty of reasons to journey down to Waco, Texas this season.
#4 LeBryan Nash, 6'7, Sophomore, Small Forward, Oklahoma State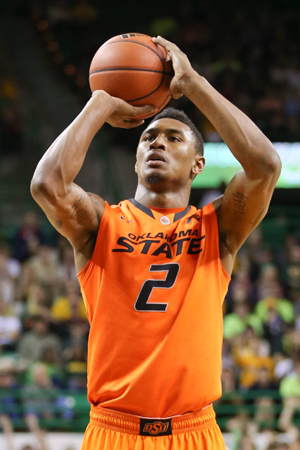 Matt Williams
Returning to school after struggling to live up to the somewhat unrealistic expectations set for him as a freshman, LeBryan Nash took a few small steps forward in a complementary role as a sophomore. With Marcus Smart stepping in to set the tone for the team both on and off the floor, Nash was able to take a backseat to the talented freshman, perhaps benefitting from being out of the limelight as he put together a number of strong outings of the course of the year.
Playing a more interior oriented role last season, Nash improved his true shooting percentage to 54%, a significant improvement over the dismal 48% mark he posted as a freshman even if it still leaves something to be desired. His scoring average increased slightly even though he attempted fewer shots, and though he was a less productive rebounder, he boosted his PER to 15.6 from 14.4, just above the NCAA average (15).
The 9th ranked recruit the in
2011 RSCI
, Nash combines an extremely mature 6'7 frame with outstanding strength and explosiveness. He has, for years now, looked the part of a stud small forward prospect, but has yet to make the most of those gifts as he continues relative to the massive expectations associated with his lofty prep rankings and athletic ability. While the marginal gains Nash made on paper as a sophomore campaign don't quality it as a breakout season, they were a small adjustment towards the type of player scouts hope he will become.
On the offensive end, Nash saw a small shift in his role as a sophomore. He used no more than 20% of his possessions in any given situation, seeing the majority of his touches in the post according to Synergy Sports Technology. He also saw significant portions of his offense running the wing on the break, creating for himself one-on-one, and spotting up on the perimeter, doing a variety of things in Head Coach Travis Ford's offense.
Nash scored the majority of his points in the half court by virtue of his physical attributes. Able to exploit mismatches in the post and use his explosiveness to attack the rim from the perimeter, Nash is not a creative threat with the ball in his hands as he lacks great ball-handling ability, but he managed to find opportunities for himself at the basket by being physical, using spin moves to muscle his man inside, and has no trouble elevating over defenders when he looks to shoot or drawing contact and getting to the rim. He converted at 55% rate at the basket last season.
Away from the rim, Nash showed improved consistency as a shooter, making 38% of his jump shots, a big jump from the 32% he made on the perimeter as a freshman. He is still a bit too eager to fire away when he's open in transition, has less than orthodox mechanics, and needs to continue his development as a spot-up threat, but he is trending in the right direction.
Despite the progress Nash made as a shooter, his main weaknesses on the offensive end revolve around the same issues they have since he arrived in Stillwater. He often decides what he's going to do with the ball before he catches it, putting undue pressure on himself to make a play when there's nothing there. His shot-selection, tendency to disappear, and lack of assertiveness against lesser talent remain concerns, although Nash certainly did a better job staying focused for stretches last season than he did as a freshman.
Defensively, Nash showed mild improvement, but still has room to improve his fundamentals and intensity. His physical tools give him the ability to effectively defend one-on-one on the perimeter and on the block at this level, but he struggles to close out shooters under control, is often a step late when forced to rotate, and leaves his feet too readily on the perimeter. He has the athleticism to make an impact on this end of the floor, but has a hard time making the most of his tremendous tools.
That is especially clear in his rebounding numbers, as Nash ranks
2nd to last
in rebounds per-40 minutes pace adjusted among small forward in our top-100.
With the majority of Oklahoma State's core returning, Nash is likely to fill a role this season similar to the one he played last year. If he continues makes strides with his shooting, maximizes his potential value defensively, and stays out of his own way by not letting his emotions get the best of him as he has in the part, he could certainly boost his stock significantly by the time March rolls around.
#5 Markel Brown, 6'3, Senior, Shooting Guard, Oklahoma State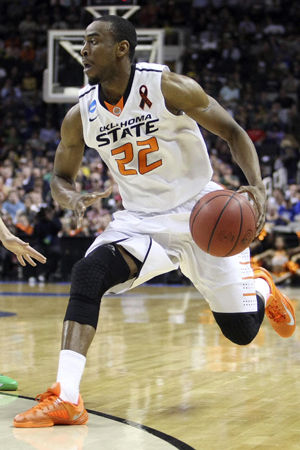 Josh Riddell
Markel Brown returns to Oklahoma State for his senior season, hoping to help lead the Cowboys back to the NCAA tournament after their disappointing first round last to Oregon last season. Flanked by Marcus Smart, the Cowboys will have one of the backcourts in the nation this season. Brown has seen an increase in nearly all statistical categories each year, culminating in a 15.3 points per game average on 47% from 2's and 36% from 3's as a junior. He'll look to boost his production yet again to help the Cowboys to another level.
Brown has strong physical attributes, measured at 6'3", 190 pounds with an impressive 6'7 ½" wingspan. He has great athleticism which shows in his ability to play above the rim, as he finishes many of his opportunities around the rim with dunks.
Offensively, Brown relies on transition opportunities for most of his points, often taking the ball coast to coast to finish at the rim. He's not the fastest player but he uses his body well to ward off defenders on his way to the rim, doing a good job of staying under control when moving at a high speed. He absorbs contact and is strong enough to finish through contact or draw a foul, as he averaged over 5 free throws a game.
He struggles to create his own offense in the halfcourt, both in isolation situations and in the pick and roll. He doesn't possess the elite first step to beat his defender in isolation scenarios, which causes him to drive into several defenders, where he forces a difficult shot or settles for a jump shot instead of passing out of this situation. In the pick and roll, he often drives away from the screen instead of using the screen to help him get that elusive step on his defender. Again, he can't navigate through the defense on his own off the dribble, so he is forced into a tough shot.
Brown is also a mediocre jump shooter, averaging 37% on catch and shoot situations. He has nice lift on his jump shot, but his off hand is usually misplaced which causes his shot to not be accurate. He seems to be a little more comfortable off the dribble, averaging 36% on jump shots off the dribble categorized by Synergy Sports. If he can't get all the way to the rim in the halfcourt, he will have to improve on his jump shot to force defenses to guard him.
Due to this inability to create for himself combined with his average jump shot, Brown finds the rest of his offense from off ball movement. He showed that he can execute strong, quick cuts to find the open space and beat his defender to get open for a rim attempt. Since he struggles to create his own offense, he will need to continue to move off the ball to find open spots to attack the rim. According to Synergy Sports, 67% of his half court baskets were assisted last season, which shows that most of his points come from the creation of others, not his own.
Defensively, Brown is adequate at this point due to his physical tools, as he relies on his length and agility to defend. However, he struggles and will continue to struggle against top offensive players, as he has the tendency to stand straight up, allowing opposing players to beat him off the dribble, especially off a crossover. He also falls for ball fakes more often than he should, which shows further lack of discipline.
Brown seems to battle focus issues on the defensive end, further evidenced by the fact that he gets caught in screens too often, compounding his defensive inadequacies. Against the pick and roll, his eyes are locked on his man, so he does not see the screener and runs right into the screen, freeing his opponent. Off the ball, he doesn't see the floor well and falls into the same trap of running into screens instead of avoiding them.
Moving forward, Brown has some intriguing physical tools but he is not a refined enough player to be taken seriously as a draft prospect at this point. He will turn 22 this season and will need to show some major improvement to attract the attention of scouts. He'll need to start with better focus and effort on the defensive end while continuing to move well off the ball to create passing opportunities leading to layups and dunks for himself. He will get plenty of opportunities to show his skills, as scouts will surely be flocking to evaluate Smart.