We conclude our coverage of the top NBA Draft prospects outside the power six conferences with scouting reports on prospects 8-12:
Dedric Lawson
,
Jordon Varnado
,
Chris Cokley
,
Tyler Hall
and
E.C. Matthews
.
---
More DX Conference Previews
-The Top NBA Draft Prospects in the Big East
-The Top NBA Draft Prospects in the Pac-12
-The Top NBA Draft Prospects in the Big 12
-The Top NBA Draft Prospects in the SEC
-The Top NBA Draft Prospects in the Big Ten
-The Top NBA Draft Prospects in the ACC
---
Top NBA Draft Prospects in the Rest of the NCAA
(#1) Shake Milton (Scouting Video)
(#2) Cameron Oliver (Scouting Video)
(#3) Alec Peters (Scouting Video)
Part Four
(#4) Zach Collins
(#5) William Lee
(#6) Malik Pope
(#7) Tacko Fall
---
#8, Dedric Lawson, 6'8, Power Forward, Memphis
Julian Applebome
After seven years under Josh Pastner, Memphis basketball will transition to a new era this season under the leadership of Tubby Smith, with Pastner departing for Georgia Tech. Last season Memphis failed to make the NCAA Tournament for the second straight year, but found a bright spot in American Athletic Conference Freshman of the Year Dedric Lawson.
Lawson, a Memphis native who finished off his high school career at Arlington Country Day in Florida, was a consensus top 50 recruit who participated in the McDonalds All American Game and Jordan Brand Classic. After an impressive individual season under Pastner in which he tied the program record for double doubles by a freshman, Lawson received an invitation to the NBA Combine, but ultimately received the feedback he needed from NBA personnel after a poor showing, and opted to return to Memphis for his sophomore year. The Tigers are in a transition period in their first year under Smith, but Lawson will have ample opportunity to prove that he is a better prospect than he was able to show during the pre-draft process.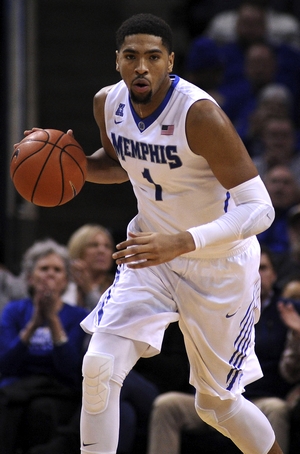 At 6'8, with a wingspan that stretches to 7'2.5" Lawson has the size and length to play either forward position at the pro level, but most likely projects as a stretch-4 given his athletic limitations. He has a solidly built frame, but lacks the real strength or power to use it effectively. After his performance at the NBA Combine this summer it has been a point of emphasis for him this off-season to add strength and lower his body fat, and he is reportedly coming into the season at 236 pounds, 11 pounds up from what he weighed in at the Combine. It will be essential for Lawson that any additional weight comes in the form of muscle. He is smooth and fluid, but lacks quickness in a serious way and is predominantly a below the rim player who lacks the explosiveness or burst to be effective athletically in a crowd. It will be interesting to see if improving his body helps maximize his physical tools to be more effective athletically than he currently is.
What makes Lawson an intriguing pro prospect is the diverse offensive skill set that he has for someone with his size and length. While he is by no means a polished ball handler, he is comfortable handling the ball in stretches, and is more than capable of taking his man off the bounce in isolation situations or pushing the ball in transition. He is not explosive with change of direction, but he plays at his own pace and has a slow, methodical, old school game where he is able to create his own offense off the dribble. He is also a gifted passer, particularly from his position and averaged 3.2 assists per 40, but also posted a high turnover rate of 3.9 per 40. The turnover numbers are definitely on the high side, but somewhat to be expected from a freshman forward with a high usage rate as a ball handler.
While Lawson has the tools to create his own offense, he was not efficient last season at turning those scoring opportunities into points. He averaged 19.6 points per 40, but only shot 42.2% inside the arc and only finished 46.6% of his shots around the basket. Part of those low numbers can be attributed to Lawson's lack of explosiveness, but he also had the tendency to force plenty of bad shots in traffic, particularly on runners and floaters, which he finished only 4 of 17 attempts (per Synergy). He has a fairly rudimentary back to the basket game, but with his ball handling and footwork is occasionally able to get to impressive mid-range jumpers out of his face up game, which he can hit, but hasn't yet proven he can convert consistently. Teams played a fair amount of zone against Memphis last season, and Lawson was effective flashing to the middle for quick jumpers or playmaking opportunities. He has soft hands, good touch around the basket, and excellent scoring instincts, but will need to improve the efficiency in which he turns close field goal attempts into points.
As a freshman, Lawson definitely showed some potential as a stretch four who can knock down shots from behind the arc. His release his on the slower side, but when he is given time and space, he is more than capable of converting perimeter scoring opportunities. He shot 35% on 3.0 attempts per 40 last season and had eight games where he knocked down at least two shots from deep. He has solid mechanics and proved to be consistent from the 17' range, but will need to stretch that consistency to beyond the 3-point line. It will be essential for Lawson to become a steady perimeter scoring threat so that he can stretch defenses and use his ball handling ability to attack hard close out situations.
Defensively, Lawson is a bit of a mixed bag, and while he has the length to be a factor, he struggles in one on one situations and needs to improve how he defends ball screens. He is regularly beaten off the dribble or caught out of a stance, issues that can be improved with more consistent effort. His lack of strength hampers him in the post, and his added bulk should be able to help his ability to defend bigger players around the basket. He was able to average 2.1 blocks per 40, an impressive number which is a product of his length and timing as a rim protector. Lawson's defense may be effected by the offensive load he is asked to carry, but NBA scouts will definitely be looking to see whether he improves on that end of the floor, as there's likely no path for him to play at that level without significant refinement.
Perhaps Lawson's most NBA ready skill is as a rebounder on both end. He has excellent instincts tracking down balls outside of his area and uses his length well to go up and get difficult rebounds. He had 19 games last season in which he totaled double digit rebounds, and was able to find a good deal of quick scoring opportunities on the offensive boards. His rebounding numbers are particularly impressive given his lack of elite strength or athleticism.
Having just turned 19 years old in October, and thus one of the youngest players in his class, Dedric Lawson has plenty of room for growth as he looks to build on what was a very strong statistical freshman season. Lawson has a unique skill set, and there are not too many guys his age and size who have the scoring instincts and guard skills that he does. He'll need to improve his athleticism and play with more efficiency on both ends of the floor, but it seems that Lawson has the tools and skill set to be in the conversation in a future NBA Draft.
#9, Jordon Varnado, 6'6", Sophomore, Small Forward, Troy
Derek Bodner
Despite being the younger brother of All-SEC player and ex-NBA prospect Jarvis Varnado, and leading his high school team to their first ever Tennessee state title, Jordon Varnado slipped between the cracks as a recruit, not garnering much national attention and eventually landing at Troy University in the Sun Belt conference.
Landing at Troy provides some familiarity for Varnado, as head coach Phil Cunningham coached Jordon's older brother while an assistant at Mississippi State. Jordon Varnado hit the ground running during his freshman season, averaging 12.7 points, 6.7 rebounds, and 1.2 blocked shots per game, while shooting 52% from 2-point range and 32.6% for three.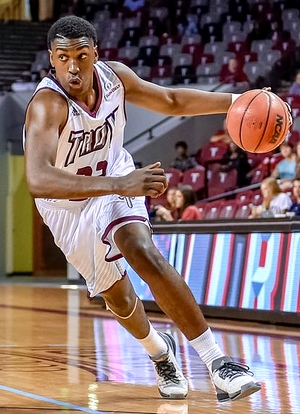 While Varnado largely played the power forward spot for the Trojans, the 6'6", 215-pound 19-year-old projects as a small forward long term. He has excellent size for the position, with long arms and a well-developed frame that should allow him to compete with NBA-level wings.
Offensively, Varnado is somewhat stuck between his past life as a big man and his future role as a perimeter player, with a mixture of post-up plays ran for him along with perimeter face-up situations, combined with a knack for creating opportunistic scoring opportunities off offensive rebounds, cuts to the basket, and rim-running in transition. That versatility creates an intriguing combination for Troy in the Sun Belt, even if it's not necessarily the role he might play at the pro level.
Still, while that transition to a perimeter player can cause growing pains for vertically challenged former big men, Varnado appears to be making the transition relatively smoothly. His jump shot, while still wildly inconsistent and finishing the season connecting on just 33% of his three-point attempts, shows potential, with good upper body mechanics and soft touch sometimes foiled by taking shots out of rhythm. His ball-handling ability is still relatively rudimentary, but is good enough to attack closeouts and handle the ball in transition, and he has the first step to grow that into more if he becomes more comfortable on the perimeter.
On top of that, Varnado does enough off the ball to fill a future role-playing capacity, with quickness in his cuts to get open and the upper body strength to absorb contact in the paint, even if he is more of a quick athlete than an overly explosive one. If Varnado can improve his catch-and-shoot jumper -- in which he made 35.7% of his shots despite most of them being contested, according to Synergy Sports Technology -- transitioning from high-usage, non-major big man to role playing wing is an evolution that could very well be in his future, a relatively rare transition to make successfully.
Defensively, Varnado flashes much of the same versatility that could allow him to successfully transition to a more perimeter oriented role in the future. He's currently strong enough and has long enough arms to hold his ground in the post against Sun Belt post scorers, but his height will become a factor in the NBA, thus likely necessitating a more perimeter focus. Varnado is equipped to handle that defensively as well, with relatively quick feet, long arms, and the ability to change directions that should allow him some versatility. On top of that, Varnado does a good job of getting into a stance on the perimeter, closes out under control when jumping out on shooters, and is attentive off the ball, all qualities which should help him at the next level.
Jordon Varnado played for a Troy team that lacked much in the way of talent, finishing the season with a record of just 9-22, including 4-16 in conference play. They are a team that is likely to struggle once again, being projected by Sun Belt coaches in the preseason to finish ninth out of the twelve teams. Varnado may not get many post-season opportunities to make a name for himself against high level competition if that's indeed the case, something that is typically necessary for non-power-conference prospects to hear their name drafted in the NBA.
Still, Varnado has the physical tools and the emerging, if still incomplete, offensive skill set to be worthy of attention from the pro level. If he can show progress as a catch-and-shoot player, while also perform well in whatever few high-profile matchups he might have over the coming years, there could be a potential find buried deep in the Sun Belt Conference.
#10, Chris Cokley, 6'8, Junior, Power Forward, UAB
Ryan Thomson
A unheralded high school recruit, not ranked per the RSCI, from Savannah, Georgia, Cokley committed to UAB in November 2013. In two seasons at UAB, Cokley has seen significant success as a key member of the Blazers, a team that upset Iowa State in the 2015 NCAA tournament. After not starting a single game as a freshman, but being named the 2015 C-USA Sixth Man of the Year, Cokley saw his minutes and responsibility on the offensive end increase as he started 22 of 33 games as a sophomore. Perhaps the best game of his sophomore season came against Auburn, where he posted 25 points, 12 rebounds and 2 blocks in just 22 minutes. Alongside another extremely talented power forward teammate William Lee, it will be interesting to see what Cokely's development looks like as a junior.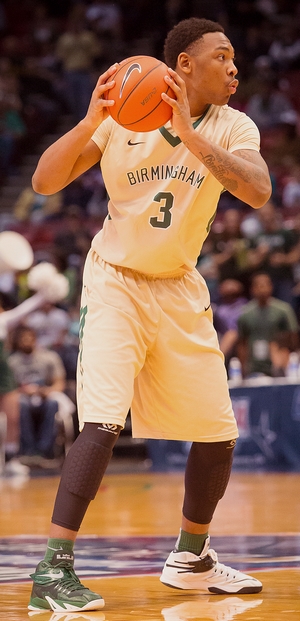 Listed at 6'8 and weighing 229 pounds, Cokley is a bit undersized to play exclusively at the power forward position. He is very light on his feet, moves fluidly and has a quick first step, but isn't a particularly explosive athlete, though he is capable of finishing above the rim. Cokley appears to have an average wingspan which, when combined with his average size, may be a concern moving forward.
The majority of Cokley's offensive contribution for UAB as a sophomore was through off ball movement, effort plays and occasional touches on the low block. Cokley shot a solid 58.5% on all finishes around the basket, per Synergy Sports Technology, and does a good job of getting off the ground quickly, negating the effects of his being undersized. Cokley shows an ability to finish with either hand around the rim, preferring to attack with his left, and has a great understanding of how to create space with his frame.
One of Cokley's biggest strengths is his ability as a straight line driver from the elbow. Cokley has the potential to be a threat in every dribble hand off as he can keep it and attack the rim with his quick first step, as well as be a threat on each catch at the pinch post area. Cokley needs to continue to improve his ability to change direction as well as incorporate a counter move, as he struggled when his initial attack was rebuffed. He is an unselfish player with a solid feel for the game on the offensive end and it will be interesting to see whether he has made progressions as a passer off the bounce, as he averaged a respectable 2.5 assists per-40 as a sophomore. In addition to his ability as a straight line driver and finisher, Cokley is a highly productive offensive rebounder who has an instinctual knack for getting to the glass, evidenced by his 4.3 offensive rebounds per-40 as a sophomore.
When UAB has given Cokley an opportunity to feature as a post up threat, he has responded well and produced fairly efficiently, shooting 48% on all post up possessions, per Synergy Sports Technology. Cokley does a good job of using his dribble to create contact and his natural feel for the game to dictate his move. He has shown an ability to make hooks on the run or stationary with either hand while also showcasing a developing fade away jump shot. Cokley likes to play with his back to the basket, but with his terrific quickness it will be interesting to see whether he has developed a face up game that can better showcase his ability as a low post threat.
Having attempted only one three-point attempt in two seasons, Cokley has been limited to finishes around the rim, and rightfully so. As a sophomore he attempted 24 total jump shots and made only 29.2% of those attempts with only five coming from past 17 feet, per Synergy Sports Technology. Cokley's shooting form isn't particularly clean, as he shoots the ball from well above his head, but simultaneously shoots a very flat ball with his follow through being straight rather than finishing high. To his credit, Cokley improved his free-throw percentage by nearly seven percentage points to 71.7% during his sophomore season while also seeing an increase in free-throw attempts. If Cokley is able to fix his mechanic's as a jump shooter it will only help open driving lines from the perimeter, and make his transition to higher level competition at the pro level much smoother.
Cokley needs to continue to improve his overall engagement on the defensive end. His physical tools may limit his ability as a rim protector, though his per-40 numbers are somewhat encouraging, averaging 1.5 steals and 1.2 blocks. The concern with Cokley has been his intensity level on the defensive end. At times it appears as though he is entirely disinterested and his effort level fluctuates considerably. It's clear that Cokley is a fairly mobile player on the offensive end, but does a poor job of playing low and moving his feet laterally.
Though UAB lists him at 229 pounds, Cokley needs to prove that he can put up a fight when guarding the post, where he allows deep post position with little resistance. On all shots around the basket that were defended by Cokley, he allowed opponents to shoot 52.9%, ranking him in the 16th percentile, per Synergy Sports Technology. This season it will be increasingly important for Cokley's long term trajectory if he can improve his ability to battle for defensive rebounds, where he averaged only 7.7 per-40 as a sophomore. When Cokley plays hard he shows an ability to attack the offensive glass and it should be no different on the defensive glass.
It will be interesting to see what sort of role Cokley creates for himself during his junior season at UAB as he possesses an intriguing skill set with his advanced scoring instincts and knack for attacking the offensive glass. He desperately needs to improve his effort level on the defensive end of the floor and improve his commitment to the defensive glass, though he is certainly a player worth keeping an eye on, especially if UAB turns in a successful season and is able to garner a spot in the NCAA tournament.
#11, Tyler Hall, 6'4, Sophomore, Shooting Guard, Montana State
Jeremy Bauman
Tyler Hall was a sparsely recruited shooting guard out of Rock Island High School in Illinois when he committed to the Montana State Bobcats over the likes of Northern Iowa and Western Michigan just before his senior season in the fall of 2014. Hall, a shooting guard with a quick release and deep range, played with a chip on his shoulder and showed serious moxy as an 18-year old freshman, forcing NBA scouts to take note of a season in which he scored 23.1 points per-40 minutes and knocked down 3.1 treys per game at a 43.1% clip as the unquestioned go-to guy of an inexperienced team in the Big Sky conference that finished 14-17 on the season.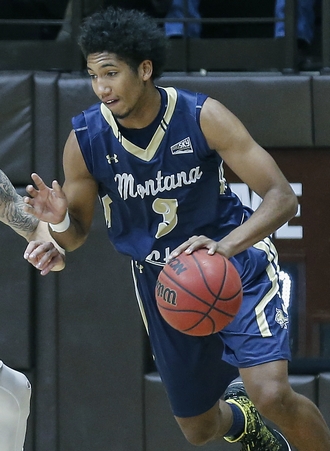 Standing at 6-4 and 175 pounds, Hall is slightly undersized with an average wingspan and a decent frame that definitely needs to be strengthened for a shooting guard at the next level. He isn't terribly fast or explosive, and doesn't have great lateral quickness, which is evident at the defensive end. Hall is a product of two college basketball playing parents, however, and he's an upbeat and competitive teammate.
Without a doubt, Hall's professional calling card is his perimeter range and form, as he has a quick, high and timely release at the peak of his jump to go with excellent wrist action. He was especially effective in spot-up situations as a freshman, where he demonstrated the ability to be a tough shot maker and scored 1.24 points per possession, which ranked in the 94th percentile of all players in college basketball, according to Synergy Sports Technology.
Hall has a knack for finding open space and doesn't need much of it to get his shot off because he's confident enough to rise up with a defender in his airspace. He has excellent pre-shot preparation and footwork and utilizes changes of pace and V-cuts, which helped him to be extremely efficient coming off seemingly every type of screen in the book last season. Sometimes when he's rushed he pulls the string, which contributes to shots falling short, and he does have a habit of jumping forward with his legs semi-splayed out.
Though he's capable of creating shots for himself by attacking close-outs and isolations off the bounce, Hall needs to work on his creativity as a ball-handler and shot creator. Too often his first inclination is to lower his head and go into isolation mode upon catching the ball. Though he can get away with this habit against the current level of competition, it is imperative that he reads the defense before making his move. He shows touch on his pull-ups, specifically moving to his left, and he utilizes pivots, misdirection and spins to create space, but he still needs to be craftier, shiftier and more skilled off the bounce to diversify his repertoire and create easier looks on a more consistent basis.
As the go-to scorer and one of the best shot-creators on a team that simply didn't have many offensive weapons, Hall drew the bulk of the defensive attention from opponents. He left much to be desired in terms of his playmaking abilities during his first season in Bozeman, Montana, sporting a negative assist to turnover ratio, but his future as a playmaker still has potential. Marcus Colbert, who started at point guard last season, graduated this past spring. Hall will likely slide over to shoulder more playmaking responsibilities, where he will be able to fight through his mistakes and enhance his combo guard skills.
Hall must work on his handle and continue to hone his passing skills, patience and poise to prove that he can potentially handle ball-handling responsibilities at the next level. His lack of strength and carelessness were the leading causes of his 1.8 turnovers per game as a freshman, as he was ripped by defenders on weak drives and left his feet to make errant passes regularly. Considering his physical profile and skill-set, it is of the utmost importance for his professional prospects to become a more efficient creator.
Hall can also stand to improve his creativity around the rim. He proved that he's capable of using his left hand and flashed a floater at times, but he needs to add more tricks to his in-between game, along with gaining confidence in completing plays, if he's going to consistently finish plays through taller, longer, stronger and more athletic defenders.
The defensive end of the court is where the shooting guard seemingly has the most room for growth. Hall doesn't have great lateral quickness, strength or length and on top of that his focus, effort, and competitive spirit and IQ are in need of a significant boost next season. Considering the type of competition he's facing, Hall gets lost in the action far too often, as he fails to get into a defensive stance, doesn't understand rotations, runs into screens, gets overpowered by stronger players and constantly has delayed reactions, which gives shooters time to get their shots off.
If the 19-year old weren't such a high-level scorer so early on in his career, it would be tough to get overly excited about his professional prospects. With that in mind, it is imperative that he continues to score at a high level while improving his polish on both ends of the floor as a sophomore and beyond to earn serious consideration from NBA decision makers in the future.
#12, E.C. Matthews, 6'4, Redshirt Junior, Rhode Island
Matthews was the recipient of

]an in-depth evaluation
exactly one year ago as part of this series, but unfortunately tore his ACL in his first game of the season. There is not much to do at this point besides wait and see how he looks now that he's a full year removed from his injury. In addition to that scouting report, you can currently find an interview and scouting video breaking down his strengths and weaknesses in his
DraftExpress profile.
Honorable Mention
Ben Moore
, SMU
Corey Johnson
, Harvard
Zylan Cheatham
, San Diego State
Markis McDuffie
, Wichita State
Jeremy Morgan
, Northern Iowa
Dikembe Dixson
, University of Illinois-Chicago
Jaylen Adams
, St. Bonaventure
Kevin Hervey
, UT-Arlington
Justin Tuoyo
, UT-Chattanooga
Jeremy Senglin
, Weber State
Jalen Moore
, Utah State
Kuran Iverson
, Rhode Island
James Thompson
, Eastern Michigan
Josh Perkins
, Gonzaga
Killian Tillie
, Gonzaga
Rui Hachimura
, Gonzaga
Damyean Dotson
, Houston