We continue our coverage of the top NBA prospects in the AAC with scouting reports on players ranked 2-5 in the conference:
Austin Nichols
,
Nick King
,
Shaq Goodwin
and
Ryan Boatright
.
The Top 20 NBA Draft Prospects in the Pac-12 Conference
The Top 20 NBA Draft Prospects in the Big 12 Conference
Top NBA Prospects in the AAC, Part 1
(#1) Amida Brimah (Scouting Video)
#2, Austin Nichols, 6-9, Sophomore, Power Forward, Memphis
Jonathan Givony
A very highly touted prospect (#20 in the RSCI) coming out of high school, who grew up not far from Memphis campus', Austin Nichols was one of the most sought after recruits Josh Pastner has landed as a head coach thus far.
Measured at 6-9, with a 7-2 wingspan at the Nike Skills Academy, and a frame that should fill out nicely in time, Nichols has very good physical attributes for a power forward. He's an above average athlete as well, as he runs the floor well, is quick off his feet, and is very mobile overall—although he's not a particularly high-flyer from an explosiveness standpoint.
Nichols had somewhat of an up and down freshman season, scoring relatively efficiently (58% 2P%), but not on a very high volume (15 points per-40 pace-adjusted).
Nichols saw most of his offense playing off the ball, be it cutting to the rim, running the floor in transition, or crashing the offensive glass. He also saw a decent amount of post-up attempts, where he was relatively effective, converting 57% of his attempts in these situations.
Nichols has a nice knack for scoring around the basket, as he shows good footwork, solid body control, excellent fundamentals, and the ability to finish with jump-hooks using both hands and very nice touch, often using the glass. He has good hands and is a solid leaper off two feet, making him a reliable target for his guards to find in drive and dish situations, helping him convert a very solid 60% of his attempts around the basket as a freshman.
Facing the basket, Nichols is still a work in progress. He rarely got to show much in terms of ball-handling, perimeter shooting or passing ability out of the high post, things most NBA teams need their power forwards to do, so it will be interesting to see how his role evolves as a sophomore. Nichols only attempted 16 jump-shots as a freshman, and hit just 54% of his free throws, so it's difficult to say how much potential he has in this area at this stage. His shooting mechanics appears to be sound, as he has a high release point on his jumper and a nice follow-through, but he didn't appear to have much confidence in this part of his game last season, having a couple of ugly looking misses on film. Nichols' development as an outside shooter will likely play an important role in how he's perceived as a NBA prospect long-term.
Defensively, Nichols has a long ways to go before he's ready to step on an NBA court. He plays very upright, rarely bending his knees and having a difficult time getting into a defensive stance, which makes him fairly easy to score on. His lack of lower body strength causes him to get backed down inside the paint, and he has a difficult time fighting through screens, as he appears to lack both a degree of toughness and intensity in the way he approaches his work here.
Barring major improvement on this end of the floor, it's difficult to see who Nichols will defend in the NBA at this stage, as he's not strong enough to contain low-post oriented players and is far too upright and slow laterally to step out onto the perimeter and not get beaten off the dribble.
On top of that, Nichols was a very poor rebounder as a freshman, averaging just 5.3 defensive rebounds per-40 minutes, the fifth worst rate of the 28 returning collegiate big men in our Top-100 prospect rankings.
It will be interesting to see how Nichols improves in these areas as a sophomore, as he doesn't lack the physical tools to be at least a capable player in this area. He has good size, long arms, solid mobility, and nice timing, evidenced by the 2.3 blocks per-40 he averaged as a freshman. His lack of strength and experience likely played a role here.
After losing quite a bit of firepower from last season, particularly in the backcourt, Memphis will be a very different team this year. Last year's squad didn't seem to have great chemistry, ball-movement or spacing, which likely wasn't ideal for a talented freshman like Nichols. NBA scouts will be looking to see how he takes the next step in his development this year to gauge just how good of a long-term prospect he is.
#3, Nick King, 6-7, Sophomore, Small Forward, Memphis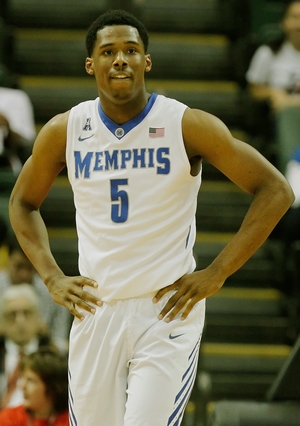 Matt Williams
One of the youngest prospects in our sophomore rankings, Nick King had an interesting season coming off the bench for Memphis a year ago.
Ranking among the top-20 freshman in the country in both
rebounds
and
free throw attempts
per-40 minutes pace adjusted, King played the majority of his minutes for Josh Pastner's Tigers on the low block, managing to be very productive playing outside of his natural position of small forward.
Standing 6'7 with a 7'0 wingspan, King has very good size for a wing, but it was his dogged pursuit of the ball in the paint that helped him impact the game as an undersized big man a year ago. With some 60% of his possessions coming from cuts to the basket, put backs, and fast breaks a year ago, King's role was predicted on his finishing ability and effort. Shooting a terrific 61% around the basket and staying very active in the paint, King, who was maligned at times at the high school level for his intensity, played his role admirably for the Tigers a year ago.
The lefty knocked down 5 of the 22 jump shots he attempted last year, showing range out to the three-point line and a fairly fluid stroke in rhythm, but looked a bit shaky at times as well and made under 50% of his free throws. Not the shiftiest ball-handler or explosive leaper when he's attacking the paint, it will be interesting to see how he grows at the collegiate level as his skill set expands and he shifts into a more perimeter-oriented role in the coming years. He was a capable shooter on the AAU circuit, and led Memphis in scoring during their Canadian tour in the preseason, meaning there's room for optimism about his offensive game. With four of Memphis' top six scorers from last season moving on, there will likely be opportunities for him to step up this season.
Defensively, King plays with nice energy, but is still getting comfortable defending both inside and outside. He struggles to contain dribble penetration, and gets overpowered from time to time one-on-one. King, nonetheless, has some potential on this end of the floor as his body matures thanks to his size and length.
Like so many freshman we write about in the preseason going into their sophomore years, Nick King was a highly touted prep player whose first college season was more promising than it was telling. King's unique productivity playing undersized is attention-grabbing, but NBA decision-makers will be looking for him to make strides as a leader offensively from the small forward spot in a much larger role this season and down the road.
#4, Shaq Goodwin, 6-8, Junior, PF/C, Memphis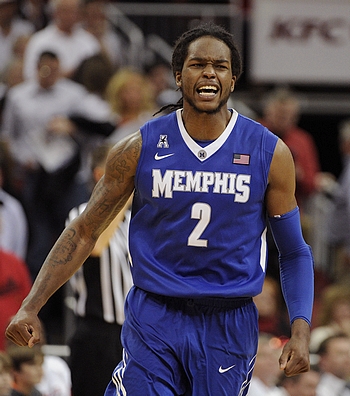 Josh Riddell
A top high school recruit, ranked
33rd in the 2012 RSCI rankings
, Shaq Goodwin has been a positive presence in his two years at Memphis and returns for his junior season hoping to help the Tigers reach the NCAA tournament yet again. After being named to the AAC Second Team, Goodwin will be looking to improve on his sophomore season while building his draft stock.
Measured at 6'8", 228 pounds last year with a long 7'2" wingspan, Goodwin has average size for a power forward. He is still finding his most effective playing weight and can probably still add a good 10-15 pounds of muscle to his frame to help contend with stronger players. He has adequate upper body strength but needs to add lower body strength as he has a tendency to be pushed around by other power forwards on both ends of the court. Goodwin isn't the most explosive player around, but he does have a constant motor and provides the Tigers with regular energy.
Goodwin isn't a shot creator but feeds off his guards creating open shots at the rim for him. He shoots 57.9% at the rim, according to Synergy Sports Technology, but struggles to finish in traffic, as he doesn't have the greatest touch around the rim and his lack of freakish explosiveness prevents him from getting the ball above taller defenders. The majority of his offense comes from post-ups, as 25.9% of his total offensive possessions were categorized as such by Synergy Sports Technology. He is a capable post player but most of his success comes from carving out position or sealing off his defender instead of advanced footwork. When he catches the ball off the block or is forced to take his defender on, he struggles to get a viable look at the rim, which provides some concerns about his ability to be a useable post player in the NBA.
Goodwin doesn't extend his offense outside the paint often, taking only 19 jump shots according to Synergy Sports Technology. Although he made 52.6% of the small sample of jump shots, he showed very inconsistent form last season and was unable to replicate his form on his jump shots. He doesn't provide much else from a scoring perspective other than rim finishing, so finding another skill to help him become more involved in the offense will likely help his pro prospects.
Despite his physical tools, Goodwin is just an average rebounder on both sides of the court, averaging
3.4 offensive rebounds per 40 minutes pace adjusted
and
5.0 defensive rebounds
per 40 minutes pace adjusted. His length helps him track down some loose balls but he'll need to continue to add strength to hold off opponents and not. Considering his offensive limitations, NBA teams will certainly ask him to contribute as a rebounder, so making a more concerted effort in this area this year will definitely make him a more attractive prospect.
Goodwin is active defensively, which is reflected in his
1.7 steals
and
2.3 blocks
per 40 minutes pace adjusted. This is a unique combination of steals and blocks for a big man, as only ten other big men who played at least twenty minutes per game posted at least 1.5 steals and 2.0 blocks per 40 minutes pace adjusted last season. His physical profile gives him potential as a defensive player and he will need to provide value defensively this season to fill out his potential value to a NBA team. Again, adding some strength to contend with bigger players will be a big boost for him, as he can get pushed around and backed down when defending the post.
As Memphis enters its second season in the AAC, Goodwin will be an intriguing prospect for NBA teams to watch. He has a nice array of physical tools for a power forward, but it remains to be seen whether his basketball skills can match his physical traits. Goodwin fits the mold of a role player but needs to show he is committed to providing energy and rebounding on a nightly basis. If he does that while adding some strength to help become a more consistent finisher around the rim, a NBA team may decide to take a chance on him to round out their rotation.
#5, Ryan Boatright, 6-0, Senior, Point Guard, Connecticut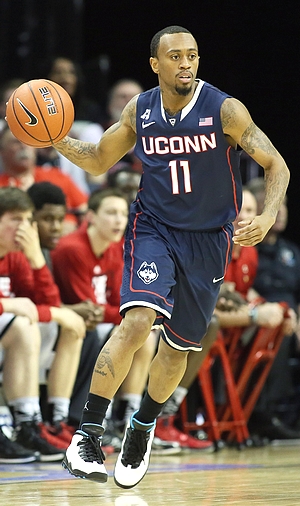 Derek Bodner
After spending the first three seasons of his collegiate career playing alongside Shabazz Napier, forming a tandem that helped propel UConn to the national championship last season, Ryan Boatright will finally take the role of lead guard for Kevin Ollie.
Part of Boatright's effectiveness over the years has been his versatility. While Boatright is at his best attacking a defense off pick and rolls, his ability in catch and shoot situations allowed him to remain effective while Napier ran the offense. With Napier's departure, it will put Boatright in a situation that should maximize his offensive potential, but also one that will put a huge premium on his ability as a decision maker.
Even playing alongside Napier, the pick and roll has been a huge part of Boatright's game, taking up just about a quarter of his possessions in each of the last two seasons as Kevin Ollie began to feature him in the offense more. Boatright combines a very strong pull-up game with incredible speed and quickness to create a matchup nightmare when coming off the pick, and this is a part of his game that he could see even more possessions from this season as he is handed the reins to the UConn offense.
When Boatright gets into the paint, he's an explosive leaper with excellent body control, but his size, both his short stature and his lack of strength, present some problems. He has struggled to convert in the paint at a high rate over the past two seasons, shooting only 43.7% and 45.8% the past two seasons, respectively. If Boatright could add some sorely needed upper body strength he could see some improvement in this regard, but his height will likely always put him at a physical disadvantage in this regard. He tries to overcome this by utilizing an in-between game that makes heavy use of a floater, but he's relatively inconsistent with this shot to this point in his career.
A key in his development will be using the attention that he receives on penetrations to setup his teammates, a skill that is going to become even more crucial with his changing role in the UConn offense. Boatright can get wild on his forays into the lane, leading to both low percentage attempts of his own and also risky passes, while frequently getting caught in the air with nowhere to go with the ball. Over the years Boatright has been far more the offensive spark than floor general, and his overall decision making and feel for the game are in vast need of improvement if he wishes to maximize his chances to succeed, not only in the NBA but also this season at the helm of UConn's offense.
As a shooter, Boatright shows the ability to hit shots with both his feet set and off the dribble. He does a good job of getting into position before receiving the pass, and has a short, compact shooting motion that looks fairly repeatable. Despite his diminutive size, Boatright has a number of moves off the dribble to get himself the space needed for quality looks, including an incredible crossover and step back move that he can pull off with ease. His incredible ball handling is a huge advantage he has in his arsenal, and something that allows him to take advantage of his quickness. He's not quite as consistent shooting off the dribble as he is from the catch, and can go through prolonged hot and cold stretches. A big part of this is more decision making and shot selection than it is skill level, however, and being more selective in when he chooses to attack would serve Boatright, and the UConn offense, well.
Boatright has an intriguing combination of strengths and weaknesses on the defensive side of the court. He has quick hands, which is reflected in the 2.0 steals per 40 minutes pace adjusted that he is able to generate. He plays incredibly pesky defense on the perimeter, frequently picking his man up from near half-court, and with the foot speed to effectively pressure from this far out without putting a huge strain on the back line of UConn's defense. He also does a very good job of avoiding screens, working hard to fight over the pick and roll and also showing a good awareness of the opponent he's defending, correctly picking whether to go over or under the pick most of the time.
That being said, his physical profile brings many disadvantages along with it. Standing just six feet tall (at best) in shoes, Boatright is going to be at a height disadvantage at any position at the next level, which is only compounded by his below average six foot wingspan. The combination of his height, wingspan, and slender frame make Boatright a constant threat to be posted up, and he struggles to adequately contest shots on the perimeter as well. Combine this with his penchant for roaming off his man looking for steals when playing off the ball, and, while Boatright's pressure defense can certainly be an asset if utilized correct, he's a player that also comes with considerable shortcomings as well, especially considering the type of size he'll be asked to defend at the next level.
Boatright brings with him a combination of athleticism, aggressiveness, and shooting ability that makes him an interesting prospect, but his lack of size and, more importantly, his dubious decision making and point guard skills make it questionable whether he can be a productive player at the next level. With the departure of Shabazz Napier and Boatright's change in role in the UConn offense, he will have every opportunity to disprove the question marks surrounding his shot-selection and decision making abilities.