We continue our coverage of the top NBA prospects in the Big Ten with scouting reports on players ranked 8-11 in the conference:
Zak Irvin
,
D'Angelo Russell
,
Shannon Scott
and
Sam Thompson
.
The Top 20 NBA Draft Prospects in the Pac-12 Conference
The Top 20 NBA Draft Prospects in the Big 12 Conference
The Top 10 NBA Draft Prospects in the AAC Conference
The Top 22 NBA Draft Prospects in the SEC Conference
The Top 10 NBA Draft Prospects in the Big East Conference
Top NBA Prospects in the Big Ten, Part 1:
(#1) Sam Dekker (Scouting Video)
Top NBA Prospects in the Big Ten, Part 2
(#2) Caris LeVert (Scouting Video)
Top NBA Prospects in the Big Ten, Part 3
(#3) Frank Kaminsky (Scouting Video)
Top NBA Prospects in the Big Ten, Part 4
(#4) Terran Petteway
(#5) Branden Dawson
(#6) A.J. Hammons
(#7) Yogi Ferrell
#8, Zak Irvin, 6-6, Sophomore, SG/SF, Michigan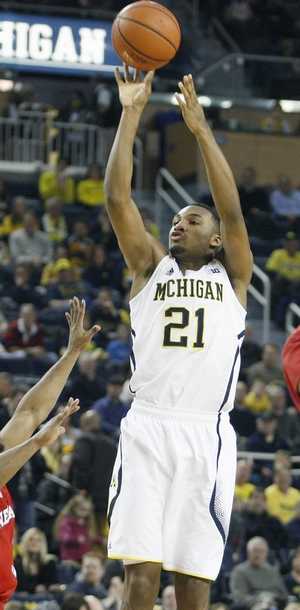 Jonathan Givony
Indiana's Mr. Basketball and a Top-30 high school recruit according to the RSCI, Zak Irvin played a small, but important role as a freshman last season on a stacked Michigan team featuring one of the best wing combos in the country in Nik Stauskas and Caris LeVert.
With Stauskas and Glenn Robinson moving on to the NBA, a good amount of minutes and shots are opening up, which should bring Irvin to the forefront of what's expected to be one of the better teams in the highly competitive Big Ten.
While only seeing 15 minutes per game, Irvin was nevertheless very aggressive when he was on the floor, evidenced by his relatively high 22% usage rate—something that suggests his scoring rate will increase accordingly with additional playing time.
It's easy to tell what kind of player Irvin was last year simply by looking at his shooting splits—he shot 146 3-pointers, but only 50 2-pointers to go along with 21 free throw attempts. Digging further into his Synergy Sports Technology profile reveals just how one-dimensional he was--93% of his half-court shots were jumpers, while in transition he rarely handled the ball and would almost always run to the corners for an early-offense 3-pointer.
While it's safe to describe Irvin as a one-dimensional player last season, that's not to suggest that he wasn't extremely effective in that one (highly coveted) area he was asked to specialize in. He made 42.5% of his 3-pointers and posted a 60% true shooting percentage, both of which rank among the top players in the freshman class last season.
Irvin sports fluid and consistent shooting mechanics, to go along with excellent balance and deep range, making him a terrific option to space the floor, use in dribble-handoffs, or bring off screens. He dips the ball below his hip somewhat upon catching the ball, which slows down the speed of his release, but nevertheless shoots it virtually the same every single time, helping him see excellent results. NBA shooting coaches may decide to tinker with his jumper a little to try and eliminate the unnecessary wind-up slowing down his release, but there's no question that Irvin is a very dangerous outside shooting threat, which already on its own makes him an intriguing NBA prospect at his size.
Besides Irvin's ability to make shots with his feet set, the rest of his game is somewhat of a mixed bag at this stage. He made only 29% of his off the dribble shooting attempts as a freshman, although not on a huge sample size—only about one per game.
His slashing game is even less proven, as Irvin attempted just ten shots inside the paint all season in half-court situations, as he almost never put the ball on the floor. He didn't look that bad attacking unbalanced defenses in closeout situations and going to the basket, so it will be interesting to see if that's something we'll get to a watch a lot more of as a sophomore. As you'd expect from someone who is asked to handle the ball as little as he is, Irvin generates very few assists (4.7% of possessions), but also almost never turns the ball over (7.2%), with both figures ranking close to last among wing prospects.
It will be interesting to see how things evolve this upcoming season, as Irvin added quite a bit of weight to his frame this past summer, but had a very poor showing at adidas Nations, shooting 11/43 from field with zero free throw attempts in five games. He was reportedly much better in Michigan's preseason trip to Italy, though.
The defensive side of the floor is where NBA teams might be watching Irvin the closest this upcoming season, as if he can prove to be a capable player here at the next level, he is almost certain to carve out a role considering his outside shooting prowess.
Irvin boasted a skinny frame as a freshman, which made it difficult for him to get through screens and made him a target for opposing post-ups, especially when operating as a floor-spacing power forward. His intensity-level and focus wavered as a freshman—not all that uncommon considering his age, but he tended to struggle off the ball, something teams will want to see him improve on.
As a man to man defender, Irvin showed solid potential as a freshman and has plenty of tools to build on with his excellent size and very long wingspan. He willingly gets in a defensive stance, has solid lateral quickness, and does a nice job contesting shots on the perimeter with his length. While John Beilein is largely considered an offensive wizard, his teams have never been known for their defense, so it will be interesting to see how Irvin grows here, since he certainly has some potential in this area.
This will be a telling season for Zak Irvin, as he'll be asked to play a much heavier role on a team expected to contend for Big Ten supremacy once again. Michigan's wing players (Stauksas, LeVert, Tim Hardaway Jr) have improved substantially as they've matured the past few years thanks to their strong player development program, so it will be very telling how Irvin produces like as a sophomore.
#9, D'Angelo Russell, 6-5, Freshman, Shooting Guard, Ohio State
Without the benefit of extensive high school footage, we prefer to wait and see how Whitehead performs as a freshman before adding to his
DraftExpress profile
, which already features a scouting report from last year.
#10, Shannon Scott, 6-2, Senior, Point Guard, Ohio State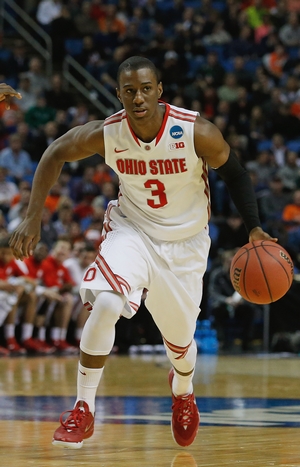 Jonathan Givony
The #31 recruit in the country coming out of high school according to the RSCI, Shannon Scott's college career got off to somewhat of a slow start (11 mpg freshman, 21 mpg sophomore) at Ohio State. With Aaron Craft now out of the picture, Scott has an opportunity to shoulder the point guard responsibilities full time for the Buckeyes, and try to show he's worthy of a NBA roster spot in his last year of college basketball.
Scott has never been looked at for offense at Ohio State, as his 11.3 points per-40 minutes last season was a career high, but still rank him amid the least prolific scorers among returning collegiate pro prospects. At 52% (also a career high), his true shooting percentage shows he wasn't especially efficient with his limited scoring opportunities either, which calls into question whether he will be considered an offensive liability at the pro level.
Playing alongside a very limited outside shooter in Aaron Craft, Scott has seen most of his offense playing off the ball in his career thus far, which likely isn't his strength. He's somewhat inconsistent as a ball-handler and slasher, though, as he turns the ball over on 21% of his possessions and struggles to create offense efficiently in the half-court against set defenses.
Scott is a very good athlete, blessed with a strong first step, nice quickness, and an excellent frame, while standing 6-2. Despite not being a brilliant ball-handler or the most creative slasher around, he can get to the basket fairly well in a straight line, even if he doesn't always know what to do once he's there. Scott was just an average finisher around the basket last year, hitting 53% of his looks at the rim in the half-court. He doesn't have much of a left hand and has a tendency to just throw the ball up on the rim, where he shows mediocre touch. He doesn't get to the free throw line that often, just 2.7 times per-40, a figure that should be higher considering his physical tools. Things weren't much better in the transition game either last season, where he averaged just a point per possession, which is very pedestrian relative to most guards.
That wouldn't be that problematic if Scott was a better outside shooter. Due to his limitations as a shot-creator and the fact that he played largely off the ball alongside Craft, 78% of his half-court shots came off jumpers, of which he knocked down an average 35%.
Scott looked decent pulling up off the dribble in a relatively limited sample size (23/58, 40%) but struggled badly shooting with his feet set (30%) which made him a poor fit to play next to Craft in what was already a very poorly spaced floor on a team that featured almost no perimeter shooting.
Scott's shooting mechanics are not broken, but are somewhat inconsistent, as his elbow tends to flail out and he doesn't show very good touch in general, having some very bad misses. The fact that he only hit 68% of his free throws last year (63% as a sophomore) isn't a great sign. Becoming a more consistent shooter will be imperative for his chances to stick in the NBA, as he looks unlikely to emerge as a high-level scorer inside the arc at this stage considering his somewhat mechanical offensive game.
One area that Scott shows quite a bit of offensive promise in is as a passer. His has very solid court vision, seeing and reading the floor well and being capable of making quick and sound decisions with the ball in his hands. He's an unselfish player who probably wasn't in an ideal place to post gaudy assist numbers considering how much Ohio State's offense struggled to put points on the board, but the 7.5 assists per-40 he averaged as a sophomore shows his strong potential in this area.
While Scott's playmaking ability bodes well for his future, the meat and potatoes of his NBA potential revolves around his work on the defensive end. He combines strong physical tools here with terrific fundamentals and a high intensity level, helping him play a major role in Ohio State ranking as the third best defense in college basketball last season.
Scott is always in a defensive stance, moving his feet, putting excellent pressure on his opponent and absolutely hawking the ball. Few players can close out on a shooter and contest shots as quickly and instinctively as Scott does. He operates as somewhat of a free safety in Ohio State's defense, regularly cheating off his man and helping out his teammates all over the floor. His mobility, timing and aggressiveness helps him navigate around screens, rotate around defensively and make plays on the perimeter constantly.
Scott is one of the best ball-thieves in college basketball, averaging over 3 steals per-40 minutes in each of the past two seasons, an extremely high rate. He has terrific instincts for sticking his hands in the right place and jumping in the passing lanes, and also contributes on the glass, averaging over 5 rebounds per-40 for the second straight year as well.
Scott's defensive prowess and ability to guard both backcourt position should make him an attractive candidate for teams looking for a third point guard they can throw into a game to lock up the other team's best backcourt player. His playmaking instincts indicate that he won't hurt a team too much offensively either, and he's already shown that he knows how to play a role, even if his lack of scoring ability is a clear negative in today's fast-paced NBA. With that said, he looks like the type of player who would likely look much better playing alongside four player who can actually score as opposed to the collection of offensively challenged players the Buckeyes fielded last year.
It will be interesting to see how Scott's role evolves this year now that the ball is in his hands full time and #1 option Laquinton Ross is no longer in the fold--and especially how that will that affect his already middling efficiency. This is a big season for Shannon Scott, who has waited for three years to show that he can be the leader of a NCAA Tournament team. NBA scouts will surely be watching closely.
#11, Sam Thompson, 6-7, Senior, Small Forward, Ohio State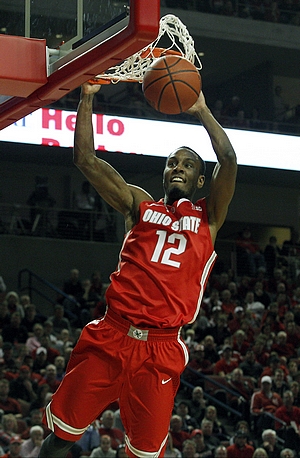 Matt Williams
Arguably the most explosive leaper in all of college basketball, Sam Thompson once again provided plenty of highlight reel material for Thad Matta's Buckeyes during his junior year. Unfortunately, Thompson's production largely stagnated otherwise, as he wasn't able to step into a feature role and provide the scoring Ohio State desperately needed last year.
Standing 6'7 with a 6'8 wingspan, Thompson is not terribly long for a small forward, but he has good size and everything you look for in a wing prospect athletically. On top of his ability to play above the rim, he has tremendous speed in the open floor and terrific lateral quickness.
Offensively, Thompson used marginally more possessions as a junior than he did as a sophomore, but his scoring efficiency fell significantly. Ranking fifth on the team in the percentage of the team's possessions he used according to Synergy Sports Technology, Thompson's dip in overall efficiency stems from his regression as a jump shooter. After knocking down 41.5% of his perimeter attempts as a sophomore, he connected on just 31.3% as a junior as he shot at steady 38.1% in catch and shoot situations, but made just 2 of his 24 pull-up jumpers. As we noted the last time we evaluated Thompson at this time last year, he proved to be a limited shot creator, as his ability to create off the dribble and score from the midrange still leaves a lot to be desired.
When Thompson can find an opportunity to score around the rim, his athleticism is an obvious asset, but his 56.5% shooting as a finisher is only above average, as he appears out of control at times and sometimes struggles to convert when he can't dunk the ball, especially in a crowd.
Functioning as a complementary option offensively and seldom asked to create for himself, Ohio State's overall offensive struggles (128th ranked offense—KenPom) certainly didn't put Thompson, who is best suited to be a role-player alongside more prolific scorers, in great position to have a strong year. Thompson has one last chance to turn the corner on this end of the floor and emerge as a legitimate weapon as a senior on what figures to be a more balanced offensive team.
Thompson makes his best contributions defensively, where he is simply outstanding at times, combining the intensity that has become a staple of Thad Matta's program and the lateral quickness to defend multiple perimeter positions. He doesn't always get over screens quickly, is only an average rebounder, gets caught watching the ball, and needs to continue to get stronger, but the framework is there for Thompson to become a capable wing defender at the professional level over time.
Entering his final season of eligibility, Thompson, like other Ohio State seniors, is still trying to get traction as a NBA Draft candidate. His size, athleticism, and defensive potential are tantalizing, but he is still looking to show potential as a niche player offensively. Likely to get invited to the Portsmouth Invitational Tournament, if he can make strides as a shot creator or show a more consistent set shot, Thompson could figure into the 2015 NBA Draft when all is said and done.