We continue our coverage of the top returning NBA prospects in the non-BCS conferences with scouting reports of prospects ranked #11-15:
Javon McCrea
,
Kendall Williams
,
Kevin Pangos
,
Briante Weber
and
Ronald Roberts
.
Incoming freshmen have been excluded from these previews, as we'd like to wait and see what they have to offer on the NCAA level before we come to any long-term conclusions.
-
Top 30 NBA Draft Prospects in the ACC
-
Top 15 NBA Draft Prospects in the Big Ten
-
Top 10 NBA Draft Prospects in the Big 12
-
Top 15 NBA Draft Prospects in the Pac-12
-
Top 15 NBA Draft Prospects in the Big East
-
Top 15 NBA Draft Prospects in the SEC
-
Top 15 NBA Draft Prospects in the AAC
-
Top NBA Prospects in the Non-BCS Conferences, Part One
(#1) Przemek Karnowski
(#2) Khem Birch
(#3) Deonte Burton
(#4) Juvonte Reddic
(#5) Alec Brown
-
Top NBA Prospects in the Non-BCS Conferences, Part Two: (#6-10)
(#6) Elfrid Payton
(#7) Cleanthony Early
(#8) Winston Shepard
(#9) Alan Williams
(#10) Josh Davis
#11, Javon McCrea, 6'6, Senior, Power Forward, Buffalo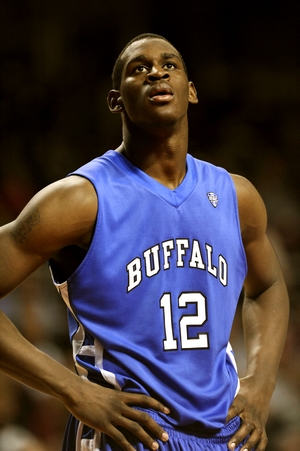 Matt Williams
Emerging from relative obscurity to average 22 points and 12 rebounds per-40 on 63% shooting and win the MAC Freshman of the Year Award in 2011, Javon McCrea has been one of the most productive players in mid-major basketball over the last three seasons. Helping his team to 20 wins in each of his first two years at Buffalo, McCrea had a standout junior season averaging 18 points and 7.9 rebounds per-game, but the Bulls finished the year with a 14-20 record, leading to the dismissal of long-time head coach Reggie Witherspoon last March. With former Duke Star Bobby Hurley now at the helm, McCrea will look to lead his team to a NCAA Tournament bid and solidify his NBA draft stock in the process.
Standing 6'6, McCrea's lacks ideal size for the power forward position, but his outstanding length, strength, and solid explosiveness helped make him one of the more imposing big men in the MAC last season. He has little trouble using strong frame to establish position in the post, uses his combination of length and aggressiveness to create angles for himself attacking the rim, and can play above the rim when given space to gather himself.
Though his physical tools have played a role in his collegiate success, it is McCrea's instincts and touch that have made him a productive interior scorer at the college level. Using an array of scoops, drop steps, and spinning hooks to score in the post, McCrea's decisiveness when he catches the ball and ability to use both hands equally well make him a difficult match up in the post and a very capable finisher working without the ball. Shooting 65% as a finisher and 51% in the post according to Synergy Sports Technology, McCrea ranked among the more efficient first-options in college hoops, even if he was a bit turnover prone at times.
Looking ahead, McCrea's ability to score away from the basket will give him the additional versatility that will make it easier to find a role at the next level. Though he's capable of facing up and putting the ball on the floor to attack the basket against slower big men, and will hit a jump shot from time to time, he made just 32% of his attempts from the perimeter last season and doesn't have the most consistent mechanics. Showing marked improvement in his free throw and perimeter shooting since his freshman year, it will be interesting to see if McCrea takes the next step as a shooter this season.
Defensively McCrea remains a middling rebounder and struggles when forced to step out on the perimeter. He still has some of the lapses that plagued him early in his career, but has become a significantly more aggressive help side defender working lane line-to-lane line in recent seasons. Ranking
18th among prospects in our database
in blocks per-40 minutes pace adjusted, McCrea may not play with the greatest intensity and fundamentals away from the rim, but is an active and staunch defender on the interior and when defending the post.
When we wrote about Javon McCrea two years ago, he was a highly efficient player filling a major role in Buffalo's rotation. Growing into one of the best individual performers in mid-major basketball, McCrea remains an instinctive, efficient, scorer. His size will always be a concern, and if he can show progress this season scoring and defending away from the rim, he is a prospect who will certainly get plenty of looks. A prime candidate for the Portsmouth Invitational Tournament, and fitting the mold of players we've seen excel at that event in the past, McCrea is a player worth keeping an eye on as the season unfolds.
#12, Kendall Williams, 6-4, Senior, Point Guard, New Mexico
Williams was the recipient of an
extensive evaluation
last year in the lead-up to his junior season. Unfortunately not much appears to have changed since then. This leads us to believe that we should wait for another opportunity to analyze his NBA prospects.
#13, Kevin Pangos, 6'2, Point Guard, Gonzaga, Junior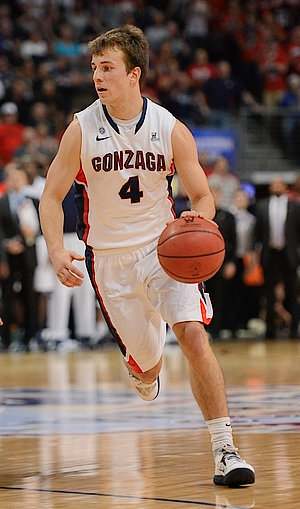 Kyle Nelson
The last time that we checked in on Kevin Pangos, the Canadian point guard had
solidified himself as one of the best young point guards outside of the United States
. Thus, few were surprised when he stepped into a starting role right away en route to being honored as the West Coast Conference (WCC) Newcomer of the Year, twice named to the All-WCC Team, and landing on the Naismith Award Pre-Season Watch List before his sophomore season.
In his two years at Gonzaga, Pangos has led the Bulldogs to a 58-10 record with back-to-back NCAA Tournament appearances, the
school's first top-ranking
and #1 NCAA seeding in school history, and a WCC Championship.
Yet, despite his many accolades,
he is by no means a surefire NBA prospect
, and as he prepares for his junior season, he must prove to scouts that he has what it takes to play in the NBA.
His biggest challenge will be overcoming his below average physical profile. Though he has average size for a point at guard at 6'2 with a 182-pound frame, his sub-6'0 wingspan does him few favors. Likewise, his first step leaves quite a bit to be desired, and he lacks even average explosiveness, though he does show shifty quickness in half court settings.
On the offensive end of the floor, Pangos has distinguished himself as a steady, efficient point guard and one of the best perimeter shooters in college basketball. True to his reputation, nearly three-quarters of his field goal attempts were jump shots last season, and he takes far more shots outside of the arc than inside of it. That being said, he saw fewer possessions in a more talented rotation and averaged just 15.0 points per 40 minutes pace, 2.1 points less than during his freshman season.
Fortunately, he remains an elite perimeter shooter, making 42% of his 5.5 three point attempts per game. On film, he shows outstanding mechanics, notably a quick and compact release, which allows him to get his shot off, even against bigger and more athletic defenders. He also made 36.4% of his jump shots off the dribble - many from beyond the arc. It must be noted, however, that his lack of size does affect his shooting ability at times, as he makes only 27.8% of his contested jumpers.
He also lacks a particularly quick first step and advanced ball handling, resulting in frequent struggles to get around quicker defenders on his way to the basket. When he is able to pick up speed and find his way into the lane, he ultimately struggles to finish at the rim, making just 42.3% of his overall attempts. His 44% 2P%, down from 48% as a sophomore, ranks him in the bottom half of point guard prospects in our database. He is actually a better finisher than one would expect due to his solid body control and a dependable floater, but he will likely continue to struggle both in the WCC and at the next level due to his physical limitations.
Showing scouts that he can attack the basket more effectively – and improving on his paltry 3.0 free throw attempts per 40 minutes pace adjusted – would likely assuage, at least temporarily, concerns about his athleticism.
An area of intrigue, however, is his versatility in running the pick-and-roll, While fairly limited as a half-court scorer at this point and not really a danger to create his own shot, he is a tough mark due to the fact that he can both find rolling big men and knock down jumpers off of the dribble. Solid is a good way to describe his point guard play across the board, as he is not a particularly flashy or creative player, but he
rarely turns the ball over
and sports an impressive 2.27 assist/turnover ratio despite playing 32.8 minutes per game. He already displays good court vision, but his handles and inability to get into the lane are both areas in which improvement could go a long way to positively affecting his prospects.
Pangos is an engaged defender, compensating somewhat for his average physical profile with focused and aggressive play. Most immediately, his 1.9 steals per 40 minutes pace adjusted are a testament to his effort on the defensive end of the floor. On film, he does a great job of moving his feet and running over and fighting through screens while defending the pick-and-roll, even if he struggles to stay in front of more athletic guards. Yet, despite his efforts, offensive players have little trouble shooting over him due to his short wingspan, and he struggles to close out on perimeter shooters. Unfortunately, while Pangos is a good defender in college, it's extremely difficult to see him performing at the same level as a professional due to his physical limitations.
Thus, it will be interesting to see how Pangos builds on his sophomore year. Playing alongside an experienced starting lineup of Gary Bell Jr. Przemek Karnowski, Sam Dower, and Providence transfer Gerard Coleman should give Pangos plenty of options as a distributor, as well as the space to find his own offense when necessary. Likewise, if summer reports can be believed, then scouts expect to see a better-conditioned player, improved as a shot creator and more adept at getting into the lane. While his weaknesses are undeniable and his ceiling is not particularly high, he will continue to garner interest from NBA scouts should he lead Gonzaga to another winning season. Pangos has already amassed an impressive resume and though his professional future is far from certain, there is still plenty of time for him to boost his stock in the eyes of NBA scouts.
#14, Briante Weber, 6'2", Junior, PG, VCU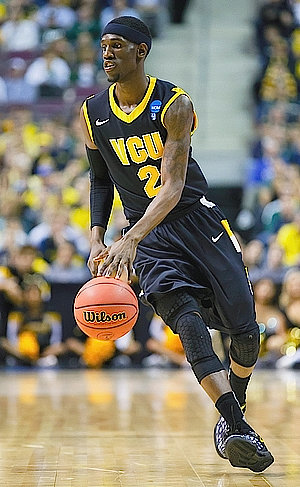 Derek Bodner
Playing on a VCU team with a deep guard rotation, Briante Weber didn't make a huge statistical jump during his second season with the Rams. With Weber's minutes only seeing a slight increase (from 18.7 to 20.9) the rest of his scoring oriented stats remained relatively the same.
Briante Weber remains an intriguing, albeit unconventional, point guard prospect, with his calling card continuing to be his pesky, high energy defense. Weber has led the nation in steal percentage during both of his collegiate seasons, with his 5.0 steals per 40 minutes pace adjusted the best number in our database last year. He won the A-10's defensive player of the year award last season and set VCU's school record at 98 steals, despite playing just over 20 minutes per game, and he is likely to end his time at VCU as the school's all-time career steals leader, needing only 82 steals to accomplish the feat.
The ability to force turnovers is obviously a big part of Weber's draw. He's equally adept at stripping his man of the ball as he is of playing the passing lanes, blessed with incredibly quick hands and great anticipation skills to go along with his good length and excellent quickness. He's also relentless, constantly in the offensive players' face forcing the issue. Weber does an excellent job of pressuring the ball early in the shot clock, slowing down the opposing point guard from getting into their set offense and frequently forcing them into mistakes in the process.
The constant pressure Weber puts on opposing team's ball handlers is a huge asset, but it does come with a cost—something that is built into VCU's philosophy as how they like to play. At 4.2 personal fouls per 40 minutes pace adjusted Weber is one of the more foul prone guards in our database, something that will increasingly become a problem with the graduation of Darius Theus and Weber's increased role in VCU's back court this season. The pressure can also lead to Weber getting beat if his man is able to get around the pressure, causing his teammates to have to rotate to cover up. Still, Weber's pressure defense is a huge asset to the Rams and one of his calling cards as a prospect.
His aggressive defense also shows up when he's off the ball, as he's very eager to go roam around hunting for steals, especially as he pinches down on bigs who may not be all that comfortable handling the basketball. Again, while the net result is still very much a positive and great boon to VCU's transition offense, it can at times put his teammates in prone positions as they have to rotate to help cover up when Weber comes up empty handed. This is, however, something Weber showed improvement on last year over where he was during his freshman season, as he seemed to have a better handle on how to control his aggression and when to pick his spots.
The same tools and energy that make Weber a good pressure defender also helps him in other facets on the defensive end. He moves his feet well defensively and does a good job using his length to help thwart dribble penetration. He does a good job of recognizing screens, although he could use some more upper body strength to help him fight through pick and rolls. Perhaps more importantly than his physical attributes, his constant effort and attention on this end of the court give coaches a great base to work with in order to make him a great overall defender.
Considering his ability to generate turnovers, it's perhaps no surprise that Weber's most consistent offensive contribution comes from transition opportunities, accounting for over 30% of his offense according to Synergy Sports Technology. Weber is quick to push the ball up the court when he comes up with a turnover or a defensive rebound, using his overall athleticism and quickness with the ball in his hands to take advantage of every opportunity possible and doing a good job of keeping his head up to find his teammates filling a lane.
Outside of that, the rest of his offensive game is very much a work in progress. In many respects, his jump shot took a step back from where it was as a freshman, which itself wasn't all that good of a base. According to Synergy, his efficiency fell in overall jump shots (0.632 points per possession, down from 0.789), catch and shoot (0.545, from 0.786), and off the dribble (0.667, from 0.821). While all of these are on very low sample sizes, as despite the fact that jump shots make up over 60% of Weber's attempts, he only played 20.9 minutes per night and only attempts 4.4 field goal attempts per game. That being said, the tape bears out that Weber has quite a bit of work to do before his jump shot becomes a consistent weapon for him, with a lot of extra motion both in his upper and lower body, particularly when shooting off the dribble.
Weber's athleticism and quickness with the basketball presents some intrigue off the pick and roll, and he shows a real knack for being able to split the double team and get into the lane. He did a better job of playing within himself when he got into the lane this past season, showing more willingness to kick the ball out to his teammates rather than force a shot in the lane like he had his freshman season, which was frequently out of control. His ball-handling could stand to improve, as he has a rather high dribble and struggles to execute many advanced moves with his off hand.
With the Rams having lost Darius Theus to graduation, Briante Weber will be asked to play many more minutes, and much more of a point guard role, than he has during his previous two years at VCU. Weber has a considerable way to go in terms of refinement of his offensive game before he can truly start taking advantage of his athleticism, but his incredible defensive production will keep him on the radar while we wait to see whether the rest of his game can come around.
#15, Ronald Roberts, 6-8, Senior, Power Forward, St. Joe's
Roberts was the recipient of an
extensive evaluation
last year in the lead-up to his junior season. Unfortunately not much appears to have changed since then. This leads us to believe that we should wait for another opportunity to analyze his NBA prospects.