Deonte Burton is one of the most talented shot-creators in college basketball, showing a lightning quick first step and the ability to score at will in transition. How will his team's poor record affect his draft stock?
---
-Trending Prospects: Erick Green
-Trending Prospects: Shabazz Napier
-Trending Prospects: DeShaun Thomas
-Trending Prospects: Ryan Broekhoff
-Trending Prospects: Kenny Kadji
-Trending Prospects: Dwight Powell
-Trending Prospects: Zeke Marshall
-Trending Prospects: Jack Cooley
-Trending Prospects: Bryce Cotton
-Trending Prospects: C.J. Wilcox
-Trending Prospects: Isaiah Canaan
-Trending Prospects: Jahii Carson
-Trending Prospects: Chris Obekpa
-Trending Prospects: Jordan Bachynski
-Trending Prospects: Arsalan Kazemi
-Trending Prospects: Cory Jefferson
-Trending Prospects: Anthony Marshall
---
Deonte Burton, 6'1, Point Guard, Nevada, Junior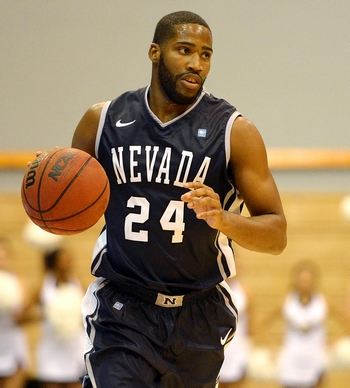 Kyle Nelson
The 2012 WAC Player of the Year,
Deonte Burton
entered his junior season as one of the best point guard prospects outside of the BCS conferences. Now in the Mountain West Conference, Burton has been tasked with leading the Nevada Wolf Pack through one of the deepest and toughest conferences in college basketball, and without very much help alongside him after the departures of seniors
Dario Hunt
and
Olek Czyz
.
In last place at 3-11 in the MWC (12-16 overall), Nevada has struggled mightily this season and Burton has not been the panacea that fans may have hoped given his breakthrough sophomore season. That being said, he has been very good overall, seeing both his scoring and efficiency rise, even though that hasn't contributed to many wins thus far. As it appears he is legitimately
considering entering the 2013 NBA Draft
, the question on scouts minds' is whether or not he has what it takes to play point guard in the NBA.
Standing 6'1 in shoes with a strong frame and a 6'6 wingspan, Burton has only average size for the point guard position in the NBA. With that said, he is a very good athlete, possessing both excellent quickness in the open floor and impressive explosiveness around the basket. Combined with his tough and relentless style of play, his athleticism and strength allow him to compensate somewhat for his lack of ideal size.
More of a scoring lead guard than a pure point, Burton is responsible for nearly 25% of Nevada's points, averaging 18.8 points per 40 minutes pace adjusted – while posting career high shooting efficiency numbers. A look inside of the statistics reveals that he has a very diverse scoring arsenal, finding 25.7% of his offense in transition, 23.5% in isolation, 18.7% out of the pick-and-roll, and 12.1% while spotting up.
Burton is at his best when he's slashing to the basket, where he can either go strong to the rim or pull up for a floater. His outstanding first step is difficult for opponents to stay in front of, as he's extremely aggressive looking to attack off the dribble, utilizing his strong upper body to create space and initiate contact at the rim, often drawing plenty of fouls in the process. Few college guards are capable of getting all the way to the basket as frequently and effectively as Burton is, which is a highly coveted attribute.
While Burton previously struggled to convert around the rim earlier in his career, he is making a strong 51% of his half-court attempts at the rim as a junior, and a career-high 51% overall from 2-point range. Though right handed, he shows a tendency to drive left, but is adept at finishing with either hand. Furthermore, he gets to the line at an excellent rate, averaging a stellar 8.2 free throw attempts per 40 minutes pace adjusted, ranking as one of the most prolific free throw drawers
in our top-100
.
While Burton has developed into an excellent driver, he has regressed as a shooter, making less than 30% of his overall jump shots. His mechanics are slightly unorthodox, but his release is both consistent and quick, and he puts a lot of arc on his shot. Burton's low percentages appear to be more a product of poor shot-selection than an issue with his technique, as he regularly shows the ability to make shots with his feet set and off the dribble.
With that said, too often Burton will bring the ball up the floor and pull up for a 3-pointer before any of his teammates have even gotten a touch. He tends to overestimate his perimeter shooting ability, setting for long off the dribble jumpers with a hand in his face a few times every game.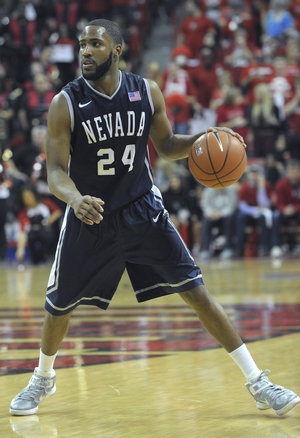 The question is whether Burton can play point guard at the next level. On film, it is clear that Burton does not have the most talented supporting cast, and his career-high 21.7% of Nevada's overall possessions speaks to just how large of a role he is forced to shoulder on the offensive end. Furthermore, his team does not appear to be very disciplined or structured on the offensive end, as they quickly and easily resort to an isolation-heavy style of half-court basketball, with Burton dribbling the air out of the ball and everyone else standing around and watching.
Burton will need to improve his court vision and decision making ability, as he doesn't do a great job of reading defenses at this stage of his career and too often will dribble with his head down and try to just barrel his way into the lane.
Because he is Nevada's top shot creator, scorer, and facilitator, Burton is clearly a shoot-first guard at this stage, but he shows glimpses of his passing ability, particularly in transition, but also in half court sets where he finds his man off of the dribble. Furthermore, he shows proficiency operating out of the pick-and-roll as both a passer and as a scorer. While it is difficult to evaluate his abilities as a point guard in this setting and despite his
career low assist numbers
, he has made legitimate strides in this area and is averaging a career low 0.15 turnovers per possession.
Not a whole lot has changed on the defensive end for Burton since we wrote about him in the pre-season. He still shows very good lateral quickness, quick hands, and energy, which allows him to stay in front of guards at the collegiate level and the strength to stay with his man through screens. As was the case last year, as well; Nevada's undisciplined defense and his average size make it difficult to evaluate him, but his effort and athleticism should allow him to be an above average one-on-one defender at the next level with better coaching and added experience.
Burton provides an intriguing combination of athleticism and scoring ability for a scoring point guard. Though his average size and decision making skills are legitimate areas of concern when projecting him at the next level, the strengths he shows as a shot-creator will earn him plenty of looks whenever he decides to enter the draft.