Continuing with our whirlwind swing of private workouts we present the evaluations of all the other players we saw extensively over our two days at Abunassar Impact Basketball in Carson, California, and a private workout in Santa Monica hosted by Wasserman Media Group (WMG) featuring
Josh McRoberts
,
J.J. Redick
and
Martell Webster
.
West Coast Workout Swing: Day 1
(
Dominic McGuire
Private Workout)
West Coast Workout Swing: Day 2
(
Joakim Noah
,
Corey Brewer
, etc)
WMG Workout
This was a non-competitive workout run by Joe Abunassar at a high school gym in Santa Monica featuring mostly shooting and post-up drills, so there was only so much we could take away from it.
The players started by catching and shooting 15 foot jump-shots coming off curls, and then added a one-dribble pull-up and then a freeze fake. They used a short dribble with their left and then right hand before pulling up for their jumper, and then went into step-backs with their feet set or off the glass. The guards shot plenty of college and NBA 3-pointers, while McRoberts worked on his post moves (jump-hooks, step-throughs, etc) and showed his athleticism putting the ball on the floor and finishing strong with a dunk. A short pitch and fill drill helped add a little ball-handling to the mix, as well as conditioning drills to keep the players sharp. The workout lasted for an hour at most.
Josh McRoberts, 6-11, Power Forward, Duke, Sophomore
McRoberts's game is obviously tailor made to a setting like this, and if he is to be evaluated strictly off his private workouts, it wouldn't shock us at all to see him make a serious push from where he's currently situated on our mock draft.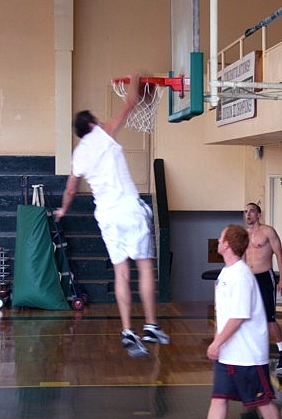 Standing a legit 6-11 with an excellent frame and all the athleticism you could ask for from a player his size, McRoberts is a pretty impressive specimen. He has great shoulders that should be able to add about as much weight as he'll need, although his lower body could certainly use some work. He moves extremely well, being quick off his feet, highly agile, and very coordinated. He put the ball on the floor smoothly on a number of occasions and elevated to throw down some nice dunks.
In terms of skills, McRoberts has a great all-around package for an NBA power forward. He was outstanding in the mid-range drills, and didn't seem to miss much from the college 3-point line either. His release is fluid and fundamentally sound, and he knocked down shots consistently throughout the workout in a very effortless manner.
All in all, it would be hard not to come away incredibly impressed from this workout had we not watched McRoberts play extensively this season. The question marks we have about him (mental and physical toughness, defense, rebounding) really can't be answered in this type of setting unfortunately. His agent Bob Myers does a very good job pointing out the difficulties in evaluating him (a pure face the basket power forward) in a system like Duke where he was played as a center, and there is certainly some validity to that argument. We touched on this in the interview we conducted with him, which you
can read here.
On one hand it's difficult not to get excited by a 6-11 sophomore power forward with excellent athleticism who shoots and handles the ball extremely well, passes like a pro, and has a super high basketball IQ, but on the other it's difficult to erase all the underachieving we saw over the past two years. NBA teams are going to have to make some judgment calls based off the interviews and physiological analyses they conduct, and we don't envy them in this case.
Bob Myers informed us that McRoberts won't be participating in the NBA Pre-Draft camp in Orlando later this month. He says he has about 10 private NBA workouts scheduled with NBA teams so far, ranging from the 8-18 part of the draft.
---
Martell Webster, 6-7, SG/SF, Portland Trailblazers, NBA
It somehow worked out that we got to see
Martell Webster
work out three times in our three days in Los Angeles, which gave us a pretty good chance to check in on his progress. Just the fact that he was here on the court less than a month after the season ended for him is a pretty good sign, as going into his third years in the NBA it's "put up or shut up time" according to Martell, and "time to establish myself and carve out a niche in the NBA." That's got to be encouraging for Portland fans and their front office.
The first time we saw Webster was at the Home Depot Center, conducting a workout with Joe Abunassar first, a two on two pick-up game with
Brandon Heath
against
Kirk Snyder
and
Marcel Jones
next, and then a full fledged five on five game.
Webster and Snyder got into it pretty good in the two on two game, with both players getting pretty physical with each other and Snyder not really shutting his mouth trash-talking from the second he walked in the gym until the moment he left a few hours later. Webster hit a few 3-pointers in Snyder's face to rile him up and tried to use his body to slow him down on the other end of the floor, but Snyder got extremely hot and seemed to take this matchup pretty seriously—which Webster didn't seem to share.
In the five on five game Webster seemed pretty content just hanging out around the perimeter and blending in with the crowd. His ball-handling skills aren't strong enough to create his own shot on a consistent basis, and his athleticism isn't particularly overwhelming beyond to really compensate for that (even if he is pretty good getting off his feet). With his frame and length it would be nice to see him mix it up a little bit more, but it's understandable that he doesn't see a need to fully assert (or prove) himself in a setting like this.
The obvious thing you notice every time Martell is on the floor is his incredible shooting ability. Watching him and
J.J. Redick
work out alongside each other was like taking part in an instructional shooting video. Both have picture perfect mechanics on their shot, with unlimited range, a high release point and a beautiful follow through, and the results are always there, both in the way the shot looks on each attempt coming off their hand, and with the consistency it goes in.
It's not hard to tell what the Trailblazers saw when they drafted Webster two years ago, but comparing between the player he was then and what we see now, it's not clear that you can notice a huge difference. He seems to be working sparingly on his ball-handling skills, but often it seems to be in playful streetball fashion behind the perimeter in ways that might not translate to the NBA. He surely loses some accuracy on his pull-up jumper (compared with his feet set), particularly moving left. Right now we have some concerns about whether he's heading toward developing into strictly a one-dimensional spot-up shooter or not, and that's exactly what Webster should be trying to avoid with the work he does this season.
Webster is a classy kid with a great head on his shoulders and a seemingly excellent attitude from what we can tell. The Trailblazers would do very well to push him as hard as they can in order to not lose him at such an early age, and that includes getting the most he can out of his outstanding frame and encouraging him to expand his game.
---
J.J. Redick, 6-4, Shooting Guard, Orlando Magic, NBA
There wasn't a whole lot to see here due to the nature of the workout, as we came in expecting J.J. to be a lights out shooter and that's exactly what we got. He's definitely not in great shape as you might expect after sitting on the bench for an entire NBA season, and his athleticism wasn't going to blow anyone out of the gym anyway in the limited opportunities we had to evaluate it. This season was obviously a wash for Redick, but it's difficult to be disappointed after he barely got a chance to show anyone what he can do playing under a coach on the hot seat all season long. Missing extensive time with the back injury that came up in the pre-draft process last year obviously didn't help matters much, but this isn't going to be the last we hear of
J.J. Redick
.
---
Abunassar Impact Sports Player Evaluations
DaShaun Wood, 6-0, Point Guard, Senior, Wright State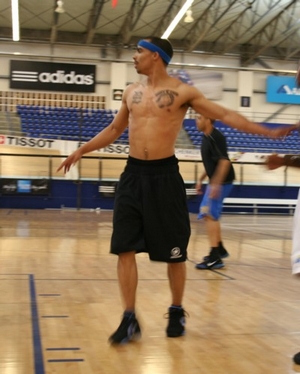 The MVP of the Portsmouth Invitational Tournament and our personal favorite from the camp as well obviously hasn't missed a beat since we last him in early April. He was the most dominant player on the floor in the 5 on 5 pickup game in day one (alongside players like
Corey Brewer
,
Martell Webster
,
Kirk Snyder
, etc), controlling the flow of the game like only a true point guard can and making everyone around him better in every opportunity he had. He showed absolutely terrific court vision and set the table wonderfully while running the show with his excellent leadership skills.
Wood is a true competitor and floor general who doesn't back down from anyone, despite his size. He succeeded in the rare task of getting a group of players who were just assembled on the fly to execute half-court plays, be unselfish and look like a real team, particularly with the work he did on the pick and roll, where he shows fantastic timing and patience.
When the opportunity was presented to him, he also knocked down shots from 3-point range and got into the paint thanks to his terrific first step, finishing craftily around the hoop (with either hand) in transition especially. There was a lot of value in seeing him in a setting like this alongside other excellent players, as he confirmed what we already suspected in the fact that he's an NBA caliber athlete.
Wood is clearly in excellent physical shape in anticipation of attending the pre-draft camp in Orlando. He received his invite in between the two days we were in Carson, and was clearly in good spirits after being informed of the good news.
The biggest question mark about him—his size—is not something he'll be able to dispel no matter how he does in Orlando, but he does play very tough defense, which is extremely important to NBA coaches who often have biases against smaller point guards. We'd like to see him develop a better floater to help him finish in the paint against bigger and more athletic players than he faced here and in college, but he does have an excellent pull-up jumper he can utilize from mid-range to help him compensate.
---
Adam Haluska, 6-5,Senior, Shooting Guard, Iowa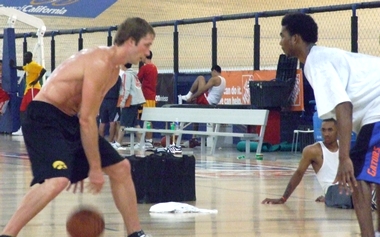 Haluska has obviously been working extremely hard since arriving here, and it came as a pretty big surprise to us to see him not receive an invite to the Orlando Pre-Draft camp, making him arguably one of the biggest snubs we've heard of so far. He's extremely athletic with a good body, excellent conditioning and plenty of upside to continue to improve, so he's definitely worth keeping track of regardless of where he ends up next year to see if he can put together the intriguing tools he has at his disposal.
In the two days we saw him, his 3-point shot was on and off. At times it will fall for him consistently due to his excellent touch, elevation and shot selection, but when he's crowded, in motion or asked to shoot from behind the NBA 3-point line, he struggles, as he pushes forward on his shot in unorthodox fashion and therefore fails to achieve a consistent release point.
Despite being a very crafty player who understands angles and has a quick and very powerful first step, Haluska isn't able to consistently create his own shot due to his average ball-handling skills. When he isn't forced to dance and use advanced moves on the perimeter to get by his man he is absolutely fine, and just the slightest crease in the defense is enough for him to get into the paint for a strong finish. Refining this part of his game will make him a much better player down the road, and will probably land him a permanent spot in the league. He's also pretty unselfish as he showed on a number of occasions in making some very nice passes.
If the inevitable happens and some players pull out of the pre-draft camp, the committee wouldn't go wrong at all in finding a spot for
Adam Haluska
. The fact that other players who had no business pulling out of Portsmouth are now all getting into the pre-draft camp, while he is being punished for going and playing well there is extremely unfair and sets a very bad precedent going forward.
---
Brandon Heath, 6-2, Senior, Shooting Guard, San Diego State
One of the favorites of lead trainer Dan Barto and company, we've been hearing an awful lot about the daily scoring clinics
Brandon Heath
has been putting on here. He did a lot of the same right in front of our eyes, showing phenomenal instincts for putting the ball in the basket in basically every way imaginable.
Showing beautiful shooting mechanics (35/47 or 74.4% from the NBA 3-point line w/feet set, 29/49 or 59% on the run), a great first step, and plenty of wiggle to create space for himself and keep his defender off balance with his terrific mid-range game or floater at the basket, Heath was responsible for some really impressive sequences. He also had a few inevitable bad ones due to his insistence of trying to be both flashy and productive at all times, but as he gets older, he should figure out how to iron out the wrinkles in his game and become more efficient.
Nothing we saw here really led us to believe that he has much point guard in him as far as true playmaking skills go, but with the direction the league is heading in these days, that might not be such a bad thing anymore. He can create his own shot with the best of them, and has great ability to get his man in the air and by him with a variety of shot-fakes, jukes, jab-steps and a super crossover. Tough shots are nothing for him regardless of the range, but he has a tendency to overdo it as we saw over the course of his career at San Diego State.
Heath has been invited to the Orlando pre-draft camp and will have a chance to impress if he continues to look the way he has at the Home Depot Center over the past few weeks. He doesn't have to be
Steve Nash
there…
Bobby Jackson
or
Eddie House
will certainly do. Improving his shot-selection and defense and getting stronger finishing better around the basket will definitely help.
---
Marcel Jones, 6-8, Junior, SG/SF, Oregon State
A nice surprise considering how he looked on tape compared with what we saw here,
Marcel Jones
has some nice tools to work with and could very well end up being a nice basketball player sometime down the road if he continues to work hard. He was very opportunistic in all the games he played in, feeding off open shots he found behind the 3-point line or from mid-range when the defense slacked, grabbing offensive rebounds, finishing in transitioning, and generally showing a good feel for the game while not looking particularly out of place. He's quick off his feet but not terribly explosive off the dribble, showing average ball-handling skills and a jump-shot that varies from very good (mainly with his feet set) to very poor due to his inconsistent shooting mechanics. There are a few things he does well right now, but nothing outstanding, so another year in college could certainly do him well to help round out his game.
---
David Bluthenthal, 6-7, SF/PF, Overseas Player, Climamio Bologna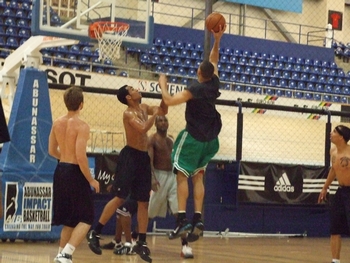 Not a draft prospect but rather a high-level American overseas player, David Bluthenthal is doubling up on workouts here in order to try and make another run at the NBA this summer. He was a very interesting guy for us to both watch and talk with, as he has a ton of experiences playing under some of the top coaches in European basketball (Pini Gershon, Ettore Messina, David Blatt to name a few) and has an approach that is in stark contrast to what is typically seen here in the draft prospects. Bluthenthal had a cup of coffee with the Sacramento Kings about a year and a half ago, and recently decided to leave his very large salary with faltering Climamio Bologna during what ended up being a disastrous season for them on nearly every front.
Bluthenthal has an old school game, complete with sweet turnaround jumpers from the post (ala
Carlos Boozer
), jump-hook shots in the lane, mid-rangers coming off screens, and outstanding passing ability. He uses his body like a real pro, drawing contact and finishing around the basket in tough situations. He can hit 3-pointers with ease thanks to his outstanding shooting mechanics, and makes quick and heady decisions with the ball in his hands. Watching the way he practices and handles himself on the court, you can't help yourself from again bringing up the word "pro," as everything he does is thought out, efficient and polished.
Unfortunately, he doesn't seem to have great athleticism to rely on, leaving you to wonder how he's going to keep up in terms of lateral quickness and exactly what position he is going to guard. He's also not much of a shot-creator at the small forward position, and unless he finds a way to shed 10-15 pounds (a very good idea for him), will likely be considered an undersized power forward in the NBA. Bluthenthal will be heading out to mini camp with the San Antonio Spurs next week from what he told us.
---
Keoni Watson, 5-9, PG/SG, Senior, Idaho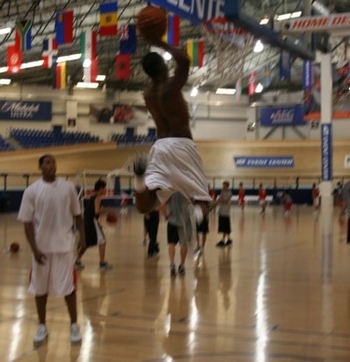 A player I had not seen before in person on tape, Keoni Watson probably isn't much of an NBA prospect due to his lack of size and point guard skills, but he sure does have some nice tools to continue to play basketball professionally. The cousin of former longtime NBA player
Bryon Russell
, Watson might have been the most well conditioned athlete of any of the players seen here. When most other guys saw their knees buckle with fatigue at the end of most every workout, Watson kept running and running seemingly without breaking a sweat. He was the best sprinter and maybe the best leaper here too, being will and capable of executing highlight reel dunks anytime he stepped into the paint despite his diminutive size. He's also a good 3-point shooter, featuring excellent elevation, although he's prone to get streaky at times when forced to shoot from NBA range. If he can find a way to temper his enthusiasm for making the dramatic play and shore up his ball-handling skills (he gets very sloppy and makes careless decisions) then he should have a long and fruitful career overseas.