Day One Recap
Day Two Recap
Measurements and Athletic Testing Results
Despite this being a "down year" for international prospects as far as the NBA Draft is concerned, the level of play at the EUROCAMP was about high as we've ever seen it. The quality of talent here relative to other years was due the inclusion of 10-15 more experienced and talented players from the best leagues in Europe in lieu of guys who simply had no business being invited at all. This shift was most noticeable in the level of athleticism observed in the average prospect here, which was as high as ever.
It is amazing how many players here had good camps and are clearly capable players, but can't get off the bench for their respective clubs. This event is a huge boost to their self-esteem, gives them a change to reaffirm their talent in an all-star type setting, and offers them a terrific opportunity for exposure.
The following awards were given to the top performers in this year's EUROCAMP:
Most Valuable Player:
Oleksandr Lypovyy
Hustle Player:
Paul Lacombe
Most Valuable Defensive Player:
Artem Klimenko
Best Center:
Darko Planinic
Best Power Forward:
Tornike Shengelia
Best Small Forward:
Daniel Diez
Best Shooting Guard:
Evan Fournier
Best Point Guard:
Tomas Satoransky
Player Notes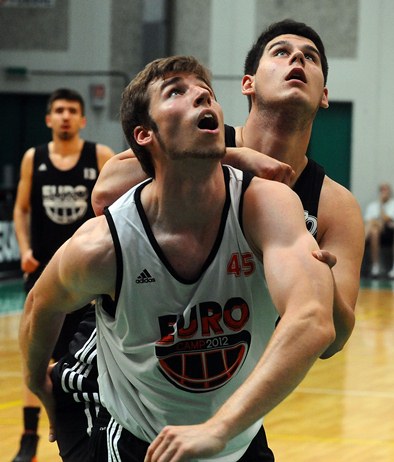 -Nevada graduate
Olek Czyz
was solid throughout the entire EUROCAMP thanks to his athleticism, toughness, and hustle. His biggest weakness at this stage is his perimeter jump shot, as he shot a very respectable 45% from beyond the arc in limited attempts as a junior, but shot under 30% as a senior and did not make many deep jumpers here. The development of Czyz's jumper would certainly help open up the rest of his game. He's an intelligent player with strong pivot moves who can put the ball on the floor and beat slower defenders off the dribble. Based on his showing here, there's little question he would have been a fine addition to the Portsmouth Invitational Tournament roster back in April.
-
Paul Lacombe
had another strong outing, passing the ball well in transition and using his athleticism to create for his teammates on the pick and roll in half court situations. He's able to turn the corner against this level of competition thanks to his quick first step. Once he's in the paint, Lacombe is a smart, willing passer, who also has the strength and leaping ability to finish at the rim. His ability to find a balance between scoring and passing has been a key to his performance here. He is an average ball-handler, defender, and outside shooter at this stage, but earned himself maybe a half-dozen workouts with his two terrific days here in Treviso.
-
Artem Klimenko
is one of the youngest players in attendance, but the 1994-born center had a nice showing nonetheless. His length and size make him an intimidating interior presence on the defensive end, and he has a frame that should develop in time as well as a competitive streak. Combine those traits, and you have one of the more impressive young center prospects in Europe. Klimenko played in the third division of Russia this season with Avtodor Saratov, and will remain with the club next season, which will allow him to see quite a bit of playing time, but won't afford him chances to match up against quality competition.
-
Darko Planinic
won the best center award here, and 1990-born center was able to utilize his 6'10, 255-pound frame to carve out space around the rim and do the little things on both ends. An extremely tough, intense, and physical competitor, it isn't hard to see why Planinic saw extended playing time in the Adriatic League for Siroki, averaging 9.2 points and 4.5 rebounds per-game while shooting 68% from the field. The Bosnia native's offensive repertoire is limited at this stage, and he lacks great athleticism, but he's the type of scrappy, active center that can be extremely valuable in the Europe game.
-
Tornike Shengelia
finished second in the camp's MVP voting, and was named the top power forward at this year's event. Shengelia may not be a physical freak, or an elite athlete, but his solid speed, toughness, and ability to use his strength in traffic give him excellent mismatch potential at the power forward spot. Shengelia had a number of dunks in traffic here among other impressive moments, and was all business from the moment he stepped on the floor on day one.
Offensively, Shengelia uses terrific pivot moves and straight line drives to create for himself off the dribble. He has terrific footwork in the post and is a savvy passer as well, possessing a nice feel for the game. His outside shot is a work in progress, but he shot the ball well in Treviso. One of the true professionals in this group, Shengelia's most promising moments came defensively, where he played better than he did earlier this season in Charleroi. That's a significant step towards defining his position at the NBA level and moving away from being labeled as a tweener. The Georgia native may need to improve his rebounding ability and continue making strides as a shooter and on defense to reach his full potential, but was on the the standouts of this year's EUROCAMP.
We were able to catch up with Shengelia, who intends to stay in the 2012 NBA Draft, on day two.
-French point guard
Leo Westermann
had a very nice showing in Treviso, showing the same excellent basketball IQ and maturity as a floor general we saw from him at the Hoop Summit. He excels in settings like this playing against his peers, showing great patience offensively, making shots from the perimeter, and getting his teammates involved. He did a tremendous job finding
Rudy Gobert
in position to score, but struggled a bit with turnovers today. A 1992-born prospect, Westermann did little to dispel notions that he's one of the most mature lead guards in his age group.
-
Oleksandr Lypovyy
was the MVP of this year's event, and the 6'6.5 multi-positional standout made his mark defensively, effectively guarding 3 positions over the course of the week. Possessing a wiry-strong frame, Lypovyy is a bull dog defending the ball, showing terrific tenacity and toughness. He saw rotation minutes for BC Donetsk this season, and his experience showed at times here.
Offensively, he did a nice job distributing the ball and running the pick and roll, also chipping in with a pull-up jumper from time to time. A very versatile player, Lypovyy will be tracked closely this coming season, and will be automatically eligible for the 2013 NBA Draft.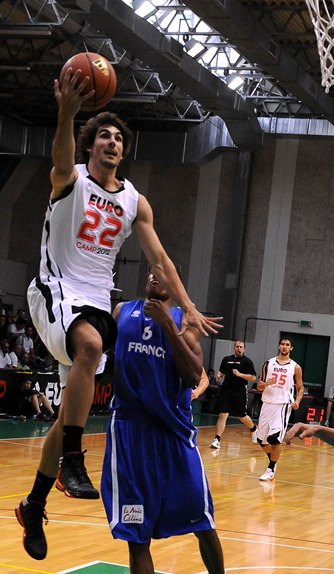 -
Daniel Diez
was named the top small forward at this year's camp. The Spanish wing has good size at 6'8 with shoes on, an improving frame, and solid athleticism. He is able to score in a number of ways offensively, as he can shoot the three, runs the floor with purpose, and has a very high basketball IQ. He seems like an excellent prospect for the highest levels of Europe at the least, especially as he's matured from an undersized four to a true small forward. He saw a few minutes for Real Madrid's senior team last season, but spent most of his time with their second team in the EBA. If he continues to improve his shooting mechanics and ball-handling ability, he could emerge as a NBA prospect. Considering he's a 1993-born prospect, he'll have plenty of time to do so.
Disappointments
Though many players performed up to, or above, expectations a number of talented young prospects failed to make an impression. Some of that has to do with the stage they are at in their development, but it is also a result of the more experienced, athletic than average group they were competing against.
-1993-born Serbian point guard
Nenad Miljenovic
struggled to beat his man off the dribble and maintain possession of the ball all week. Unable to keep his man out of the lane defensively, Miljenovic's lack of strength and athleticism limited his impact on both ends, and he'll need to continue improving to take the next step in his career.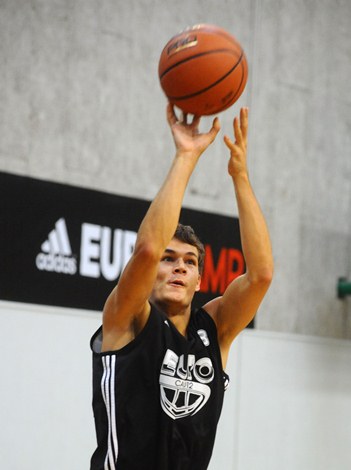 -
Devon Van Oostrum
, Long considered a top talent in the 1993 age group, struggled to find a rhythm in Treviso, looking out of control handling the ball and struggling with his outside shot. Van Oostrum is a tremendously athletic point guard with very good size for his position, but was unable to use that to his advantage here.
-Polish wing
Mateusz Ponitka
could not get anything going at the EUROCAMP, looking a bit out of place. After a strong showing at the Hoop Summit last year, Ponitka couldn't find the same groove that caught the attention of scouts in Portland.
-Arizona product
Kyryl Natyazhko
struggled mightily, shooting the ball every time he touched it, looking questionable defensively, and not representing the American college system terribly well.
-
Tomas Satoransky
was another disappointment, but we covered
his situation yesterday
.