Ron Everhart was fed up and
Aaron Jackson
was in his sights.
For Jackson – then a senior at Duquesne University – it was a subpar performance in an afternoon practice prior to the start of his senior year with the Dukes. After a series of mental lapses on defense and a few sarcastic comments to nearby teammates, the burgeoning 6-foot-4 point guard was summoned to his head coach's office. Everhart didn't sugar coat things, challenging his star to reach his potential. That was all it took.
These days, when Everhart is looking for an update or just needs to get a word across, he typically utilizes a middle man.
"I think he might be texting my kids more than he texts me," Everhart says with a laugh from the Duquesne basketball offices in downtown Pittsburgh. "My 12-year-old twins are big
Aaron Jackson
fans."
They're not alone. Now a 25-year-old professional in his second season playing in Europe and his first in the power league Spanish ACB, Jackson has helped lead Bizkaia Bilbao Basket to the brink of a championship, an almost incomprehensible achievement for a franchise barely a decade old.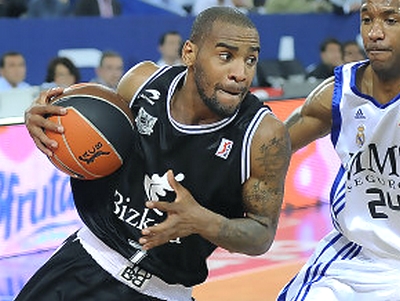 Standing in their way as Game 1 of the series tips off Friday (see free live streaming on
ACBTV
) is international giant Barcelona, loaded with such names familiar to NBA fans as
Juan Carlos Navarro
,
Fran Vazquez
and soon to be a member of the Minnesota Timberwolves,
Ricky Rubio
.
While thrilled to be on European basketball's biggest stage, Jackson isn't fazed by the underdog role – especially after splitting a pair of regular season meetings with Rubio and Co.
"We have to keep our momentum going, we're playing really well right now," Jackson says. "We're playing like a family on the court. I think this can be a really good series if we keep our concentration. We gave [Barcelona] two tough games during the season so we're going in thinking it's going to be a battle, but we do need to remember that this is one of the best teams in the world."
And Jackson has been one of the top performers in Spain since the ACB playoffs began. His nearly 11 points and better than four assists per game both rank in the top ten in postseason leaders and his 47% shooting ranks 11th. But beyond his production, the former Atlantic-10 star has managed to earn the trust of his teammates and the Bilbao coaching staff in just four months time, a feat perhaps more impressive than any of his statistical accomplishments.
ACB.com Highlight Reel: Aaron Jackson, el hombre [the man] del Playoff
While many of the most productive players in Europe are American-born, there remains a degree of separation between new players and coaches during the initial months of the season. American players—particularly point guards, and especially in Spain—aren't always naturally trusted to run the show for top-level European teams. Every mistake they make is magnified, and expectations can often be out of control. A large degree of skepticism exists naturally from fans, management and even referees, who can be biased towards home-grown products.
Beyond the simple differences in style between professional basketball overseas versus U.S. colleges, players like Jackson are often just a year or two removed from their amateur days when they join veteran laden rosters like many in the ACB. Earning the trust of new teammates and coaches can often be a greater challenge than the language barrier.
"Coming here you see a lot of Americans that don't really get the chance to do what they want to do or what they're capable of," Jackson says from his hotel room in Barcelona. "There are some guys who come over and have the mentality that they have to score and get their numbers up to improve their situation. When you come here though, you have to do what it takes to win first and foremost, that's what the teams like."
It should come as no surprise then that Jackson – long lauded for his ability to quarterback an offense – was quickly embraced by all three teams he has played for in Europe (he has spent time in Turkey and Italy).
None of this surprises Everhart who has often made analogous statements regarding his former guard and the player everyone wants to team with during pick-up games.
"We were sitting around [the Portsmouth Invitational] one time and [former Washington Bullets General Manager]
Bob Ferry
proposed that question to a bunch of the coaches there and to a man they all said
Aaron Jackson
because he's such a good passer and has such a high basketball IQ," Everhart recounts. "I think that trait has probably allowed Aaron to integrate himself into the European system a little bit faster than it might take some other guys."
The path wasn't without its hazards though. In addition to adjusting to the jump in competition level from Italy to Spain, Jackson struggled early with his dual role as facilitator and crunch time scorer. While his talent level was never questioned, like so many others, the task of conforming to a completely new style of basketball wasn't without its setbacks. You can count on one hand the number of American point guards his age who have played at this level in Europe this early in their career over the past few years.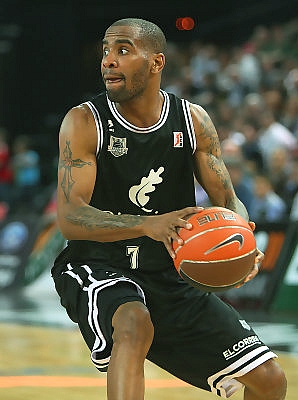 Slowly but surely, though, the improvements and adjustments Jackson has made began to manifest themselves on the basketball court. Steadily, Jackson's game developed.
The crystallization of this growth was never more evident than a February 4th meeting with, all of teams, Barcelona, a 5-point overtime victory for Bilbao. Jackson scored a game-high 21 points in the win, including eight in the fourth quarter and a pair of big baskets in the extra period. From that point on, he was no longer viewed as a rookie, but a player to be counted on in big situations.
"That really gave me confidence and put me a position where the coaches and my teammates had confidence in me," he recalls. "From there on out, if we needed a win, our coach looked at me and basically told me to go do my thing."
"I've always viewed him as the kind of guy who had the work habits, the mental makeup, just the resolve to be able to make it big in professional basketball," Everhart adds.
The 6th year Dukes head coach compares Jackson to another former player – J.J. Barea of the Dallas Mavericks. Everhart coached the lightning quick point guard in a 5-year stint at Northeastern where Barea terrorized opposing defenses before moving on to a professional career that has taken him to Puerto Rico, the D-League and most recently Dallas. Jackson's game hardly compares to the diminutive speedster in style though, but rather in approach.
"I saw how hard he worked between his junior and senior year, he brought that intensity every single day," Everhart says. "He wasn't going to be denied. None of this really surprises me because he's the ultimate team guy – losing is not something he accepts very well."
Nor is it something he's done very often as of late.
Bilbao finished in 6th during the ACB regular season before going on their postseason tear, most recently dispatching 2nd place Real Madrid in four games (teams play 5-game series) behind Jackson who scored a team-high 17 points in the series-clinching 80-72 win. Now it's on to Barcelona and another series where Bilbao will attempt to prove the pundits wrong.
In the midst of his growing list of accomplishments in what is widely considered the top league in Europe, one would think that Jackson's mind might be harboring allusions of grandeur in the NBA in the not too distant future. But in a response that reveals both his appreciation for the moment and a maturity beyond his years, the 25-year-old says he is only concerned with the task at hand.
"Right now we're in a championship," he says matter-of-factly. "The NBA believe it or not is something that isn't on my mind all the time. I want to win this title, that's my focus right now."
"Never did I think in my first year in the ACB I would be a go-to guy on a team playing for a championship with so many older guys on the roster. Fortunately because of my hard work, my teammates leading the way and the coaching staff having enough trust in me, I'm at this point."
And while Game 1 will be tipping off right in the middle of the afternoon in the U.S [2:25 EST]., there's a good chance a coach and his twins will be checking in for updates.
Follow
Aaron Jackson
and the ACB Championship on the league's official website:
ACB.com
.