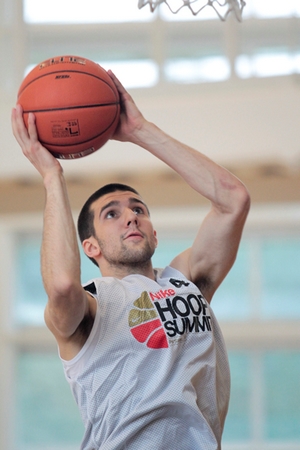 Matt Williams
Already seeing some playing time off the bench in a strong level of competition in the Adriatic League,
Aleksandar Cvetkovic
showed his maturity on both ends of the floor over the course of his week in Portland. The 18-year old point guard was far from dominant in the game itself, but did a fine job distributing the ball, and playing team basketball, especially in the first half.
Standing 6'2 with a skinny frame, Cvetkovic lacks great size, strength, and athleticism, but he does a very nice job compensating for that with quick footwork, timely changes of speed, and solid ball-handling ability. Though he struggled with the length and quickness of the USA Junior Select Team's guards on a few occasions, he was still able to turn the corner and get into the paint consistently, although he does not have the bulk or the explosiveness to finish much of what he creates around the rim.
Cvetkovic's offensive game revolves around pace and positioning. Despite his lack of great leaping ability and explosiveness, he makes things happen with his dribble. Keeping his man off balance with hesitation moves and using his defenders momentum to his advantage, Cvetkovic controls the game with his ability to get to spots on the floor. An exceptionally savvy passer and crafty finisher, the young guard has terrific court vision, is able to take what the defense gives him, and makes consistently sound decisions with the ball, even under pressure.
Away from the basket, Cvetkovic has deft touch on his pull-up and spot-up jump shots. His mechanics are extremely smooth and his footwork is incredibly advanced for a player his age, as he never seems to attempt a shot off balance. He makes good use of his floater, but is more apt to find the open man when he gets into the paint. Able to read the game and find the open man like a veteran, Cvetkovic seamlessly runs the gambit between role-player in an All-Star setting like this one, star for his team at the junior level, and spot player for Red Star possessing an uncanny knack for striking a balance between scoring and passing and blending into his surrounding to make sure he's helping his team win.
Defensively, Cvetkovic made a consistent effort to pressure the ball, did his best to fight through screens, and showed the same high basketball IQ he does on the offensive end throughout the week. Lacking the physical tools to make a major impact, the Serbia native was knocked around quite a bit on the defensive end, but showed great intensity nonetheless. It will be interesting to see how Cvetkovic responds to playing against more athletic guards at the professional level as his career progresses, as we got a very limited glimpse of how he'll fare against high level athletes at the point guard position this week.
Clearly one of the most mature players in attendance,
Aleksandar Cvetkovic
is a tremendous competitor who ranks as one of the most promising young guards in Europe. His lack of great physical tools limits his upside at the NBA level, but the degree to which he already compensates for that on the offensive end is extremely impressive. His progress on the senior level is very much worth tracking as it should provide some insight on how he'll be able to adjust his game against better athletes.