Kyle Nelson
After a solid sophomore
year
, scouts were expecting a big junior campaign from New Mexico center
Alex Kirk
. While New Mexico logged a 27-7 record and (once again) won the Mountain West Conference Tournament, Kirk faded down the stretch of an already inconsistent season, culminating in a three point, six rebound, and five foul performance in New Mexico's first round loss to Stanford. Yet, despite his up and down junior season, Kirk graduated from New Mexico with a degree in marketing (he redshirted during his true sophomore season to recover from back surgery) and
declared for the 2014 NBA Draft
.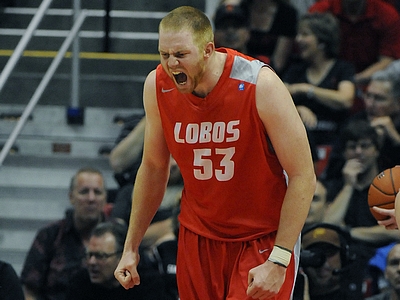 Standing just under 6'11" in shoes, with a massive 7'3.5" wingspan, 252-pound frame and 9'1.5" standing reach, Kirk looks the part of a center at the next level. The downside, however, is that his 13.6% body fat ranked
second highest
among prospects invited to the NBA Draft Combine and his 48th place finish in our
Athletic Testing Composite Rating
supports our past assertion that he is a below average athlete. Furthermore, he lacks both ideal lift around the basket and quickness in the open floor. It's possible that he could improve somewhat if he continued to slim down his stocky frame (he's already begun to address that from what we saw at the NBA Combine in Chicago), but even then, he is likely a below-average athlete at the next level.
Kirk averaged just 16.6 points per 40 minutes pace adjusted, which ranked in the bottom-quarter of prospects in our
Top-100
, despite the fact that he saw a career high 18.9% of New Mexico's possessions. Looking deeper into his
scoring splits
, however, raises more than a few concerns. For instance, Kirk averaged 10.9 points and 46.4% FG in 15 games against RPI Top-100 teams versus 15.7 points and 55.9% FG in 9 games against teams outside the Top-100.
In searching for explanations for his lack of productivity, it is notable that his role did not change too drastically. According to Synergy, he saw slight decreases in usage in the pick-and-roll and took more jump shots, but a majority of his possessions still came in the post and off cuts.
He did, however, make a career high 54.4% of his shots from inside of the arc, which included 45.9% of his attempts via posting up, 68.1% of his other shots around the basket, and 39.5% of his mid-range jump shots. On film, Kirk has developed into a post player with a solid arsenal of skills that distinguish him as a prospect. Though he is heavy-footed, he shows nice hands and finishing ability out of the pick-and-roll along with the versatility to step out and knock down 15-20 foot jump shots. These same characteristics make him a very efficient finisher off of cuts, as well, and for all of his flaws, he continued to do a solid job of moving without the ball in his hands as a junior.
While Kirk is not the smoothest operator with his back to the basket, he has a few moves in his repertoire that allow him to be a solid finisher in the post. His jump hook and turnaround jumper should both serve him well at the next level. Outside of these types of situations, however, it is hard to see him making much of a difference as a post finisher at the next level. After all, his footwork is merely average and outside of a simple spin move or using his size advantage to fight his way to the basket, he shows very little in terms of scoring around the basket. That he attempted a mere 4.8 free throws per 40 minutes pace adjusted, and converted just 67% of them, does not help matters, either.
He also, once again, showed flashes as a perimeter shooter, though his percentages plummeted from 27.7% to 21.4% on 2.2 attempts per 40 minutes pace adjusted. His mechanics actually do not look that bad and he shows a fairly fluid release with a high release point, but he is inconsistent, particularly with a man in his face. Furthermore, the bigger issue may be that he just lacks the range to knock down shots from the three-point line to begin with. Obviously, proving to scouts that he is a capable jump shooter in workouts could go a long way in improving his draft stock, though at 22, the combined 27.8% that he shot on his overall jump shots and 66.7% FT% he shot as a senior doesn't bode well for him.
On the defensive end of the floor, Kirk remains a mixed bag. On one hand, his below average lateral quickness renders him a liability against quicker and more athletic forwards. This matters both in terms of face-guarding perimeter oriented big men and defending the pick-and-roll, and, Kirk looks like he will struggle guarding NBA-caliber post players away from the basket, even if he did a decent job at the collegiate level. Likewise and while did a better job of bodying-up his man in the post as a junior, he still gets beaten more often than one would expect and it is still too easy to simply toss the ball over his head to an open man. In terms of his man-to-man post defense, he not only must maximize his physical tools, but he should also continue to work on his fundamentals.
On the other hand, Kirk displays outstanding timing and patience, which coupled with his length, make him a very good shot blocker at the collegiate level. His 3.3 blocked shots per 40 minutes pace adjusted rank eighth among prospects in our
top-100
. He is also a solid rebounder whose 10.8 rebounds per 40 minutes pace adjusted rank in the upper quarter of our
top-100
.
Thus, Kirk remains an enigma looking toward the draft in a draft where there might be more intriguing big men projects available in the second round. He is a big body with a huge wingspan, who is a below-average athlete and shows some potential down the road to develop into a player who could spread the floor on offense and make hustle plays on defense. The trouble, however and at 22-years-old, is that he is not there yet. His resume is a mixed bag, as well: his standout play against Massachusetts, Cincinnati, and MWC stalwarts San Diego State and UNLV is balanced by no-show performances against Kansas, Marquette, and most notably in the first round of the NCAA Tournament against Stanford. Therefore, Kirk has more work to do than most in workouts to prove that he is worthy of a draft pick. Even if he doesn't hear his name called on draft night, however, he should have little trouble finding his way on to a summer league roster strictly due to his size and potential and should have a successful career overseas if the NBA is not an option. Adding a legitimate 3-point shot to his arsenal is Kirk's most likely way of finding a NBA roster spot, something he could attempt to do with a season or two in the D-League.