Blake Griffin, 6-10, PF/C, Los Angeles Clippers, 1989
20.9 points, 12.4 rebounds, 3.2 assists, 2.7 turnovers, 51% FG, 58% FT
Joe Treutlein
After sitting out his first year in the NBA due to injury,
Blake Griffin
finally set foot on the court for the Clippers this season and a third of the way through is the early favorite for rookie of the year behind his great production and endless array of spectacular plays.
Leading the NBA in dunks
and probably having seven or eight of the top ten highlight reel plays in the league thus far, Griffin has proven himself nothing short of a truly elite athlete, quite possibly being the best at the power forward position in the entire league.
While it's still early in his development, he's already done a great job applying these athletic tools in a variety of areas on both ends of the floor.
Part One: Post-Up Offense
Then:
"Offensively, Griffin gets most of his points as a post-up threat, although he can also make his presence felt by running the floor in transition and crashing the offensive glass. He establishes deep position in the paint thanks to his strength and toughness, and can finish with nice touch and even a little baby hook shot. With that said, his best option offensively is clearly the dunk, which he performs emphatically and appears to enjoy doing, especially in two-handed fashion.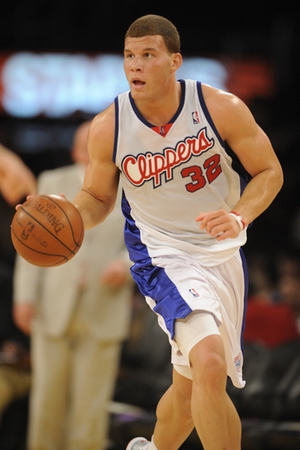 He does not have many moves in his arsenal at this point, lacking some footwork, balance, a reliable left hand and counter-moves, which becomes more obvious when he's matched up with a more serious post-defender. Sometimes he'll struggle to get himself going offensively if he can't just overpower players on his way to the rim, looking out of control and overdoing things at times, just throwing up a shot on the rim from a bad angle hoping it falls. He needs to get smarter and more polished on this end of the floor, and especially improve his decision making, something that will only come with time and experience."
-NCAA Weekly Performers, January 4, 2008
Now:
The first thing to note with Griffin's post game is how well his brute strength and ability to outmuscle the opposition has translated from college to the pros, with him still being able to physically overpower most of the opponents he faces, especially with how well he's improved his already impressive frame. Having a good understanding of leverage and having no problem throwing his body around to back his man down and establish deep position, Griffin does an excellent job carving out space low on the block, and will also move around the floor constantly to open up in the post on either side of the lane.
Once he gets the ball, Griffin's strength and weakness profile is fairly similar to where it was two years ago. He prefers power moves like drop-steps to the rim where he can power up with a dunk, though his finesse game has come along some over that time. He is very much reliant on spin moves in the post, both of the power and finesse variety, frequently taking advantage of his outstanding ability to change directions quickly, getting separation as well as any big man in the league in this regard.
When Griffin does manage to get separation for finesse moves in the post, he shows flashes of nice right-handed hook shots and turnaround jumpers, though his consistency is still coming along, and putting in more practice to hone his accuracy should be among his priorities. He seems to be getting by in this area mostly with a combination of great touch and the ability to separate so well, as his skill level is still lagging behind his other attributes. To his credit, he appears to be putting in the work trying to expand his game, however, also flashing a
Tim Duncan
-esque bank shot from the 5-10 foot range often, though this, too, is nowhere near consistent yet.
All things considered, with Griffin seeing the majority of his possessions in this area, he's already a quite effective post player in spite of his still developing polish. His ability to get dominant position, finish with power, and get outstanding separation by virtue of his elite quickness are attributes that could only become more pronounced if his skill level catches up with the rest of his game.
Part Two: Finishing at the Rim
Then:
"Not only did Griffin garner the most possessions of any PF in the draft at finishing around the basket per game (7.9), but he's also the #1 finisher as well, connecting on an outrageous 75.5% of his short range attempts, not including post ups. While his overall points per possession (PPP) of 1.08 ranks fourth, thanks to the fact that he's fouled on 18.5% of his possessions, has finished 51 of his 61 attempts in transition, and ranks amongst the best finishers when cutting to the rim at 1.52 PPP. Athleticism, strength, and tenacity aside, those numbers alone go a long way towards explaining why he's such a coveted prospect considering he's managed to generate 20.2 total possessions per game (good for 3rd on our list) while still getting the job done in the post (53% on 7.9 Pos/G)."
-Situational Statistics: This Year's Power Forward Crop, April 23, 2009
Now:
Once again, this is another area that has translated quite well for Griffin, as he is one of the NBA's elite finishers at the basket both in terms of how many attempts he gets there and his ability to convert them. Of Griffin's 15.7 field goal attempts per game, 6.5 of them come at the rim according to Hoopdata.com, with only two players in the league (
Carmelo Anthony
and
Russell Westbrook
) having more attempts there per game. Griffin also is converting at an outstanding 67.6 FG% on those attempts, a higher efficiency than all but one of the top-15 attempt-getters in the league.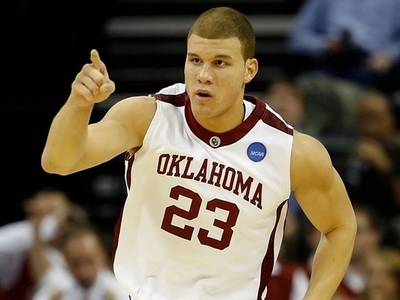 Griffin's ability to finish around the rim is derived from a combination of his raw strength, his large and soft hands, and his ability to effortlessly elevate from a variety of situations. While Griffin's full strength vertical leap is among the best for players his size, what really separates him is his reactive leaping, namely his ability to still reach such great heights from his second and third bounce. Griffin gets plenty of his scoring opportunities making cuts off the ball, dipping back door for alley oops, crashing the offensive glass, finishing on pick-and-rolls, and getting out in transition, all areas where his elite athleticism make things quite easy for him.
This is not to discount the importance of his other attributes, however, as his ability to adjust on the move and change direction also are of great use to him in scoring at the rim, something that shows up most in the pick-and-roll game, where Griffin is already one of the league's biggest threats as a finisher. This is a part of his game that he wasn't really able to show in college, as his team just did not use him in this fashion. 13.6% of his offense comes in this fashion currently according to Synergy Sports Technology, compared with 3.3% in his last year at Oklahoma.
Part Three: Face-Up Offense
Then:
"Griffin's ball-handling skills look much improved, as you'll often see him grab a defensive rebound and begin to dribble the ball up-court himself, adding some nifty spin-moves in for good measure along the way. This isn't always the best idea in the world considering that he's 6-10, but it's nice to see the versatility he displays, and he does a good job showing off his terrific coordination and body control at the same time.
We're still yet to see the dribble-drive become a real staple of his half-court repertoire, but it's not very hard to envision that happening down the road considering his terrific tools. Facing up from the mid-post, Griffin's quickness and fluidity makes him an absolute nightmare to try and stay in front of."
-NCAA Weekly Performers, December 11, 2008
Now:
Still a work in progress, Griffin's conventional face-up offense has not been among his strengths thus far, with him averaging just 0.573 points per possession on isolation attempts according to Synergy Sports Technology. In the half-court setting, Griffin doesn't protect the ball very well when facing his man, while his handle in and of itself isn't very tight to begin with. He still is capable of getting off a phenomenal spin move at times, and his first step is exceptional for his size, but he hasn't found a way to put these things together in a conventional sense yet, rarely being able to take the ball to the rim for a power move from the perimeter.
While Griffin's conventional face-up offense hasn't been too impressive yet, he has found a way to contribute with the ball when he gets it farther than 10 feet away from the basket, doing so in a crafty way that takes advantage of his other strengths. When he is put in face-up situations, more often than not Griffin will use his highly adept spin move to get closer to the rim, at which point he'll seamlessly transition from a face-up drive into a back-to-the-basket situation, actually using these opportunities to get fairly good post position and then being able to work into his post-up game, where he can excel.
Griffin's recognition of how to use his strengths to his advantage in this area, while not forcing the issue in ways he doesn't excel, is quite encouraging for a player at his stage of development, though it would still obviously help in the long run if he could find a way to take advantage of his true face-up game rather than using it just to set up his post ups. Playing in more important games and for a team that is not amongst the league's bottom-feeders, it's likely that opponents will elect to double-team him more and more in the post.
Part Four: Perimeter Shooting
Then:
"Another area of improvement revolves around his perimeter jump-shot, which appears to have made significant strides. His mechanics look solid, with a nice release and follow-through, and the ability to use the glass in Duncan-esqe fashion. As noted, he's already hit two 3-pointers this season (his lone attempts), which is pretty impressive despite the limited sample size. He hasn't really attempted enough jumpers from any range to draw any definitive conclusions just yet, but the progress he's made is encouraging.
It would be nice to see Griffin improve his free throw shooting, though—still very mediocre at just 60% (up from 59% last season). He's leaving at least 2-3 points on the board every single night when considering how often he gets there, which may come back to haunt him as Oklahoma approaches the post-season."
-NCAA Weekly Performers, December 11, 2008
Now:
While it appeared Griffin was making strides with his shot towards the end of his college career, and had plenty of time to work further on it sitting out last season, he seems to have plateaued in that area for now, not being anything more than a respectable spot-up shooter from mid-range. While his mechanics are solid and he's capable of knocking down open shots from time to time, on the whole this is not an area he's excelled in, being pretty inefficient with all his jumpers this season.
According to Hoopdata.com, Griffin is knocking down just 34.1% of his shots from the 10-15 foot range and 33.0% from 16-23 feet, not good numbers by any means especially when you consider most of his shots are of the catch-and-shoot variety coming off pick-and-pops. While Griffin doesn't force the issue here, usually only taking his shots when wide open or with the shot clock winding down, he is taking a total of 4.5 attempts per game from 10 feet and beyond, so this is definitely an area where improvement could pay dividends.
Even more so, improving his shooting ability would help even more from the free-throw line, where Griffin is attempting 7.9 shots per game, 10th best in the league. His FT% is just 57.2% thus far, which is pretty much the same as he shot his two seasons in college.
Part Five: Defense and Rebounding
Then:
"Defensively, Griffin still appears to rely too much on his physical tools, even if his intensity looks a bit better than it did last season. He has a tendency to gamble for steals excessively (his quickness makes it quite easy for him to jump in front of post-entry passes) and seems to give up position too easily on the block (possibly to avoid cheap fouls), but there is regardless no doubt whatsoever that he should be able to develop into an excellent defender in time if he wants to thanks to his terrific physical tools, smarts and intensity.
Griffin has been an absolute monster on the glass, leading the NCAA by a wide margin in rebounds per game for all the many reasons already mentioned."
-NCAA Weekly Performers, December 11, 2008
Now:
Griffin's ability to defend the post is largely the same from what we saw in college, with him not using his great strength to take advantage of leverage nearly the same way he does on the offensive end. While his fundamentals aren't bad, he just needs to be more assertive in utilizing them, not making nearly enough use of his base strength as he could.
In Griffin's defense, his post defense hasn't been helped much by his team's situation, as the Clippers often leave him on an island defending the post, and with
Chris Kaman
hurt much of the year, Griffin has been forced to play 26% of his minutes at the center position according to 82games.com, with the power forwards playing alongside him in those instances usually being
Ryan Gomes
,
Craig Smith
, or
Brian Cook
, no one capable of helping much with weak-side shot-blocking.
While Griffin's post defense hasn't been much of a bright spot, one area where he has excelled is defending the perimeter, something we rarely were able to see in his time at Oklahoma. According to Synergy, Griffin is allowing just 0.5 points per possession scored against him on isolation attempts, which puts him in the 94th percentile of the entire league in that category.
On the perimeter, Griffin has absurdly quick feet for a player his size, while his fundamentals and reaction speed are also both quite solid. His level of attentiveness is likewise high, and he does a good job moving laterally and staying in front of his man. As the season as gone on, despite him often playing pretty aggressively, up on his man, he's been forcing players to try and shoot over him from the perimeter as opposed to taking him off the dribble, a sign of the respect he's earning in this area.
Griffin likewise is doing well defending pick-and-rolls, doing a good job hedging with his athleticism and length, while also being well suited to handle switches against wings and even point guards, looking fairly comfortable and doing an adequate job in those situations.
On the glass, Griffin is still as prolific as he was in college, ranking 10th in the league in pace-adjusted rebounds according to our database, and ranking 4th in rebounds per game at 12.4. His ability to pursue caroms outside his area remains his greatest attribute, though he also does a good job turning to face the rim whenever a shot goes up, opening up his body and getting into box out position. And on the offensive end, his outstanding reactive ability plays a big part in his pension for grabbing second and third chances.
Outlook
While it's still only 30 games into a 21-year-old's career, a few things have already been made abundantly clear about
Blake Griffin
's ability to perform in the NBA, where he ranks among the very best elite athletes in the league, if not being the single-most athletic player at his position. While he's mostly gotten attention for his highlight reel dunks from casual fans thus far, looking closer reveals a versatile game with developing skill sets in all areas, while his year-to-year improvement since his freshman season in college suggests a great work ethic and learning curve. How those things apply to his game from here on out will shape whether Griffin is able to become one of the NBA's truly elite players in addition to elite athletes, but he's obviously off to a great start, and it will be interesting (and certainly exciting) to watch him develop further.