Josh Riddell
Anthony "Cat" Barber
had a wildly successful junior campaign from an individual standpoint, finishing
seventh in the nation
in scoring at 23.5 points per game while being named to the All-ACC 1st team. The former McDonald's All-American has made some substantial strides as a pro prospect since his inconsistent freshman year, and after three collegiate seasons, made the decision to move on to the next phase of his basketball career, which makes sense considering he turns 22 in a few months.
While Barber found plenty of individual success, the same can't be said about N.C. State, which underachieved badly in finishing just 5-13 in the ACC and 16-17 overall despite having plenty of talent to go around relative to teams that finished ahead of them. NBA teams will have to decide how much of that to attribute to Barber and how much to that the dysfunctional situation the Wolfpack found themselves in this season.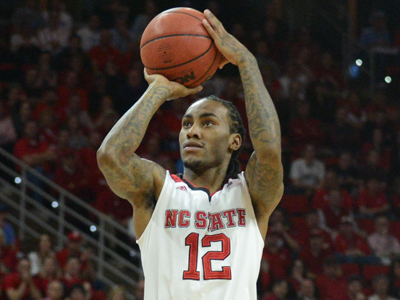 Barber's professional potential starts with his speed and ability to use it with the ball in his hands, as he is easily one of the quickest players in this draft class. Few defenders can stay in front of him off the dribble, as he possesses high end speed, great acceleration and impressive shiftiness while in motion. He can stop and cut in an instant to lose his defender off the dribble.
The rest of his physical profile is enough to keep NBA teams intrigued, with a measured height of 6'2" and wingspan of 6'4" that doesn't leap off the page, but complements his speed well. He still has some room to fill out his frame, but will need to add only enough to sustain a full season of professional play with his game being built on speed rather than strength.
Barber was the engine of the N.C. State offense, having the ball in his hands a majority of the time and always looking to create shots. Most of his offensive possessions ended with him creating offense for himself off the dribble, with almost 75% of his shots coming from isolation, pick and roll or transition opportunities as logged by Synergy Sports Technology.
Although he has plenty of experience as a primary ball-handler, his decision making still needs to be refined as he moves to the next level. Barber will force low-efficiency, highly contested shots early in the clock at times, but also has a tendency to pass up open three pointers that his coach would be happy with him taking. He's always attacking, but he can get himself into trouble by trying to beat multiple defenders in transition or by driving into the heart of the defense in the half-court when it would be better to move the ball and attack from a different spot on the floor.
He wasn't the most efficient player, needing a lot of shots to get his points. He'll likely need to reduce his usage at the next level and improve his shot selection to balance his own scoring with getting his teammates involved, something he struggled with at times the past three years.
Barber is dangerous anytime he gets downhill offensively. He can be a one man fast break, making something out of nothing even if there are defenders in front of him as he can blaze right by them. He has some nice shake to his game and with his ability to change speeds in the half-court, he's capable of beating his defender in isolation situations or out of ball screens.
Once he gets past his defender, Barber can utilize his speed to get to the rim, but he can't always finish once he gets there. He converted just 49% of his attempts at the rim according to Synergy Sports Technology. He got his shot blocked often as many of his attempts are underhanded layups that are on a platter for rim protectors. He took just 22 runners and didn't display much touch on these attempts. He will need to develop this weapon to become a better finisher after he attacks the paint, because it doesn't appear as though he will be a great finisher in the restricted area with his average length and strength.
Barber is a capable pull-up jump shooter, converting 36.6% of his attempts per Synergy Sports Technology. He is a much improved shooter since his freshman season and finished his junior season at 36% beyond the arc, a more than acceptable mark to keep defenses honest if they sag off him to contain penetration. He will pull up from the three point line or at the elbow if his penetration is cut off. He does need to cut out the jump shots with this heels on the three point line which he takes far more than you would like, a component of his decision making that needs to be improved.
Another big area of improvement for Barber to boost his draft stock is his overall passing skill set. His pure point rating of 0.94 is a
below average mark
for point guards in our top 100. He was much more focused on his own offense and spent much of his time pounding the ball into the ground rather than keeping the ball moving. When he did pass, it was often as a last resort, and doesn't always put his teammates in position to score. In a smaller scoring role, becoming a more willing and accurate passer will make him more attractive to NBA teams, as it often looked like he was playing for himself, being more concerned with his stats than trying to win games.
Defensively, Barber has made some improvements, but doesn't project to be a big impact player. He's shown more of a commitment defensively this season, communicating to his teammates and sliding his feet more effectively guarding the ball. He can be lackadaisical at times defensively, not fighting hard through screens or taking the best route off the ball, relying on his speed to cover mistakes. He doesn't have the length to contest jump shots or the strength to ward off dribble penetration, limiting his overall potential.
With his quickness to create offense and ability to shoot off the dribble, Barber is in the mix to be drafted come June. To improve his chances, he will need to demonstrate improved decision making while accepting a lower usage role and at the same time, becoming a more willing passer to get his teammates involved.
While Barber clearly has talent, to stick in the NBA long term, he'll need to show that he can play a more winning style of basketball than what we often saw from him at N.C. State. He does not have a reputation for being the most coachable player in the world or the best teammate, even beyond his often poor body language, so he will have to show in the pre-draft process that these things won't be as much of a concern at the pro level.