Scouting Report by Jonathan Givony. Video Analysis by Mike Schmitz
Born in Macedonia to a Turkish father and Bosnian mother (an ex-basketball player),
Cedi Osman
was discovered by Turkish scouts of Euroleague powerhouse Efes Pilsen in Sarajevo as a 13-year old and brought back to Istanbul, being naturalized as a Turkish citizen. He was identified as a top prospect very early on, invited to the Jordan Brand Classic International game in 2011, where he scored 14 points with 5 rebounds, 3 assists and 6 steals in 27 minutes alongside
Andrew Wiggins
and
Mario Hezonja
.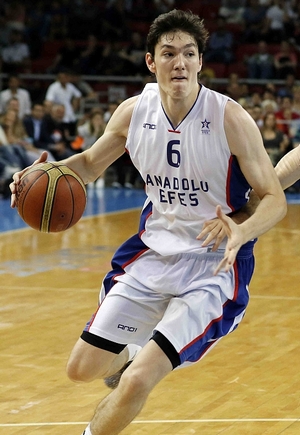 That summer, he got his first taste at the Turkish national team level when he was invited to the U16 squad competing at the European Championship, where he established himself as one of the leaders of the team. He went onto play for the U18 and U20 Turkish teams at the European Championship in the following years, winning gold medals at both competitions and earning MVP honors at the U20 level, despite playing up a year. His performance earned him his first invite to the Turkish senior national team despite still being a teenager, where he carved out a small role off the bench at the FIBA World Cup this past summer.
On the club level, he's gradually increased his role year by year for Anadolu Efes, carving out a rotation role in 2013-2014 and even earning some starting nods this past season en route to averaging 20 minutes per game in the Euroleague and Turkish league, a highly impressive feat for a 19-year old.
Osman has good size for a wing player at 6-8, with a long wingspan and above average athleticism for a European prospect. His frame is on the lighter side and will be one of the challenges he'll have to overcome, but he has excellent quickness, and is one of the smarter and more competitive prospects you'll find in this draft class.
(Video may not load with Internet Explorer. Use Chrome or Firefox)
25% of Osman's offense comes in transition, which is as much of an indication of his style of play as it is his role on Efes' team. He runs the floor like a man possessed, sprinting the court on any opportunity, and scoring quite a few points both filling the lane from the wing and handling the ball in the open floor. Also a very strong defensive rebounder, he frequently will crash the glass, ignite the break and pass the ball intelligently ahead to a man streaking the court for an easy basket.
That same aggressiveness translates to half-court settings as well, where Osman operates mostly off the ball. He has long strides and a quick first step as a straight-line driver, attacking closeouts intelligently and mixing in fluid footwork and crafty Eurosteps to help get the job done. His propensity for attacking the rim strong helps him get to the free throw line at a solid rate.
He also contributes to his team's ball-movement, making the extra pass unselfishly, and moving (often sprinting) off the ball and into open spaces for easy baskets, finding offense without needing any plays run for him. While not being a high usage player, he turns the ball over very infrequently even relative to his small role (11.5% of his possessions), which is an indication of his high basketball IQ and strong role-player potential, as he seems to understand his limitations very well. Osman played some point guard growing up, and while that's not going to be the case at higher levels due to certain limitations he possesses, his playmaking and court vision did translate over very well to the pro ranks.
As a shot-creator in the half-court, Osman is something of a mixed bag, as he's not someone you can ask to create a great deal of offense in pick and roll or isolation situations. He's just an average ball-handler, possessing a high dribble and having a difficult time getting low to the ground due to his body composition and somewhat stiff knees. He doesn't change speeds or directions very fluidly, and possesses very little ability to shoot off the dribble, hitting just 10 of his 30 pull-up attempts on the season.
(Video may not load with Internet Explorer. Use Chrome or Firefox)
Generally speaking, Osman is not a great perimeter shooter, only hitting 33% of his 3-point attempts on the season, even if most of them came with his feet set. He didn't show significant progress with this part of his game from last season to this, as he also converted just 33% of his attempts a year ago, on a similar volume of attempts. Osman's struggles from the free throw line (69% this season, 68% career [323-475 across all competitions]) suggests that he does not have great potential as an outside shooter.
His mechanics, which are not particularly smooth or fluid, don't either, as he struggles to bend his knees and sports somewhat of a hitch at the end of his release, which is anyway somewhat low, making it easier to contest. Continuing to improve this part of the game will be very important for him to reach his full potential as a prospect, as he's unlikely to be able to score prolifically in many other ways consistently in the NBA.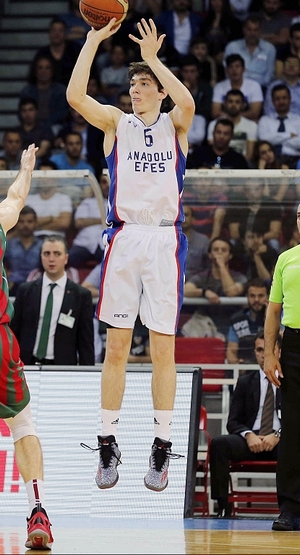 Osman's somewhat frail frame and average explosiveness also render him just an average finisher around the basket in the half-court, despite his supreme aggressiveness. He finished just 67 of the 148 shots he attempted inside the paint on the season, struggling to absorb contact at times and not always getting the cleanest looks at the rim due to his difficulties creating high-percentage shots discussed earlier.
Defensively, Osman has excellent potential thanks to his strong combination of size, length and aggressiveness. He gets in the passing lanes frequently, averaging an excellent 1.8 steals per-40 minutes, and also blocks shots on occasion as well. He works extremely hard on this end of the floor, sprinting back on every possession, moving his feet pressuring his man, using his length to contest shots, sacrificing his body, and showing excellent fundamentals. His non-stop hustle translate to the glass as well, where he averaged an excellent 7.8 rebounds per-40 minutes, boxing out and often flying in out of nowhere to keep loose balls alive.
On the downside, Osman's lack of strength and general immaturity relative to the grown men he competes against causes him to get posted up on occasion. He doesn't have an issue fighting back, but doesn't always do a great job of bending his knees and getting in a stance, which can cause him to get blown by off the dribble on occasion.
Osman is a very mature prospect with a great pedigree and a clear passion for the game. He has already established a niche for himself as an offensive garbage-man who is willing to do the dirty work defensively and contribute with his unselfish mentality and strong feel for the game. He will continue to get great coaching and experience in the next few years at the highest levels of competition in the world outside the NBA, and thus will be an attractive draft and stash pick for a team somewhere in the middle of the second round.
With that said, it will be interesting to see what his situation is when he actually does decide he's ready to try the NBA (which Osman states will be in two years), as he will almost certainly be very well compensated as an important Turkish national team player competing in the richest league in European basketball. Will a NBA team be willing to pay the premium it will take for a rookie role-player? Regardless, Osman will be in very good shape on June 25th, as most of the best draft and stash candidates elected to pull their name out, and is certain not to fall too far once the second round arrives.