Ryan Thomson
A unheralded high school recruit, not ranked per the RSCI, from Savannah, Georgia, Cokley committed to UAB in November 2013. In two seasons at UAB, Cokley has seen significant success as a key member of the Blazers, a team that upset Iowa State in the 2015 NCAA tournament. After not starting a single game as a freshman, but being named the 2015 C-USA Sixth Man of the Year, Cokley saw his minutes and responsibility on the offensive end increase as he started 22 of 33 games as a sophomore. Perhaps the best game of his sophomore season came against Auburn, where he posted 25 points, 12 rebounds and 2 blocks in just 22 minutes. Alongside another extremely talented power forward teammate William Lee, it will be interesting to see what Cokely's development looks like as a junior.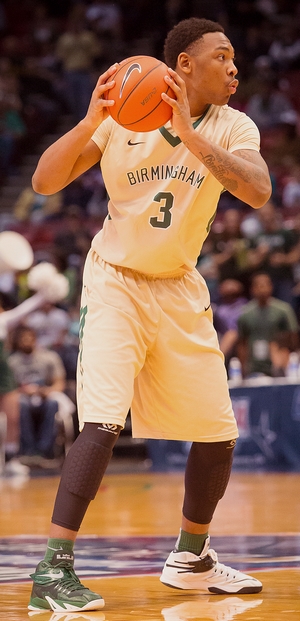 Listed at 6'8 and weighing 229 pounds, Cokley is a bit undersized to play exclusively at the power forward position. He is very light on his feet, moves fluidly and has a quick first step, but isn't a particularly explosive athlete, though he is capable of finishing above the rim. Cokley appears to have an average wingspan which, when combined with his average size, may be a concern moving forward.
The majority of Cokley's offensive contribution for UAB as a sophomore was through off ball movement, effort plays and occasional touches on the low block. Cokley shot a solid 58.5% on all finishes around the basket, per Synergy Sports Technology, and does a good job of getting off the ground quickly, negating the effects of his being undersized. Cokley shows an ability to finish with either hand around the rim, preferring to attack with his left, and has a great understanding of how to create space with his frame.
One of Cokley's biggest strengths is his ability as a straight line driver from the elbow. Cokley has the potential to be a threat in every dribble hand off as he can keep it and attack the rim with his quick first step, as well as be a threat on each catch at the pinch post area. Cokley needs to continue to improve his ability to change direction as well as incorporate a counter move, as he struggled when his initial attack was rebuffed. He is an unselfish player with a solid feel for the game on the offensive end and it will be interesting to see whether he has made progressions as a passer off the bounce, as he averaged a respectable 2.5 assists per-40 as a sophomore. In addition to his ability as a straight line driver and finisher, Cokley is a highly productive offensive rebounder who has an instinctual knack for getting to the glass, evidenced by his 4.3 offensive rebounds per-40 as a sophomore.
When UAB has given Cokley an opportunity to feature as a post up threat, he has responded well and produced fairly efficiently, shooting 48% on all post up possessions, per Synergy Sports Technology. Cokley does a good job of using his dribble to create contact and his natural feel for the game to dictate his move. He has shown an ability to make hooks on the run or stationary with either hand while also showcasing a developing fade away jump shot. Cokley likes to play with his back to the basket, but with his terrific quickness it will be interesting to see whether he has developed a face up game that can better showcase his ability as a low post threat.
Having attempted only one three-point attempt in two seasons, Cokley has been limited to finishes around the rim, and rightfully so. As a sophomore he attempted 24 total jump shots and made only 29.2% of those attempts with only five coming from past 17 feet, per Synergy Sports Technology. Cokley's shooting form isn't particularly clean, as he shoots the ball from well above his head, but simultaneously shoots a very flat ball with his follow through being straight rather than finishing high. To his credit, Cokley improved his free-throw percentage by nearly seven percentage points to 71.7% during his sophomore season while also seeing an increase in free-throw attempts. If Cokley is able to fix his mechanic's as a jump shooter it will only help open driving lines from the perimeter, and make his transition to higher level competition at the pro level much smoother.
Cokley needs to continue to improve his overall engagement on the defensive end. His physical tools may limit his ability as a rim protector, though his per-40 numbers are somewhat encouraging, averaging 1.5 steals and 1.2 blocks. The concern with Cokley has been his intensity level on the defensive end. At times it appears as though he is entirely disinterested and his effort level fluctuates considerably. It's clear that Cokley is a fairly mobile player on the offensive end, but does a poor job of playing low and moving his feet laterally.
Though UAB lists him at 229 pounds, Cokley needs to prove that he can put up a fight when guarding the post, where he allows deep post position with little resistance. On all shots around the basket that were defended by Cokley, he allowed opponents to shoot 52.9%, ranking him in the 16th percentile, per Synergy Sports Technology. This season it will be increasingly important for Cokley's long term trajectory if he can improve his ability to battle for defensive rebounds, where he averaged only 7.7 per-40 as a sophomore. When Cokley plays hard he shows an ability to attack the offensive glass and it should be no different on the defensive glass.
It will be interesting to see what sort of role Cokley creates for himself during his junior season at UAB as he possesses an intriguing skill set with his advanced scoring instincts and knack for attacking the offensive glass. He desperately needs to improve his effort level on the defensive end of the floor and improve his commitment to the defensive glass, though he is certainly a player worth keeping an eye on, especially if UAB turns in a successful season and is able to garner a spot in the NCAA tournament.