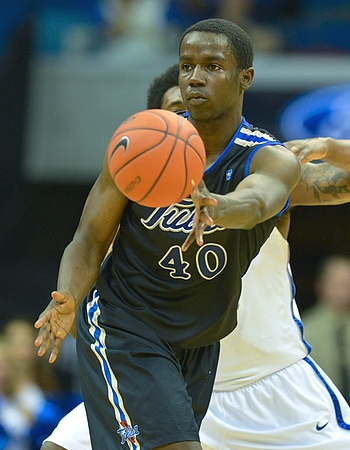 Josh Riddell
Despite missing Tulsa's final nine games with a stress fracture in his leg, D'Andre Wright did enough the rest of the season to make the Conference USA All-Freshman Team by averaging 8.5 points per game on 52.6% shooting while pulling down 5.1 rebounds per game. Tulsa was one of the youngest teams in the nation last season and with the core of the team returning for their second season, Head Coach Danny Manning is hoping to build on last year's season, which saw Tulsa fall in the first round on the CBI tournament.
Wright has nice physical attributes from a prospect standpoint, listed at 6'9" and 247 pounds. He has good agility and explosiveness for a player of his size, often going above the rim for rebounds or dunks. He is strictly an interior player at this point, so he will need to add some bulk if he wants to play inside at the next level.
Foul trouble hurt his playing time last season, as Wright was only able to average 16.8 minutes per game, partially due to the fact that he committed 7.4 fouls per 40 minutes. His fouls came from a combination of playing out of control on offense and lazy reach-ins on defense. Wright will need to curb his foul trouble so he can play more minutes this season and have more opportunities to help his team.
Wright was productive on a per-40 minute basis, now it is just a matter of him staying on the court for an extended period of time. On a per-40 minute pace adjusted basis, he averaged
19.2 points
and
11.7 rebounds
, both of which were among the leaders of all freshman last season. Wright derives most of his offense from post-ups, where he has shown some strong post moves based on solid footwork and nice touch around the rim.
While he did not venture outside of the paint often, he did demonstrate that he has the ability to knock down the mid-range jump shot at times. He has nice form and a high release point that will make his shot difficult to block. He could become a viable threat from this distance but will need to show more this season to prove it.
For as many fouls as he commits, he draws almost just as many on the offensive end, as his 8.1 free throw attempts per-40
ranked 4th among freshman
. He uses his body well to absorb contact and does a nice job of finishing the shot for an And-1 opportunity.
On the defensive side, Wright has the tools to be a capable player but has the tendency to commit unnecessary fouls, which limited his minutes. He will need to add some bulk to defend players of his size near the rim but he has the necessary agility to guard perimeter players. He moves his feet well to stay in front of penetration but could do a better job of finishing the defensive play by contesting shots.
Scouts will want to see more of Wright this season, so he needs to focus on staying out of foul trouble and on the floor. Wright will be a player to watch on an intriguing Tulsa team, who could make some noise in a new look Conference USA. Wright's combination of physical tools and production when he is on the court is interesting, but he will need to show that he contribute in longer stretches before he becomes a more serious draft prospect.