-
David Michineau
wrapped up a solid showing at the adidas EuroCamp with a strong outing in the final game of the weekend. He measured a solid 6'2 1/2 without shoes in Treviso, giving him excellent size for a point guard to go along with a strong 192 pound frame, even if his fairly short 6'5 wingspan may relegate him to defending mostly point guards at the highest levels.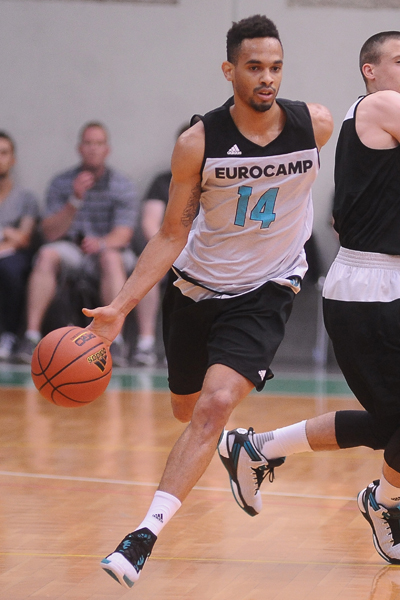 Michineau's athleticism stood out from the first morning of drills, as his ability to change speeds and get to another gear in the open court put him on a different level than most of the guards in attendance. When fully dialed in, he's also an outstanding defender, capable of moving his feet exceptionally well and staying in front of almost anyone he encouters. Unfortunately he has somewhat of a laid back attitude that relegated him to the background at times here in Treviso, after coming out of the gates with a very high intensity level.
Michineau's jumper is clearly a work in progress judging by his unwillingness to take too many outside shots here in Treviso, and his career 28% accuracy from beyond the arc, but he did show some surprising potential in the morning drills. He knocked down a very high percentage of his catch and shoot jumpers from beyond the NBA line, demonstrating good form in the process, as it's been clear he's been working on this part of his game in his free time. This still hasn't quite translated to game settings yet, but it may be something he can continue to work on as his career progresses.
Michineau will likely garner some interest from teams picking in the late second round, particularly those with multiple draft picks looking to stash a player in Europe in the near future. Even if he doesn't get drafted, he's the type of player a team could elect to look more closely at in summer league.