Jonathan Givony
A late bloomer from the small town of Luverne (population 3000) in Southern Alabama, Donta Hall didn't start taking basketball seriously until his father tragically died of a heart attack while watching him play in November of 2010, as documented by Ben Bolton of the Alabama Sports Network. Hitting a growth spurt that reportedly helped him shoot up around nine inches in high school, Hall committed to his late father's beloved Alabama program, as a project that would take time for new head coach Avery Johnson to develop.
Hall certainly looked the part of a project as a freshman, playing just 12 minutes per game, as his underdeveloped frame, lack of experience, coordination and occasional bouts of foul trouble made it difficult for him to stay on the court at times. His best basketball came in the months of February and March, though, where he dropped hints of significant upside that will likely be seen more vividly in his sophomore campaign and beyond.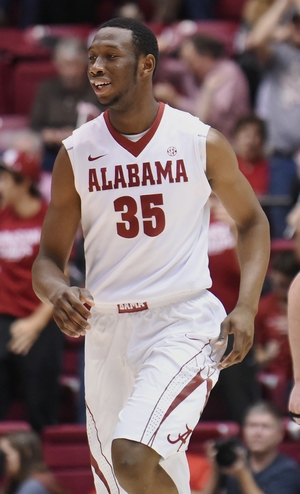 Listed at 6'9, but possibly a little taller than that, Hall has big hands and an extremely long wingspan that allows him to make a significant impact around the basket on both ends of the court. His frame is on the lighter side at the moment, but looks well proportioned, and should be able to carry all the weight he needs as he continues to fill out his frame over the next few years. Athletically, Hall is light on his feet, covers ground extremely well and elevates effortlessly, but likely still has room to grow here as well as he improves physically.
Still at a very early stage of development offensively, most of Hall's touches comes from running the floor, crashing the offensive glass and finishing off cuts and pick and rolls. He generally plays with a good motor, which allows him to use his strong physical tools to make things happen, for example with his ability to go out of his area to track down loose balls.
He doesn't have the strength, nor the skill, to be any type of presence with his back to the basket, but is very mobile stepping out to the perimeter and setting screens, and then diving to the rim with purpose, giving him nice potential as a pick and roll threat. The fact that he catches almost everything thrown his way, and is able to use his length to finish creatively from many different angles, barely needing to jump at times to dunk, is a positive as well. He doesn't have much ability to score outside of the paint, as evidenced by his horrid 43% free throw percentage last season, which may seemingly be improvable judging by his more than decent looking mechanics from the line.
While Hall's offense is a major work in progress, it's likely his ability to contribute as a defender and rebounder that will determine just what type of NBA prospect he can develop into. Hall ranked as the fourth best per-minute shot-blocker in the nation last year at 5.3 per-40, and the sixth best per-minute rebounder in the SEC at 13.5, but the small sample size of minutes played do leave something to be desired.
Nevertheless, Hall's intensity level and physical tools gives him plenty of room to continue to develop in this area, as he is quick off his feet and shows tremendous timing rotating from the weakside to protect the rim, or tracking down loose balls going out of his area. He doesn't always need to jump to block shots or grab a rebound due to his huge standing reach, and should be able to continue to develop in these areas as he gets stronger and more experienced.
While Hall's production and video highlights indicate a lot of promise, a deeper dive into the film reveals quite a bit of room for improvement at the same time. His fundamentals and technique are not very good, as he showed some issues being in the right place guarding pick and rolls, often just being too upright in his stance. He lets opponents establish deep post position on him, lacking the strength to prevent being backed down, and gets beat off the dribble too easily when defending opponents one on one outside the paint as well. He averaged a sky-high 8.2 fouls per-40 minutes pace adjusted, simply being unable to stay on the floor for very long against the better opponents he encountered in SEC play.
It may feel premature to talk up Hall's NBA prospects considering the fact that he played just 12 minutes per game as a freshman, and that could very be true. Still, it's hard not to be impressed with the productivity he amassed as a shot-blocker/rebounder in that time, as well as with his physical tools and timing, which gives him quite a bit of room to grow as his frame fills out. The fact that he arrived on campus at Alabama as a 17-year old and played the entire season at the age of 18 is worth noting as well, especially since he very well could be just entering his first season of college now. Only time will tell if or how long it will take Hall to begin to achieve the potential he displayed as a freshman, but he surely won't lack for exposure once he does so, playing in the SEC.