Emmanuel Akot, 6'8, Wasatch Academy, Canada, 1999
Jonathan Givony
Strengths:
-Good size for the wing at 6'6 ½ without shoes.
-Strong 195 pound frame that should continue to fill out significantly in time
-Measured the biggest hands at the camp
-Very good athlete. Good combination of quickness and power, although not incredibly explosive
-Showed nice versatility offensively, bringing the ball up the court regularly and getting his team into their offense.
-Shows potential as a shot-creator in the half-court. Impressive changing gears powerfully in pick and roll situations
-Finds teammates off the dribble unselfishly
-Bulldozer in transition who loves to drive straight into opponents' bodies to clear space or draw fouls
-Strong first step attacking closeouts. Shows some creativity with his finishes
-Makes more spot-up jump-shots than you'd think considering how unconventional his mechanics are. Appears to have good touch
-Unlimited energy. Plays with a very high intensity level on both ends of the floor. Tough, no-nonsense demeanor that coaches will love.
-Multi-positional defender that showed the ability to guard anywhere from 1-4 at this camp. Relishes the challenge of stopping the opposing team's best player
-Playmaker who crashes the glass, gets in the passing lanes and even blocks some shots on occasion. Boxes out opponents, goes out of area and pursues loose balls with a purpose.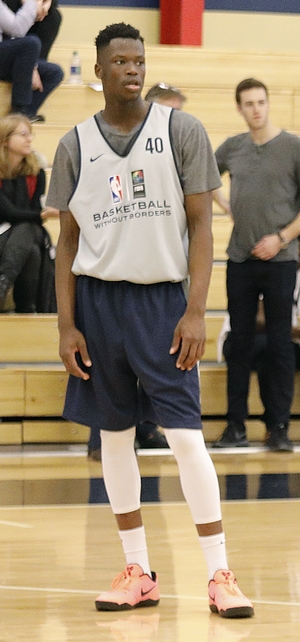 Weaknesses:
-Year old for his class. Turning 18 next month but over a year and a half away from entering college still.
-Measured a 6'9 wingspan, which is not ideal for someone you'd like to see spend time at the stretch-4 position.
-Lacks some shake/polish as a half-court ball-handler, especially in one on one situations.
-Shooting mechanics are inconsistent/unconventional. Brings the ball around the world, jumps forward, and shoots a push shot that he snaps from in front of his face. Elevates high off the ground and doesn't always shoot it with the same release point.
-Struggles to make shots off the dribble consistently.
Outlook:
Akot has taken his game to another level in the last year, adding 20 pounds to his frame and apparently even growing an inch according to our measurements. His athleticism has evolved and the new-found strength is allowing him to punish opponents on both ends of the floor when combined with his motor and toughness. Akot had a very impressive showing at this camp and it's easy to see why he is such a highly sought after recruit for college coaches. If he continues to polish his scoring arsenal, he'll be considered a top-shelf prospect for NBA teams in time as well.