The least-highly regarded of any player on this squad as far as the recruiting services are concerned, G.J. Vilarino (unranked Scout, Rivals, ESPN) probably had one of the best all-around performances of any of the 2009 high school players, which should give Kentucky fans some room for optimism that help is on the way.
Vilarino doesn't look like much on first sight—he's a very small, lanky kid without much meat on his bones, but he definitely showed that he belonged once he had the ball in his hands. Vilarino stood out mostly with his speed and playmaking skills at the point guard position, making great passes to everyone around him and showing a lot of toughness and heart operating on the floor. He took the ball strong to the basket and didn't back down when faced with contact, even if his lack of size clearly will make things a little more difficult at the next level.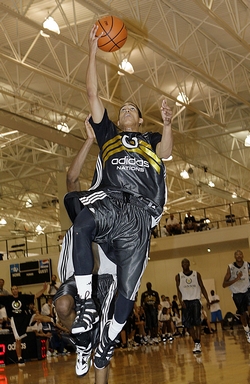 Vilarino shoots the ball on the way down and thus isn't going to be making shots all that consistently until he fixes his mechanics, but he was the first one in the gym to get extra work in on the day of the championship game. Defensively, Vilarino is quick and pesky, showing a strong will to get in his man's grill. He'll have some problems going up against bigger and stronger players, though, which is why he needs to work on his body. Vilarino is almost certainly a 4-year college player, but could be a very good addition to Kentucky's roster. He'll probably be able to play a similar role to the one Cliff Hawkins did a few years back, but might be a little more naturally talented.