Jonathan Givony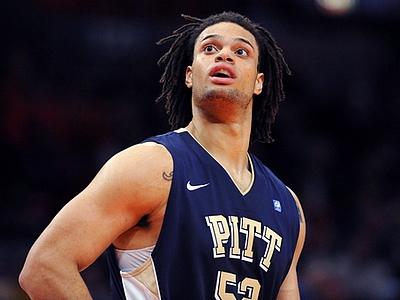 Seeing limited minutes and not doing a great deal to distinguish himself outside of a strong 13 point, 8 rebound outing in the first (and arguably most important) game when the largest amount of NBA eyeballs was present,
Gary McGhee
's future in professional basketball will likely hinge on more than just his performance here.
After all, McGhee was an important cog on one of the best teams in college basketball over the past two seasons, and indeed ranks as
one of the top three per-minute rebounders
amongst all prospects in our latest top-100 rankings.
McGhee's biggest virtue as a NBA player is pretty obvious on first glance—his chiseled 263 pound frame. He stands 6-10 in shoes, with a 7-2 wingspan, and is not afraid to mix things up in the paint, like seemingly all Jamie Dixon-coached players. While not he's not terribly fluid or explosive, he is a mobile player with solid hands and the strength to compete with virtually any NBA big man.
Offensively, he's far from a skilled player, only scoring 12 points per-40 minutes pace-adjusted, the majority of which come from his work off the ball and on the offensive glass. He lacks any real post game or shooting range, converted just 46% of his attempts from the free throw line, and is not someone that you can throw the ball to and ask to make decisions. Watching him workout by himself in a gym, it would be pretty hard to imagine him playing in the NBA.
The good thing is that McGhee seems to understand his limitations and doesn't seem to have an qualms about the type of player he is. His role in the NBA would be pretty much exactly the same as the role he played at Pitt—set bruising screens, crash the offensive glass, finish any opportunities that come his way in the immediate vicinity around the basket, and keep mistakes to a minimum. These are all coveted skills, and are all things he can do fairly effectively.
McGhee turned the ball over only 24 times all season, shows a decent basketball IQ, and made 65% of his (non post-up) attempts around the basket, meaning he's not someone that is going to hurt a team in his minutes on the floor.
Defensively, McGhee is again not someone who is going to wow you with his athleticism or talent. He plays a tough, solid, fundamentally sound blend of defense, being active and aggressive, using his long arms and strong frame to deny position inside and contest shots, and not giving up anything easy. McGhee will block an occasional shot thanks to his timing and intensity-level, but he's not particularly explosive and is somewhat limited when forced to step out on the perimeter and stay in front of an opponent due to his average lateral quickness. He does clean up the glass, as mentioned, at an outstanding rate, indeed being one of
the most prolific players
in this draft class in this category at over 14 boards per-40 minutes pace adjusted.
McGhee is not someone that teams will look at as being a particularly sexy option in this draft, but he is exactly the type of player who could make it as a team's 4th or 5th big man and carve out a long career for himself. He could just as easily go undrafted and find himself in Europe, where his skill-set and bruising style of play might be more appreciated.