Matt Williams
The last time we wrote about
Giorgi Shermadini
, he was an early entry candidate for 2008 NBA draft fresh off a solid showing at the 2008 EuroCamp. Having played in his native Georgia until that point, Shermadini withdrew his name from the draft and signed with Greek power Panathinaikos later that fall. Seeing limited action in two seasons in Athens, he was loaned to fellow Euroleague participant Union Olimpija Ljubljana for the 2010-11 season.
Seeing his first consistent playing time since leaving his home country, Shermadini has re-emerged as a substantial NBA prospect. Standing somewhere in the ball-park of 7'0 tall and possessing a somewhat problematic 250-pound that would benefit immensely from some added muscle, Shermadini is a fairly mobile big man for his size. He runs the floor somewhat awkwardly, but can get off his feet to challenge shots and finish above the rim.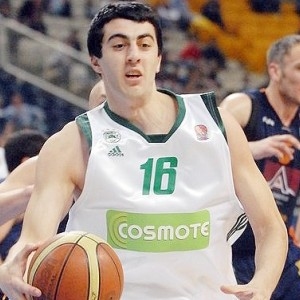 According to Synergy Sports Technology, a little more than 50% of Shermadini's touches from cuts, roll man situations, and put-backs. Showing a terrific effort level around the paint, Shermadini's size and deft touch allowed him to convert those opportunities at a tremendous 70% rate last season. Shermadini lacks upper body strength, brings the ball down too low at times after the catch, and does not always finish through contact effectively, but he does a tremendous job maintaining spacing, setting screens, filling lanes, staying with the play, and actively pursuing the ball off the rim.
In the post, Shermadini relies on his ability to carve out position to score. Though he is not a heavily utilized part of Olimpija's offensive attack, he sees the ball at a pretty consistent rate down low. Able to carve out space on the block against smaller players, Shermadini's size makes him a good target for lob passes, and he has a basic post-game. He struggles with turnovers against stronger, more physical players, but he doesn't hurt his team by forcing difficult shots down low.
Away from the basket, Shermadini has shown the ability to knock down perimeter shots in limited touches. Similar to his approach in the post, Shermadini is not overly assertive, taking most of his shots when he's wide open and showing range all the way out to a step inside the three-point arc. He knocks down his free throws at a good rate, and while he won't be relied on to stretch the floor should he play in the NBA, he could develop the consistency to not have to sit on the block if he's paired with a very capable post-up four.
Considering the small role he played for Olimpija and the similarly small role he'd likely play in the NBA long-term, Shermadini's biggest weakness is his turnover rate. Struggling to hang onto the ball in traffic, the Georgian center needs to get stronger and be more decisive in the paint.
Defensively, Shermadini really struggles against stronger back to the basket players, but not for lack of trying. He shows a good activity level and is a smart team defender. He's very foul prone at this point, as his main weakness is his inability to keep his man from getting a foot in the paint on the catch.
Similar to Hanga, Shermadini is an intriguing draft and stash prospect in the latter part of the 2nd round. He showed well in his first season competing at the highest levels of European basketball, and definitely still has some room to improve, especially if he's actually 21 like his date of birth indicates, and not 24 like most NBA teams suspect. Either way, he's clearly not a finished product. His energy level and size make him a legitimate prospect, albeit one with a low ceiling.