- Like Batum, Dragic made a lone appearance here in Treviso after finishing off his regular season in Slovenia. In his one game, he managed to leave a very strong impression, one that could very well have pushed his name back into the second round, possibly into the mid-portion of it even.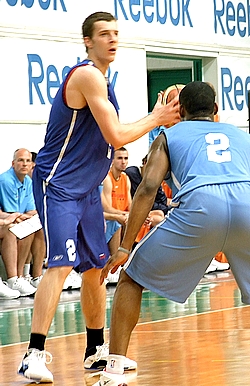 Dragic played spectacular defense on whoever he was guarding, mainly
Rudy Mbemba
, who's terrific speed did not faze him in the least bit. He got right into his man's grill on every possession of the game, fighting through screens admirably, showing excellent length and lateral quickness, and getting his hands on countless number of balls. It got to the point that players were just afraid to put the ball on the floor when Dragic was in the vicinity, as more often than not he would find a way to poke it away and bust up plays. He got his team into transition time after time, and made very good decisions once there, finishing strong and intelligently around the basket and getting to the line seven times.
As a point guard, Dragic did a better job than we anticipated based on the up and down season he had. He showed a lot more creativity than we've given him credit for in the past, making good reads and finding cutters slashing to the rim or shooters spotting up on the wing after slashing to the basket himself. His court vision probably isn't spectacular, but if he continues to see heavy minutes in the Euroleague, he's bound to improve his playmaking skills.
On the downside, Dragic's shot remains his biggest weakness, which he showed by bricking a couple of ugly pull-up jumpers. Teams in the Euroleague completely took him out of his comfort level by backing off him this season and forcing him to beat them from long-range, and the players here foolishly took the opposite approach (thinking they are playing good defense by pressuring the ball), which played right into his hands. That's why it probably isn't too smart to get overly excited off what he showed here, but it definitely still leaves some room for optimism regarding his future development. Some team will likely draft him in the second round and see how he continues to progress over the next few years while competing at a high level in Europe, as he clearly still has upside left to tap into.