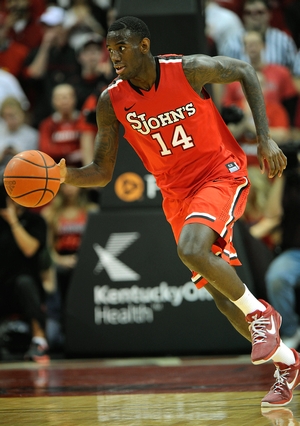 Kyle Nelson
Forced to spend a second year in prep school due to academic issues upon his initial enrollment, Jakarr Sampson's freshman campaign was exactly what St. John's needed following Maurice Harkless's departure to the NBA. Playing a significant role, Sampson was St. John's second leading scorer and its top rebounder on his way to
being named Big East Rookie of the Year
.
Yet, the Red Storm lost eight of its final 10 games and what appeared to be a promising season initially resulted in an 11th place Big East finish and a loss to Virginia in the second round of the NIT. After
flirting with the idea of following Harkless to the NBA
, Sampson ultimately returned to St. John's with the expectation of improving his draft prospects in his sophomore season.
At 6'8 with a 6'11 wingspan and a wiry 214-pound frame, Sampson looks the part of a prototypical NBA small forward. He is an impressive athlete, capable of exploding to the basket with solid quickness in the open floor. While Sampson will have to improve his skill-level and decision making ability to maximize his prowess in the half court, he is a very dangerous weapon in transition and with some added bulk should have little trouble holding his own physically at the next level.
While not overly efficient, Sampson was very prolific offensively as a freshman, averaging 18.3 points per 40 minutes pace adjusted, which included a 21-point outing at Syracuse and 18 points against Baylor. He led his team in usage rate and ranked third in the Big East shot attempts. His possessions came in a diverse array of play types, as he not only scored in transition and via hustle, but also moving off the ball and in one on one situations.
Yet, despite Sampson's versatility there are more than a few questions surrounding what he can actually bring to the table for an NBA team. Shooting just 46% from inside the arc, he
one of the least
efficient prospects in 2P% among returning players in our Top-100.
For all of his size and athletic advantages, he made just 53% of his shots around the basket from the power forward position, due in large part to his lack of strength, poor decision making skills and inability to dribble or finish with his off hand. He is limited to, more or less, straight line right-handed drives to the basket, not possessing much in the way of advanced ball-handling moves, and is susceptible to turnovers due to his high dribble and the predictability of his offensive game. Defenses like to sag off him because of how shaky his outside jumper is, and Sampson isn't capable of punishing them consistently enough.
With that said, Sampson shows potential as a shot-creator in the half-court, as he has an excellent first step and some raw ability to make pull-up jumpers off the dribble. Despite getting excellent elevation on his jumper and possessing a high release point, Sampson has limited range from the perimeter and is largely a non-threat with his feet set from beyond the arc, as he sports very poor shooting mechanics. He is more effective shooting off the dribble, mostly from the mid-range, where he made 40% of his attempts last season.
His lack of range hurts his NBA prospects significantly, though, as it's virtually impossible to find perimeter players these days that are not capable of making shots from beyond the arc at all. Sampson missed all eight of his three point field goal attempts last season, and his poor mechanics don't leave a lot of room for optimism regarding his ability to improve in this area, unless he completely retools his jump-shot.
For as mixed as his prospects are on the offensive end of the floor, Sampson looks like he can develop into a formidable defender in time, while already showing intriguing potential as a freshman. His size, length and lateral quickness allow him to stay in front of perimeter players and, thanks to his size, he should have little trouble guarding NBA small forwards as long as he continues to get stronger. His lack of strength hurts him, particularly, in trying to hold his position in the post, where he sees a good amount of time collegiately at the power forward position.
That said, he is capable of making an impact all over the floor, represented in part by his 1.3 steals and 1.3 blocks per 40 minutes pace adjusted, and he does a great job of staying involved throughout defensive possessions, even if he is better on than off of the ball at this point. Additionally, his 8.1 rebounds per 40 minutes pace adjusted ranks him
as one of the best rebounding small forwards prospects
among returning players in our top-100, even if he saw most of his time at the 4 last season .
Due to his struggles getting eligible for college, Sampson will turn 21 during his sophomore year, which may dampen scouts' enthusiasm somewhat regarding the extent of his upside. This will be an important season for him in turn, as it should give us a much better idea regarding his ability to develop an outside jump-shot to compliment his outstanding physical profile. St. John's is expected to be a lot better this year as well, which Sampson should play a significant role in as key player on both ends of the floor.
Scouts will be monitoring his progress closely, then, to see if he can develop into a more efficient scorer, with legitimate perimeter shooting range and better decision making ability. Given all that he brings to the table as a prospect, should he continue to improve, he should be able to help his draft stock significantly.