Josh Riddell
The second leading scorer on a Georgia team that advanced to the NCAA tournament before losing to Michigan State in the round of 64, Kenny Gaines will hope to lead the Bulldogs back to the NCAA tournament while boosting his stature with professional teams, hopefully leading to a shot with a NBA team.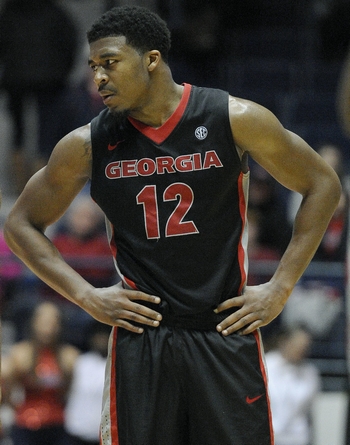 At 6'3", Gaines might be slightly undersized to play shooting guard on a nightly basis in the NBA. However, he has a long wingspan and is a very good athlete to compensate for any size disadvantage he may face. He is quick off the ground and can play above the rim at times with his explosiveness. Overall, he isn't a freakish athlete relative to his undersized status, but he should have the necessary physical tools required to hold his own against pro competition.
As a shooting guard, Gaines has the ability to be an outside threat, as he made 36.8% of his three point attempts last season. Much of his success came out of catch and shoot situations and he should be able to translate this shooting ability to the next level, as he can rise above the defense and has reliable form. He isn't as comfortable shooting off the dribble, because even though he can create space from his defender, he doesn't always get great balance in gathering himself before launching the shot. This will be a big point of development for him as he will need to be able to attack closeouts and pull up for jump shots.
Gaines isn't a great ball-handler at this point in his career, but has demonstrated some potential in this area that could lend himself to helping create offense at the next level. He doesn't have the shake necessary to beat his defender consistently in isolation settings, and is not incredibly savvy in pick and roll situations yet either. Against college defenders, he just needs a half-step on his defender before using his quickness to get into the paint. He'll have to become more adept at using the ball screen against NBA defenders as he won't be able to rely on just his athleticism as the competition stiffens.
Once he gets into the paint, he needs to improve on his finishing around the rim as he converted just 47% of his attempts "inside the paint" in the half-court according to Synergy Sports Technology. He likes to challenge defenders which can lead to tough attempts and at his size, he would do well to develop a more effective runner to score over the rim protectors, as well as more savvy in terms of drawing fouls and getting to the free throw line (3.4 per-40).
When creating offense in the half-court, he mainly looks for his own shot and isn't always able to find open teammates with better shot opportunities, posting a mediocre 1/1 assist to turnover ratio last season. He is capable of distributing to the roll man in ball screens, but misses spot-up shooters on occasion. When he decides to drive the ball, he loses track of his teammates which leads to a poor assist rate of just 2.1 per 40 minutes pace adjusted.
Defensively, Gaines has some positive attributes, but may not have enough to turn him into a plus defender against higher-level competition. He has the athleticism to guard either position as he has the length to bother jump shots, with his 1.2 blocks per 40 minutes pace adjusted
one of the highest among shooting guards in our database
. He has puts in a good amount of effort most possessions, rarely taking plays completely off.
However, while he has the quickness to stay in front of dribble penetration, he doesn't move his feet laterally that well and he is often caught flat-footed, leaving himself vulnerable against dribble drives. He also doesn't see the floor well on defense, running right into screens or missing defensive rotations. At his size, he'll have to bring something extra to the table defensively to be noticed by NBA scouts, so he'll want to focus on improving his fundamentals to match his athleticism.
Going into his senior season, Gaines will be on the radar of NBA scouts with his ability to shoot and some subtle improvements to round out his offensive skill-set will make him a more viable draft prospect. Turning 22 in January, Gaines may not have a high ceiling but if he can improve defensively, he could project as a role player at the next level.