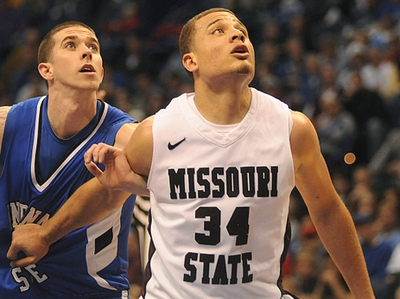 Jonathan Givony
The reigning Missouri Valley Conference player of the year,
Kyle Weems
enters his redshirt senior year after an interesting offseason. He had the opportunity to transfer this summer to a BCS school (Kansas, Kansas State, Oregon, Cal were all reportedly interested) and become eligible to play immediately since he already holds his bachelor's degree. Despite seeing his Head Coach,
Cuonzo Martin
, move on to Tennessee and be replaced by Purdue assistant Paul Lusk, Weems decided to remain loyal to Missouri State and come back for one last run at the NCAA tournament.
Weems saw most of his minutes at power forward for Missouri State last year despite the fact that he's only 6-6. He possesses a strong frame, but is not an overly athletic prospect, lacking the typical quickness and explosiveness you like to see from a player his size in the NBA. Weems was carrying an extra 5-10 pounds last season, but that's something he reportedly addressed this offseason with a stringent conditioning program.
What Weems lacks in style he makes up for with substance. A highly efficient scorer (53% 2P, 40% 3P, 79% FT), Weems displays many of the characteristics NBA scouts like to see in potential role-players.
Weems' most consistent means of scoring is based in his jump-shooting ability. 39% of his field goal attempts came from beyond the arc last season, of which he converted a solid 40%. He makes shots with both his feet set or off the dribble, displaying a quick release and a nice follow through. He's very effective generating offense in the mid-range area, using his body to create space and elevate smoothly for the pull-up jumper.
Weems is not a prolific driver at this stage, possessing neither the first step nor the advanced ball-handling skills to get into the paint and finish at a high rate. This lack of dribble-drive ability is the main reason he got to the free throw line just 4.3 times per-40 minutes pace adjusted last season. Most of his slashing opportunities come on straight line dribbles, where he can lower his shoulder and overpower opponents using his strength.
Weems finds ways to score in other ways, though, be it off post-ups (mostly consisting of turnaround jumpers), short isos, in transition, coming off screens and crashing the offensive glass. He is not very turnover prone—coughing the ball up on just 11% of his used possessions—which is definitely a positive considering his future role.
He's also a very good rebounder for his size, pulling down nearly 10 boards per-40 minutes pace adjusted.
The biggest question marks regarding Weems' NBA prospects revolve around his play on the defensive end. He'll have to make the transition from guarding Missouri Valley Conference power forwards to NBA wing players, which could be difficult considering his average lateral quickness. Weems struggles at times already to stay in front of quicker players on the perimeter. His effort level isn't always where it needs to be, which is understandable considering his role, but is not something NBA scouts are going to want to see.
If Weems can find a way to shore up his defensive limitations and continues to work on his jump-shot, there could be a role for him in the NBA, possibly similar to the one
Jared Dudley
plays in Phoenix. Already 22 years old, he'll need to earn a roster spot through productivity and showing he can help a team win games, which he has a chance to start doing right now for a rebuilding Missouri State program.