Josh Riddell
After two seasons in junior college, Lorenzo Bonam originally committed to Southern Miss. When that program underwent an NCAA investigation, he received his release and instead signed with Utah, where he quickly inserted himself into the starting lineup on his way to averaging 15.1 points, 4.4 rebounds and 4.7 assists per 40 minutes.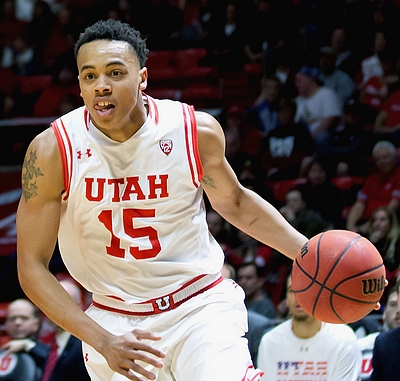 While Bonam is big enough to play either guard spot, he is much more effective with the ball in his hands. Listed at 6'4", he utilizes his quickness along with an innate ability to change speeds perfectly to penetrate into the paint. He also possess a long wingspan and a mature 225 pound frame to complement his quickness and round out an impressive physical profile that will allow him to compete against NBA guards.
Bonam uses a high percentage of his possessions working off ball screens, with Synergy Sports Technology logging 45% of his total possessions as pick and roll plays. He isn't great at breaking down the defense with his advanced ball-handling skills, so he needs to use the step he gets on his defender coming off the screen to get moving toward the rim before using change of pace moves to finish his attack. From there, he is tough to stop with a head of steam going downhill as he attacks the paint relentlessly.
Bonam is a solid finisher around the rim, as he converted 55.7% of his attempts in the half-court according to Synergy Sports Technology. He can drive to his left or right while he appears more comfortable finishing with his non-dominant left hand. He does prefer to slide past the opposition instead of facing them head-on, which can lead to some off-balance attempts as he avoids contact, which has hurt his overall efficiency. This is also shown in the fact that he attempted only 3.2 free throw attempts per 40 minutes last season, despite taking almost four shots at the rim. He's certainly strong enough to absorb contact and finish, so scouts will be looking to see whether he can develop into a more confident finisher on his drives.
Bonam is unselfish and a capable passer on the move, as he posted 4.4 assists to just 2.5 turnovers per 40 minutes. He protects the ball well and doesn't try to do too much which turns him into an efficient passer and playmaker off the dribble. He keeps his head up at all times and has the size and vision to see the entire floor and ping accurate passes to his teammates, which gives him the potential to play as the lead point guard.
To fully realize his potential as a penetrator, he'll also need to incorporate a more refined pull-up jumper into his attack. On 31 attempts last season he converted only 32% according to Synergy Sports Technology and struggled to transition from his downhill speed to an on-balance pull-up. He certainly prefers to drive all the way to the rim, but with his average finishing rate and inability to get to the line, he should look to add the ability to shoot off the dribble to give him options on his drives.
He displayed some potential as a shooter last season by hitting 40% of his 55 three point attempts last season, but he needs to shore up his mechanics to repeat his performance over a larger sample. As a spot-up shooter, he converted 38.6% of his attempts, but he can be bothered by length with a release that is from below his eyes and is a little slow. He's shown an ability to convert from beyond the arc, but he will likely need to make some mechanical adjustments to shoot it consistently from NBA range and be a threat off the ball.
Defensively, he has the tools to become a versatile guard who can defend either backcourt position with his length and lateral quickness, but his effort level has lagged at times which has limited his impact. His opponent can get by him too easily off the dribble, and he drifts off the ball so he isn't always in the right position to be a helpful team defender.
Bonam needs to utilize his tools better as his long arms are often at his sides and not pressuring his opponent on the ball or clogging passing lanes. He gets caught on screens and doesn't always use his speed to recover once his man is past him. There's plenty of defensive potential for him to unlock, but his awareness and motor will need to improve for him to make an impact on that end of the floor.
Bonam won't be 22 until after the end of his senior season which puts him at the younger end of the senior class. With the team's leading assist man in Brandon Taylor graduated, Bonam should get more of a chance to show his playmaking skills and his ability to create with the ball. If he can continue to impress scouts with his playmaking ability on the ball while showing more ability as a shooter/scorer and an increased defensive desire, he will certainly keep his name in the draft conversation.