Matt Williams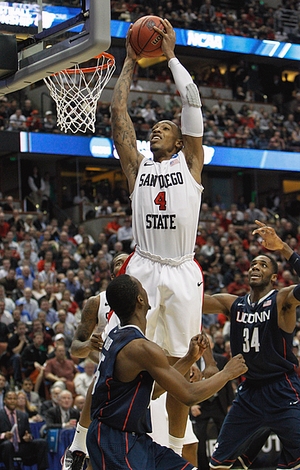 Apart from his role in San Diego's State's tremendous 2011 season,
Malcolm Thomas
had little buzz to his name heading into the Portsmouth Invitational Tournament. By no means has he solidified himself as a surefire draft pick, but he was probably the most pleasant surprise amongst all players in attendance.
Physically, Thomas has intriguing tools that mesh well with what he brought to the table on the college level. He's a bit undersized for a NBA power forward at just 6'8, but his 7'2 wingspan made him a menacing shot blocker at SDSU and allows him to play a bit taller than he's listed. While his 220 pound frame could still use additional muscle, Thomas is a good all-around athlete, running the floor well and looking exceptionally quick off his feet when pursuing rebounds.
Throughout the course of the week, Thomas showed that he could put those tools to use as a finisher around the rim on the offensive end. When he wasn't simply converting the plays his teammates created for him, he threw some terrific passes, was able to beat slower defenders to the rim on a few occasions, earned some easy opportunities by crashing the glass, and showed a solid hook shot with his right hand. Though Thomas's post repertoire is not very diverse, he saw 32.6% of his touches on the block last season according to Synergy Sports Technology.
The biggest question marks about Thomas revolve around his jump shot. Through Synergy data indicates that Thomas made just 6 of the 25 jumpers he attempted last season, Thomas has promising form that with continued polish and repetition could open up a number of facets of his game. He didn't attempt too many jumpers here, but if he wants to improve his NBA stock, he'd be well served to diversify the roles he can play by honing his midrange game.
Defensively, Thomas had extended stretches of promise. He had a number of big time blocked shots at the rim over the course of the week, and while he wasn't pursuing every shot he likely could have, he showed terrific timing. When he was playing on the weakside he showed a nose for the ball and a willingness to box out when pursuing rebounds. Couple that with the lateral quickness he showed defending the perimeter and it was tough not to come away impressed his defensive versatility.
Heading towards the draft, Thomas is a player to keep an eye on. He was a big reason his team made it to the championship game, and much like
Jimmy Butler
, he's a tool or two away from being an intriguing NBA role-player.