Derek Bodner
Georgetown was one of the more disappointing teams in college basketball last season, finishing with a 15-18 record on the year, the first losing season of John Thompson III's head coaching career.
While Georgetown's lack of team success cast a disappointing shadow on Derrickson's freshman season, the campaign did allow Derrickson to establish himself as a regular member of Thompson's frontcourt rotation, starting 27 out of 32 games for the Hoyas on the season with averages of 7.1 points and 4.5 rebounds per game.
Derrickson stands 6'8" in shoes with a 7'1" wingspan and a muscular, well-developed 250 pound frame. That kind of physical profile forms the basis for much of Derrickson's intrigue, and gives him the kind of defensive versatility that's become so heavily valued in the switch-heavy NBA, as he can more than hold his own physically at the power forward spot, especially with the way the league is trending towards smaller, more perimeter oriented players at the position.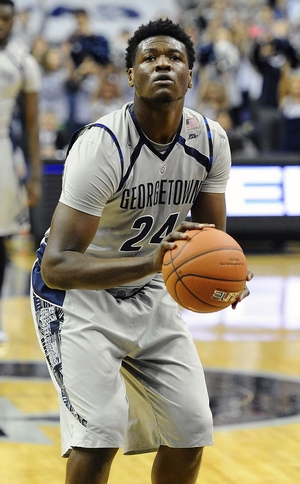 Offensively, Derrickson is mostly an off-the-ball player at this stage of his career, getting most of his scoring opportunities off of spot-up jump shots, cuts to the basket, rim running in transition and off of offensive rebounds, yielding just 12.9 points per 40 minutes, pace adjusted. Derrickson mostly plays within his role, with over 60% of his field goal attempts coming from three-point range.
That three-point shot is Derrickson's most consistent offensive weapon right now, as he connected on 37.6% of his 101 attempts last year, and Derrickson showed enough confidence in the shot to launch it with little hesitation. The release itself isn't all that quick, as he can at times look a little bit deliberate in his footwork stepping into the shot, which can slow him down and impact his consistency, but his overall mechanics look to be something he can build upon with increased focus and repetition down the line.
Where that still-developing footwork really comes into play is off the dribble and on the move, two areas where Derrickson hasn't shown any real comfort in shooting the ball just yet. Derrickson barely charted any attempts off the dribble during his freshman season, with Synergy Sports logging just ten total attempts when shooting off the dribble on the season, and they were anything but picturesque.
In fact, anything involving dribbling the basketball is a work in progress for the Maryland product so far. Despite having an intriguing physical profile from a size and strength perspective, Derrickson looks to be a below average athlete, especially if asked to play the small forward position. He's a mostly below-the-rim player with a below-average first step, problems which are compounded by rudimentary-at-best ball handling moves, which become an adventure on anything more complicated than straight line drives to the basket. This has led to a shooting percentage of just 45.5% on two-point field goal attempts, an over-reliance on a developing, but still somewhat inconsistent, three-point shot, and a limited role offensively.
Where Derrickson is a little bit more comfortable is moving off the ball. While Derrickson's lack of leaping ability around the rim still limits him somewhat in this regard, his physical strength allows him to play through contact, which he doesn't shy away from. He has good hands, relatively soft touch with either hand around the basket, and connected on 86.9% of his free-throw attempts when sent to the line, but his limited athleticism could limit his effectiveness at the next level.
On the defensive side of the court, Derrickson's size and strength are once again his calling cards, but he has only average lateral mobility and can struggle to change direction at times. Derrickson played mostly power forward at Georgetown, and with the preponderance of small-ball power forwards at the next level a career as an undersized power forward doesn't have the same negative stigma attached to it as it used to. Still, with how frequently NBA coaches ask their big men to switch nowadays, showing a little more defending the perimeter would make it easier for Derrickson to find a role at the next level, especially since he projects as so low-usage on the offensive side of the court.
Despite the athletic limitations, Derrickson's defensive fundamentals are solid. He gets in a pretty good defensive stance most of the time, gives consistent effort, fights through screens, rotates well defensively, and can block an occasional shot from the weakside. He collected just 5.5 defensive rebounds per 40 minutes, pace adjusted, but this was at least in part related to the presence of fellow big men Bradley Hayes and Jessie Govan in the rotation, both of whom are plus defensive rebounders in their own right. Despite Derrickson's relatively low output last year, with his size, strength, and motor, it's an area where he should be able to improve upon down the line.
Marcus Derrickson shows some of the traits of a potential role-player down the line, with intriguing size and strength, a developing outside shot, and solid defensive fundamentals and awareness. With D'Vauntes Smith-Rivera having graduated and Paul White transferring, there are some shots to be spread out over Georgetown's remaining lineup, which could help Derrickson showcase himself a little bit more on the offensive end. More important than sheer offensive output, however, is making major strides in his ball handling ability, improving the consistency of his three-point shot, and showing that he can adequately defend the perimeter, all of which would help boost his draft stock as a role-player at the next level.