Julian Applebome
Junior guard Matthew Fisher-Davis will be one of the most important returning pieces for a Vanderbilt program that underwent a great deal of change this off-season. After 17 seasons under Kevin Stallings (who departed for Pittsburgh), Valparaiso's Bryce Drew will now take over for the Commodores, and look to right the ship for a team that lost Wade Baldwin and Damian Jones to the first round of the NBA Draft.
As the leading returning scorer from last year's roster, Fisher-Davis will presumably be asked to carry a heavier load of the offensive production. Coming out of Charlotte Christian High School in North Carolina, the same school that produced Stephen and Seth Curry, Fisher-Davis had an up and down freshman season ,but found his footing his sophomore year and started 27 of 32 games for a Vanderbilt team that was bounced by Wichita St. in the first round of the NCAA Tournament.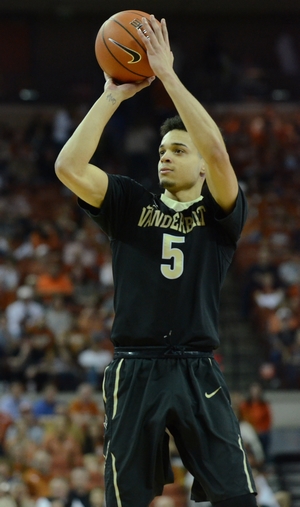 At 6'5" and roughly 185 pounds, with above average length, Fisher-Davis has just decent size for a shooting guard prospect. His frame is on the slighter side, but at just 20 years old he still looks like he has some room to fill out and could benefit from getting stronger. He doesn't stand out as being an overly explosive athlete, but he has fluid and smooth movements, and can finish above the rim if he has time and space.
What Fisher-Davis does on the offensive end of the floor, and where his potential rests as an NBA prospect, is as a knock down jump shooter. On 177 3-point attempts last season, Fisher-Davis converted 44.6%, best in the SEC. That 44.6% number was an increase from the already impressive 41.2% he shot on 170 attempts as a freshman. While most of his success came as a spot up shooter, he is adept at moving without the ball and is a threat to come off screens, hand-offs, or run to spots in transition to get open looks. He releases the ball slightly in front of his face, but it doesn't seem to effect his results. He does a good job getting his shoulders squared to the basket, and has a quick release with nice elevation which allows him to get his shot off in tight spaces. Fisher-Davis has already proven that he is capable of hitting from NBA range, and he is a confident shooter who is not afraid to take and make tough shots. He had nine games last season in which he hit at least four shots from beyond the arc, including a 20-point performance in a victory over Kentucky in what might have been the most impressive performance of his college career.
As elite of a shooter as Fisher-Davis is, the rest of his offensive game is somewhat limited. Of the 236 field goal attempts he took last season of them, only 59 of them came inside the 3-point line, with the majority of those being mid-range jump shots. His 2-point field goal percentage increased significantly from his freshman to sophomore season, which is a positive sign, but at 39%, it's still nothing to write home about. He is more than capable of attacking a closeout with a difficult one or two-dribble jumper, but anything outside of that can be a struggle. He flashed the occasional hard straight line drive out of close out situations, an aspect of his game that could become very valuable if he can improve it, but he lacks the strength or advancing ball handling to look comfortable with any sort of change of direction. He only averaged 1.2 turnovers per 40 minutes, but that's mostly due to how infrequently he was utilized as a primary ball handler. If he can improve his ball handling and his to ability to attack closeouts, it could go a long way given how much defenses have to respect his shooting prowess from deep, and might allow him to increase his extremely low number of free throw attempts (1.6 per 40).
Defensively, Fisher-Davis leaves a lot to be desired. At 6'5" with decent length and athleticism, he has the physical tools to be at least be an adequate defender, but lacks the proper technique and effort to contribute consistently on this end. His lack of strength is certainty an issue in terms of getting bullied by bigger players, but he is also regularly caught out of a stance and beat off the dribble. He doesn't fight through screens the way you would like, and he can often be out of position as an off ball defender. His length allows him to make up for some of his mistakes in close out situations, but his .7 steals and .4 blocks per 40 minutes clearly show that he has room for improvement in multiple areas as a defender.
As Vanderbilt transitions to a new era under Head Coach Bryce Drew, Matthew Fisher-Davis will be asked to fill some big shoes for a team that is in somewhat of a rebuilding situation. Fisher-Davis has an elite skill with his ability to shoot from beyond the arc, and there are only so many guys in college basketball who have put up the kind of perimeter shooting numbers that he has throughout his first two seasons at Vanderbilt. He'll need to improve his consistency on the defensive end of the floor, and expand his offensive game somewhat, but all NBA teams these days are in the market for a guy who is a knockdown threat from beyond the arc. He'll potentially have two more years at the college level to develop his game before he makes the jump to the pros.