One of the more pleasant surprises for the balanced Villanova team that rode timely shooting and lockdown defense to the National Championship, Mikal Bridges had an impressive season coming off the bench for Jay Wright's Wildcats as a redshirt freshman, contributing in a variety of ways a year ago. Though he averaged just 6.4 points and 3.2 rebounds over 20.4 minutes per game, Bridges's length, athleticism, and defensive versatility helped him impact the game on both ends in spurts and make him a player scouts will be keeping a close eye on as he moves into a more prominent role.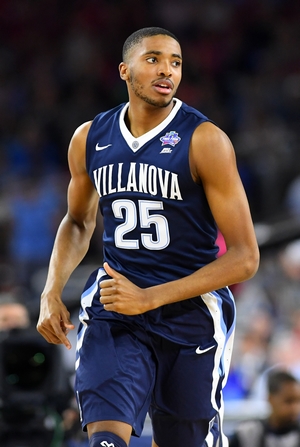 Measured at 6'6 in shoes with a 7'0.5 wingspan and a 178-pound frame ahead of his senior year at Great Valley HS (PA), the consensus top-100 recruit spent the 2014-2015 on the sidelines as a redshirt working on his body and game. Now listed at 6'7 with a 200-pound frame, Bridges has very nice physical tools for a small forward at any level to go along with terrific quickness and solid leaping ability that could improve as his body fills out.  
Bridges's athleticism played a significant role in his success offensively a year ago.  Though he averaged a solid, but unspectacular 17.2 points per 40 minutes pace-adjusted last season, he did so while scoring a tremendous 1.14 points per possession according to Synergy Sports Technology, one of the top-50 marks in all of Division I among rotation players.  Playing almost exclusively off the ball spotting up on the perimeter, running the floor in transition, and moving without the ball playing off of Villanova's rock solid guard-play in the half court, Bridges showed a promising blend of set shooting and dynamic finishing ability.
Though only 45% of Bridges's shot attempts came in the immediate vicinity of the rim last season, he shot an outrageous 81% on those attempts.  The Malvern native isn't the type of player who is going to break his man down off the dribble and make quick decisions to score craftily, as his ball-handling and overall shot creating ability is still a work in progress, but he is very much the kind of forward who regularly puts himself in the right place at the right time inside, takes what the defense gives him as a slasher, and looks to finish strong through contact above the rim.  Doing a very nice job sprinting the floor in transition, crashing the glass, cutting back-door in the half court, making hustle plays, and using his rangy strides to get to the rim off of one dribble when the defense gets careless, there's a lot to like about how Bridges handled the small role he played a year ago.
Away from the basket, Bridges showed some promise as well, albeit not with the gaudy efficiency numbers he posted in the paint.  A little over a third of the sophomore's shots came in catch and shoot situations a year ago, which he converted at a decent 35% clip.   A capable shooter from beyond the arc whose mechanics are fairly solid, if a bit rigid and inconsistent on some attempts, Bridges seems to have some upside as a floor spacer if he can clean up his release.  He was particularly effective shooting the ball from the right wing, and made 79% of his free throws last season, but struggled from the left side and connected on just 6 of the 20 corner 3s he attempted.  On top of that, he knocked down only 4 of the 18 pull-up jump shots he attempted, as he still has a lot of room to grow as a shot maker from the perimeter.  
The 2016-2017 season will be an interesting one for Bridges, as the departure of Daniel Ochefu and Ryan Arcidiacono will open up minutes and shots throughout the rotation, but Jalen Brunson, Josh Hart, Kris Jenkins and Fordham Eric Paschall transfer figure to pick up plenty of that slack.  Bridges has already proven that he can excel in a small role offensively, so it will be fascinating to see if his skill level blossoms to help fill the void, or if he once again plays a more complementary role.  If he can improve his shooting from the perimeter, there's little question that he offers intriguing roleplayer potential at this end at the next level, but he could raise his profile considerably if he can flash the ability to create a bit off the bounce and make sound decisions with the ball.
Though there's some uncertainty as to how things will go offensively for Bridges this season, there's little doubt that he'll be a major cog on the defensive end for Wright's program.  
Averaging 1.4 blocks and 1.7 steals per-40 minute pace adjusted last season, Bridges has a flair for making plays, but there's also plenty of substance behind what he brings to the floor.  The 20 year old is an active defender who fits exceptionally well into Villanova's aggressive switching attack, faring particularly well when defending on the ball.  
Despite his knack for moving his feet and staying in front of smaller players away from the rim, Bridges struggled at times defending off the ball, losing track of his man leading to some avoidable open jump shots.  He could also stand to get stronger in the hopes of improving his ability to hold position defending power forwards, something he was asked to do at times.  Given last season was Bridges's first taste of major college basketball, it will be interesting to see how he progresses on this end in the future as he has makings of an impactful, multi-positional defender.  
One of the more valuable young roleplayers in the college game a year ago, particularly as the year moved on, Mikal Bridges made the most of his redshirt season to provide valuable minutes for the National Champion Wildcats as a second year freshman.  As is frequently the case with players in his mold, the coming years will be a major test for him as his role becomes more demanding and he is asked to expand his skill set to become a more productive scoring threat.  Regardless, Bridges is a player scouts will be monitoring to see if he can take a significant step forward as a player, as he has the makings of a very promising two-way wing if he can improve his jump shot and reach his potential defensively.