Jonathan Givony
After somewhat underwhelming performances over the course of 2011 at the Nike Hoop Summit in April, the adidas EuroCamp in June and the FIBA Under-19 World Championships in July, few would have expected
Raul Neto
to emerge as one of the most productive young players in Europe in 2012. That's exactly what he's done playing in the ultra-competitive ACB, on a playoff contending team no less, seeing a solid 18 minutes per-game.
Neto played just a single contest here in Barcelona, a loss to Caja Laboral, but was able to show quite a bit in his 24 minutes of action, both good and bad. Reviewing the film of his 21-game season thus far, his performance seems to be fairly representative of the kind of year he's had, complete with abundant highs and lows.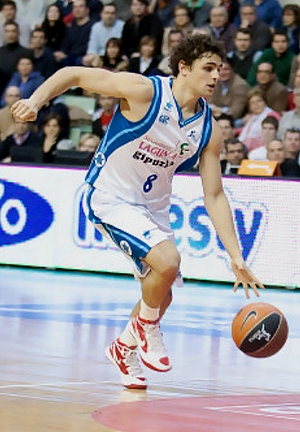 Measured in a few different places (Hoop Summit, Treviso) around 6-1 in shoes, with an average 6-2 wingspan, Neto is not the biggest or longest point guard you'll find. He's done an excellent job with his frame, though, appearing to have bulked up significantly, particularly in the upper body.
Athletically, Neto is a class above most European guards, showing terrific speed in the open floor and a very quick first step. This, combined with his aggressive nature, allows him to create his own shot exceedingly well, which he seems to have quite a bit of freedom to do in head coach Sito Alonso's up-tempo, high-scoring offense. This perhaps isn't a surprise considering Alonso is the former coach of
Ricky Rubio
and
Rudy Fernandez
in DKV Joventut, but it's still fairly unique in European, and especially Spanish, basketball.
Neto does a good job creating high percentage shots inside the paint and getting to the free throw line, being particularly dangerous in transition, where he likes to attack retreating defenses. He possesses strong footwork and ball-handling skills, as well as the ability to change speeds on the pick and roll. Extremely aggressive with the ball in his hands, he attacks the rim ferociously, finishing extremely well around the basket, sometimes through contact, despite his average size and leaping ability. He also has a very nice tear-drop in his arsenal, which he's been converting at a very high rate this season.
While he's a very effective slasher, Neto's perimeter shooting needs work, as he's only converted 12 of his 41 jumpers (29%) on the season. He's able to make shots from behind the 3-point line on occasion (6/23 this season) with his feet set, but really struggles off the dribble, not showing the ability to pull-up in the mid-range area if opposing defenses close off the paint.
As a point guard, Neto shows clear strengths and weaknesses. On one hand he's a confident and creative player who can get to spots with the ball and find the open man unselfishly in drive and dish situations, sometimes in highlight reel fashion. On the other hand, he's not consistent at all with his decision making yet, as evidenced by his 36/31 assist to turnover ratio thus far this season. He looks very careless with the ball at times, over-dribbling and trying to make spectacular plays, which is something that should improve in time with added experience and maturity.
Defensively, Neto has been very effective thus far, which is part of the reason he's been able to carve out such an important role in the ACB at his age. He's extremely aggressive on this end of the floor too, putting excellent pressure on the ball and getting right up in his opponents fearlessly. He has quick feet and good hands, helping him rank in the top-5 in the ACB in steals per-40 minutes this season.
Neto's aggressiveness and lack of size, length and experience can get exposed on occasion by some of the extremely high quality guards that are found in the ACB, but considering his age (19) and the fact that this is his first season playing outside of his home country of Brazil, it's difficult not to be impressed by the toughness and competitiveness he's shown.
It will be interesting to see how Neto progresses from here and whether he can continue to build on his successful rookie season in the ACB next year and beyond. His quickness and aggressive style of play on both ends of the floor would seemingly translate very well to the NBA, which makes him a prospect to keep an eye on moving forward.