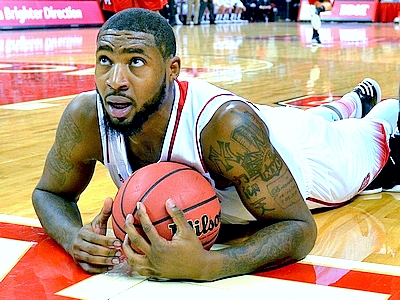 Matt Williams
Leading the Wolfpack in rebounding and finishing as their second leading scorer,
Richard Howell
was a consistently bright spot for a North Carolina State squad that struggled to live up to the lofty expectations set for them in the pre-season. Averaging a double-double en route to earning All-ACC 1st Team Honors, Howell put the finishing touches on a solid four-year career. The 60th ranked recruit in the
2009 RSCI
, Howell improved in each of his three seasons on a number of levels and molded himself into one of the best big men in the senior class and a potential draft pick this upcoming June.
A big part of Howell's development into a productive player can be traced to his improved conditioning. After gaining significant weight early in his college career, Howell shed some 20 pounds before his sophomore year and has continued to refine his physique since then. A bit undersized for the power forward position and lacking great explosiveness, Howell has a good wingspan and is built like a tank.
Those two attributes, coupled with his consistently high effort level and tenacity, made Howell the
5th best per-game rebounder
and
13th best per-40 minute pace adjusted rebounder
in the nation. A tremendous rebounder who has never dipped below 13 rebounds per-40 minutes paced adjusted in any of his four seasons in Raleigh, Howell is physical, sure-handed, and has a nose for the ball. Despite his lack of size and leaping ability, Howell manages to pull down plenty of rebounds in traffic by using his timing and strength to his advantage, often winning the scrum for the ball by snatching it away from the would-be rebounders around him with one-hand.
In addition to his ability on the glass, Howell has developed into an efficient complementary player on the offensive end at the collegiate level. Despite the fact that he doesn't often finish plays above the rim, Howell converted some 64% of his shots in finishing situations this season, thanks to his aggressiveness and touch. His physicality also translated to the post, where he shot a respectable 49%. Accounting for roughly the same proportion of his possessions as cuts and offensive rebounds according to Synergy Sports Technology (~20), Howell is not a dynamic offensive threat, but he's decisive, embraces contact, and attacks angles. As he makes the transition to the next level, Howell will need to continue developing his left hand as well as his ability to score over the top of the more athletic defenders he'll be matched up against, as he'll have to make the most of the opportunities he receives inside the paint to not be a liability offensively.
Away from the basket, Howell shows some jump shooting ability. Making just 13 of his 38 attempts from the perimeter this season, the Marietta, Georgia native never recaptured the promising efficiency from the midrange he showed early in his career, and will need to continue improving his consistency in this aspect of the game to help compensate for his lack of great explosiveness in close.
Defensively, Howell's strength and toughness are assets, but his lack of size and leaping ability at the center position limit his ability to challenge shots and be a factor rotating over from the weakside. His lateral quickness is better than it was early in his career, but still leaves something to be desired on the pick and roll. His motor has improved as well, but he still has some lapses and doesn't always fight for position on the block before or after the catch to the extent he's capable of. Howell would have a much easier time finding a spot in an NBA rotation if he followed the lead of players like
Chuck Hayes
and
Udonis Haslem
and become a stalwart post defender to compliment his excellent rebounding skills.
Even though he is somewhat stuck between the power forward and center positions, big men with great rebounding ability are always at a premium, and Howell is among the best the NCAA has to offer. If Howell can become a better-rounded offensive player away from the basket or improve what he brings to the table defensively, it would not be surprising to see him emerge in a NBA rotation and stick around for some time. Skipping the Portsmouth Invitational Tournament, Howell's workouts will play a role in where he is drafted, as he still has some things to prove that could solidify his stock.