Our main point of intrigue,
Sergio Llull
, on the other hand, struggled badly, going 0/4 inside the arc and 1/4 from outside, finishing with just 6 points and 3 assists in a whopping 33 minutes. The amount of playing time he received in such an important setting tells you a lot about his importance on this deep and expensive Real Madrid roster. He's been playing incredibly well up until this game, stringing together some excellent performances in the Euroleague Top 16 (where his team is 3-0) and ACB (team record: 16-5), grabbing the reigns as his team's starting point guard in the process, which is pretty noteworthy for a 21 year old European guard (he's essentially an NCAA junior, as he won't turn 22 until November).
Brandon Jennings
can tell you more about the significance of that.
Back in the end of October we carefully discussed the surprisingly excellent season that Llull was having, wondering if he'd indeed be able to keep pace. Well 34 games in, it's safe to say that Llull is for real, ranking as one of the most efficient and prolific passing point guards in both competitions he plays in.
46% of Llull's offense comes in pick and roll situations, which should tell you quite a bit the role he plays for his team. He's clearly their most creative force, the best athlete on the team and an incessant shot-creator. His excellent first step and strong ball-handling skills allow him to pick apart defenses extremely well, going either left or right, which also makes him a dangerous threat in transition. He's been featured on a number of ACB league highlight reels this season because of his ability to drive down the lane at full speed and throw down impressive dunks. Even if he looks a bit wild at times, he's managed to keep his turnovers extremely low all season considering his style of play, which is a big reason he's earned so much trust from his coaching staff. In fact, he ranks 3rd in the ACB in assist to turnover ratio, and 5th in the Euroleague. His pure point ratio (PPR) also ranks in the top 5 in both leagues.
In this particular game, Llull got to the basket on a number of occasions but struggled to finish. Despite possessing strong leaping ability (especially for a European guard), Llull lacks some strength and possibly some toughness finishing around the basket. He gets to the free throw line at a good, but not great rate, and could still stand to improve on his ability initiating contact in traffic. At times he tends to just flip the ball up at the rim instead of going up strong.
Llull's jump-shot has been consistent all season long, and he's hitting it at an excellent rate—39/92 from behind the arc in 34 games, or 43%.He's got great form and deep range, being absolutely lethal in catch and shoot situation, and shows no hesitation at all taking big shots in the clutch. He needs to improve on his mid-range game—rarely do you see him pulling up off the dribble after creating his own shot, but he's proven capable of making them too from time to time.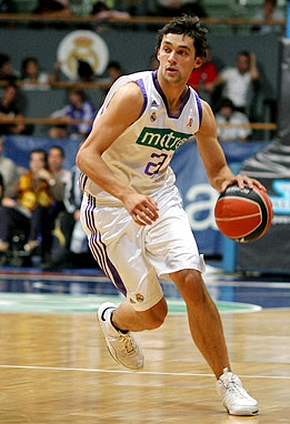 Defensively, Llull lacks great strength or length, but he does possess ample size and lateral quickness. He's pretty intense on top of that, which is yet another reason he's managed to earn his spot in Real Madrid's rotation. Llull does a good job getting in the passing lanes and will also pick up the occasional block, but he tends to lose his focus and gamble at times and also lacks some strength fighting through screens.
Llull has likely done enough at this point to solidify his spot in the second round (maybe very early) of this upcoming draft—now he just needs to find the right franchise to make the investment in him. He's unlikely to come over for workouts from what we're told and will probably be playing in the ACB league semi-finals at the time that the EuroCamp in Treviso is being played, meaning NBA teams need to do their homework on him now—not likely an issue considering the level he's playing at. He still has two more years on his contract (if Real Madrid picks up his option, which they certainly will) and after that will give the NBA a hard look from what we're told.