Jonathan Givony
The oldest player on either roster, "Mogi's" week got off to somewhat of a slow start as he was hampered by the language barrier and a bruised foot he suffered on the first day of practice. He improved day by day and finished up very strong in the actual game, having one of the better showings among the international players, with 9 points, 8 rebounds and 3 assists in 22 minutes of action.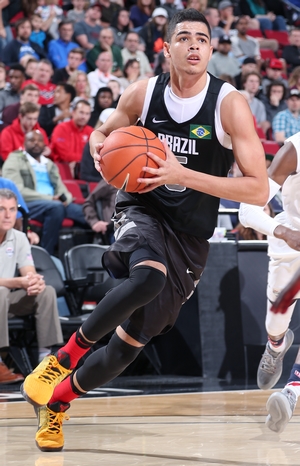 Da Silva has average height, standing 6'5 1/2 in shoes, but makes up for that with a 6'10 wingspan, big hands, strong athletic ability, and an excellent frame that should fill out nicely in time.
Known as mostly a non-shooter for most of his career, Da Silva showed some glimmer of hope with his shooting mechanics in different stretches of the week, being far more consistent in catch and shoot situations than you might think considering his reputation. His pull-up jumper is a major work in progress, but his ability to stretch the floor with his feet set could help him carve out a role if he's able to become more consistent with it considering all the other things he does.
Mogi's ball-handling skills and overall feel for the game aren't quite as developed as you might hope. He is very aggressive using his athleticism in transition, but doesn't have the ability to create space for himself in the half-court anywhere near as effectively with his high and loose handle.
Defensively is where Da Silva is at his best at the moment, using his excellent physical tools, high intensity level and solid instincts to move his feet and make plays consistently in the passing lanes, on the glass and even blocking shots on occasion.
A little more raw than you might hope considering his age, Da Silva has lost considerable time in Brazil, where he's barely playing this season at the senior level with his very ambitious team. His limited English made his transition to this setting a little slower than some of the other players on the roster, but in the end he was able to show his talent level and also how he can effect a game on both ends of the floor. Automatically eligible in 2018, it wouldn't be surprising if Da Silva decided to throw his name into this draft class to see where he stands in the eyes of NBA teams after a solid week in Portland. Finding a place where he can continue to work on his skill-set will help him make up for the ground he's lost in Brazil, where developing young players unfortunately doesn't seem to be a major priority for teams.