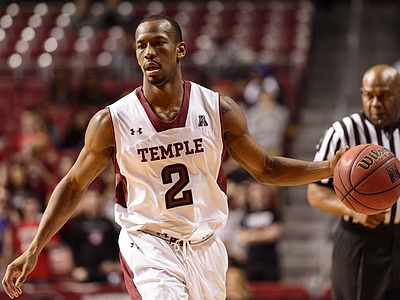 Jonathan Givony
After playing a minor role in his first two years at Temple, Will Cummings broke out in a major way as a junior, averaging 16.8 points and 4.6 assists per game, both good for sixth best in the American Conference.
The intrigue around Cummings begins with his excellent combination of physical tools. He has good size at 6-2, solid length, and a decent frame that should fill out nicely in time. More importantly, he's one of the quickest guards you'll find in college basketball, showing tremendous end to end speed, and the ability to play above the rim with ease.
Cummings is at his best in transition, where his speed and excellent body control allow him to change gears and push the ball up the floor in the blink of an eye.
He's also a capable creator in the half-court, though, as he's able to blow by opponents from a standstill driving either left or right and regularly gets right into the teeth of the defense. He shows the ability to operate at different speeds, which gives him nice potential on the pick and roll, an area he's not all that proficient in at the moment, but could become a dangerous weapon as his skill-level, frame and knowledge of the game improves.
While Cummings can create his own shot and into the paint virtually at will, he's not a good enough finisher at this stage to fully take advantage of that at the moment. Although he takes nearly five shots per game inside the paint, he converts just 50% of these lay-up and floater attempts, a below average rate at best. Getting stronger should help, as would improving his left hand and doing a better job of drawing and finishing through contact around the rim. Cummings got to the free throw line at a solid rate (6.9 times per-40 pace adjusted) last season, but he probably can get there even more frequently as a senior.
Improving his outside shot would likely help Cummings become an even more dangerous slasher, as currently opposing defenses like to sag off him, since they don't really fear his jumper. Cummings is not a non-shooter by any stretch, as he has solid shooting mechanics, made over one 3-pointer per game last season and hit a respectable 36% of his catch and shoot jumpers. Where he struggles is pulling up off the dribble, as he converted just 27% of his attempts in these situations. Being able to punish defenses consistently for going under on screens would benefit him greatly.
Cummings improved quite a bit as a facilitator as a junior, upping all of his passing metrics substantially and posting a solid 2/1 assist to turnover ratio and 2.24 PPR. He still has room to grow here, though, as despite the fact that he makes some solid passes in drive and dish situations, he's not the most creative or natural playmaker and facilitator just yet. He has a tendency to dribble with his head down, and the timing and accuracy of his passes isn't always there just yet. To Cummings' credit, he does a good job not turning the ball over too frequently, which is a good place to start.
Temple had a historically bad season defensively last year, posting an abysmal 109 defensive efficiency rating, according to Ken Pomeroy. This was the worst defensive team head coach Fran Dunphy has had in the 13 years KenPom has data for. In AAC play, Temple was even worse, posting a 114.5 defensive efficiency rating, last in the conference.
Cummings certainly played a role in that. He doesn't have great fundamentals here and rarely seems to putting full effort into his work on this side of the floor. He often looks to be going half-speed, being very upright in his stance and not closing out on shooters with any real urgency, sometimes not even getting a hand up. Getting stronger will likely help, for example fighting through screens, something Cummings does very nonchalantly, but the lack of intensity he shows here is a major red flag.
Cummings has solid physical tools—size, length and very nice quickness, so technically there's no reason he can't be at least an average player here. That's something Temple will certainly need him to be to bounce back from the very disappointing season they are just coming off of, going just 4-14 in conference play and missing the NCAA Tournament for the first time in seven years.
Despite generating very little buzz on the national level at the moment, there's a lot to like about Cummings' long-term potential. Speed is a major factor in today's NBA, and Cummings has that in spades, which will make him a prospect NBA teams will have to look at in his senior year. Athleticism isn't everything, though, as players like Deonte Burton can tell you. It will be interesting to see how Cummings improves as a senior and whether he's able to lead Temple back to respectability.