Cleveland Cavaliers owner Dan Gilbert and other NBA executives fielded questions after the final 2013 NBA draft order was determined.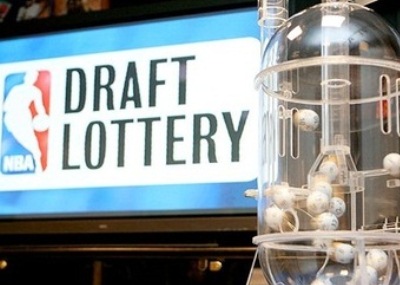 Rob Hennigan
General Manager, Orlando Magic
Ernie Grunfeld
General Manager, Washington Wizards
Flip Saunders
General Manager, Minnesota Timberwolves
Dan Gilbert
Owner, Cleveland Cavaliers
First Overall Pick
How important is it to get this pick?
Dan Gilbert:
I think it is extremely exciting for not only the franchise, but for all the fans in Cleveland. Two years ago, I think getting Kyrie was big for the franchise, and getting
Tristan Thompson
and
Dion Waiters
who are both emerging stars in the league is just huge to our core.
Tyler Zeller
played well at the end of the season last year and now we've got the number one pick and we're going to have the choice of several really good options here at the top, not to mention our 19th pick, cap space and our new coaching staff. We're more than excited and it has been a long three years for the entire franchise, but we got through it, we think we're going to come out the other end.
Are you leaning in a particular direction as to who the number one pick might be at this point?
Dan Gilbert:
I think most people who study this will tell you that this is not a draft where there is a clear cut obvious number one choice. So, I think that and the work that our guys are doing and the work they've been doing all year long, they're going to do their due diligence. And obviously we're going to hold some workouts between now and the draft. I don't think there's a direction that we're leaning at this point. I think we'll be open minded.
Do you think having this pick and the young guys that you have is making you close to taking a jump?
Dan Gilbert:
Yeah, we said all along, after we had to reset things three years ago that we're going to build this team primarily through the draft, number one. Trading is obviously an option for us and of course free agency is a way of getting players, but this is the kind of core we wanted to build and this is Chris Grant's philosophy and the franchise's. We have and are going to focus on getting a handful or very strong, talented, and good people as our players and build the franchise around them and then supplement them with the other two methods of getting players. I think, first of all, Cleveland in general is a great place for any player to want to play because Cleveland fans are the best in the country at being supportive, we have a great facility, and the franchise wants to win and we'll do what it takes. It helps when you are going in the right direction to have more great players to attract other talent as well.
The odds of winning the lottery once are very small, what do you think helped you win it twice in three years?
Dan Gilbert:
Well, primarily Nick [Gilbert]. He's brought us good luck. I don't know what to attribute it to, but the first year, we didn't have great odds, but this year the chances were more realistic. We'll take it, We're very excited.
What does this No. 1 overall pick do for the franchise?
Dan Gilbert:
It means a lot. It means thank God that none of us are Chris Grant right now. He's got a tough decision. As everybody knows this year is a little bit different than most years where there's a clear No. 1 pick. This year can go several ways, so Chris and the staff have got a tough job in front of them, but they've been doing a lot of research and working hard all year to figure it out. I think for Cleveland it means a lot, because if we pick the right guy that fits into the young core that we've got right now, we can be a very good team for many years.
I'm sure Mike Brown is politicking for someone who will play defense…
Dan Gilbert:
(laughs) I bet, that's for sure. We'll talk to Mike. We'll talk to everybody, and I can't wait until June. What's the date? June 27th? Don't tell him who you want, Nick.
Does this make up for losing LeBron?
Dan Gilbert:
I mean, to us, that is so long ago. It's only three years, but in NBA years, which are like dog years, it seems like it was 15 or 20 years ago. We've just been so focused on building a team over the past few years. We can't look back. There's nothing we can do, and we're just happy about today.
Is this a big step forward in the rebuilding phase?
Dan Gilbert:
We were hoping, regardless of what pick we got, that this would be our last lottery. We thought originally after everything had to be reset that it would be a three-year process. You never know. It could be two or it could be four, but we thought three years. With the No. 1 pick this year, and we also have No. 19, we think this will be the last lottery for a while here.
What do you like about your roster right now?
Dan Gilbert:
I think our backcourt is fantastic. It's got a chance of being one of the best backcourts in the NBA for a long period of time. Obviously Kyrie is Kyrie, but Dion Waiters made tremendous progress during the year, and he's working very hard already over the summer. He's a tough kid with a lot of dog in him, I think he's going to surprise a lot of people. You put those two together, and Tristan Thompson has come a long, long way in a short period of time.
Lon Babby
President of Basketball Operations, Phoenix Suns
Fifth Overall Pick
With the fifth pick in the NBA Draft, where do you go from here?
Lon Babby:
We finished with the fifth pick and that is fine now. Ryan McDonough and his staff will go to work and make a good choice. I know they will.
You sat down with a fortune teller. Do you need to get your money back?
Lon Babby:
No. She covered all of the bases. She said I was going to be lucky, but maybe unlucky. She said I was going to live a long life, but be careful. I think she is pretty experienced, no matter what the situation was, she had it covered. She said I will have luck in 2014. Whatever that means, I will take it.
Bradley Beal
Player, Washington Wizards
Third Overall Pick
How do you feel about having the third pick in the NBA Draft?
Bradley Beal:
We were projected to be in the eighth spot. The ball fell in our court and it is great to have the third pick in this draft.
When you get to the third pick do you think the outcome will be great?
Bradley Beal:
It is the final three, so you can't really go wrong with those picks. There are a lot of talented guys in this draft so we will be able to make a wise decision.
What do you think about the players in the 2013 NBA Draft?
Bradley Beal:
I am not sure who is in the draft but the top couple of guys are good. They can help our team out. We may even pick someone who will be later in the draft, you never know.
What if the draft pick was higher?
Bradley Beal:
Even if we didn't have the high pick, our expectations are going to be high. We expect our team to do well from the start. We want all of our guys healthy and ready to go for day one.
Kevin Love
Player, Minnesota Timberwolves
Ninth Overall Pick
What do you think this team needs right now?
Kevin Love:
I think we need a guy who can be a lights out shooter for us. I'll come back and shoot the ball well. I think we need a guy who can shoot in any situation, whether it's in the halfcourt, or out on the break, a guy in any setting who can hit a shot, a guy who can open up the floor for us, especially with Ricky Rubio handling the ball and creating. That's first and foremost what we need, and we'll take it from there.
What it's like having Flip Saunders back in the mix?
Kevin Love:
I think Flip is great. I've always admired what he's done, coming from the Timberwolves prior, and being with Detroit, having been in the Western and Eastern Conference Finals. He has a great reputation in the league, and I think he and Rick Adelman being in constant contact, it's going to be great for this franchise.
Do you feel like this organization is now committed to you and really committed to winning?
Kevin Love:
I believe so. I talk to Flip pretty much every other day. I had lunch with him today. He's very hopeful that I'll be a big part of this team for many years to come. I don't see why he should think otherwise.
Fred Whitfield
President, Chief Operating Officer & Alternate Governor, Charlotte Bobcats
Fourth Overall Pick
How do you feel about your pick?
Fred Whitfield:
Well, clearly everybody that came here wanted to get the number one pick, but only one team can get that pick. So, we're now focused on the number four pick. Our scouts and basketball operations people are now looking at who would be a nice fit. Who would be a nice core piece to enter the fold to make our franchise better. So, we're looking at it as now we have number four, so we have to find the right pick for our team with that pick.
What does this pick mean for the team and the city?
Fred Whitfield:
Well, this means another talented core player that will be a part of our team and our franchise for a long time. This lottery process gives us an opportunity to add young core pieces to the team that we already have and we're excited that hopefully this young man will fit in and he will be a strong core piece to our franchise and be involved in the community.
Today was a big day for Charlotte with the name change back to the Hornets. How will that play in the draft process?
Fred Whitfield:
Well, making the application to hopefully change our name to the Hornets is a big day for Charlotte. It's a big day for our fans, for our community. Our fan base really wanted to see this happen, our sponsors wanted to see this happen and the community at large wanted to see this happen. So, we're going through the formal application process, hopefully we will get approval in July and hopefully in the 2014-15 season, that will be our name and we will move forward connecting to the Charlotte community and galvanizing the community as a whole.
Pat Williams
Senior Vice President, Orlando Magic
Second Overall Pick
What are your overall thoughts?
Pat Williams:
When we got down to those final two I thought, "We got it. We got it." We're grateful that Washington pulled the upset today. So, we wind up in the two spot, and I just spoke to [general manager] Rob Hennigan and he seems really pleased.
It appears this team is really on the way back with some of the young talent recently acquired. Do you feel like this team really has a solid plan for the future in place?
Pat Williams:
There's no question there's a plan. They say this draft isn't running over with great talent, but believe me, there will be eight or 10 players from the draft, you'll look back and say they had really good careers. We're very pleased. Obviously, we came here to win it, because we have a history and wanted to keep it going. But, everybody is very pleased with the second pick. We could have been as low as four.
Your organization took some heat for the Dwight Howard trade last summer, but if you take a closer look right now, the Magic came away with a pretty good haul, with young players like Moe Harkless and Nikola Vucevic, and also adding Tobias Harris this season in a trade. Is that a testament to the patience and the plan your general manager has put in place?
Pat Williams:
Rob is very deliberate, and he's got good people around him. He doesn't rush into anything. That deal, which at the time last summer was heavily criticized, but it turned out to just be incredible. We got Harkless and Vucevic, who are good pieces. We got three future first-round picks, and handful of second-round picks, which will pay dividends as well. Rob knows what he's doing. For a young guy, it's very impressive. Out of this draft, we'll come away with a really good young player and roll him into the mix as well.
What are your thoughts on Head Coach Jacque Vaughn and the job he's doing?
Pat Williams:
He did a terrific job just to get through the season. It was a tough season, with 60 losses, but he stayed focused and stay enthused. He never lost his cool. The players respect him. He's a very bright young coach who's going to be coaching in this league for a very long time.