Cleveland Cavaliers General Manager David Griffin and other NBA executives fielded questions after the final 2013 NBA draft order was determined.
Lottery Results
1. Cleveland
2. Milwaukee
3. Philadelphia
4. Orlando
5. Utah
6. Boston
7. LA Lakers
8. Sacramento
9. Charlotte (From Detroit)
10. Philadelphia (From New Orleans)
11. Denver
12. Orlando (From New York via Denver)
13. Minnesota
14. Phoenix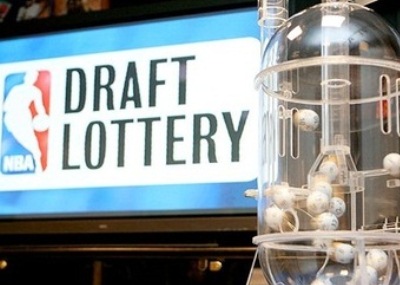 Giannis Antetokounmpo
Player, Milwaukee Bucks
2nd Overall Pick
Sam Hinkie
General Manager, Philadelphia 76ers
3rd Overall Pick
Rob Hennigan
General Manager, Orlando Magic
4th Overall Pick
David Morway
Assistant GM, Milwaukee Bucks
2nd Overall Pick
Pete D'Alessandro
General Manager, Sacramento Kings
8th Overall Pick
Milt Newton
General Manager, Minnesota Timberwolves
13th Overall Pick
David Griffin
General Manager, Cleveland Cavaliers
1st Overall Pick
How do you feel?
Griffin: It was incredible. When Cleveland didn't' pop up at nine, I knew obviously we had moved up and I had to gather myself for a second. Just a remarkable feeling.
Is there a clear cut number one in this draft?
David Griffin:
I don't think there's a clear cut number one pick in most drafts. I think when people say that they have a really strong feeling for one player over another but there's not necessarily a consensus in most drafts.
If you look at this draft, there are three guys there at the top that any one could help your team. How are you going to differentiate between those three as to which guy is the best fit for the Cleveland Cavaliers?
David Griffin:
Well I think its not necessarily just limited to three names that are more highly hyped. We've got to do a really thorough examination of all the guys to know that we're not doing something too quickly. I think if you look at the guys who get the most hype, obviously they get that because of their athleticism and their upside and I think we're relatively open minded to doing a lot of different things with that pick, and so we'll focus on more than just those three. I appreciate your question, there's more to it than just those three guys people talk about.
In your case it will be about who you feel fits best with the current roster?
David Griffin:
Yeah and I think we're very open-minded. We will try to get radically better, much quicker. We really feel like there's a sense of urgency in improving our team as a whole and we're going to look for the right fit and we're very open-minded to what that really means.
Will this help steer you in your head coaching search?
David Griffin:
No, I don't think so. I think if anything it certainly makes it a more attractive destination, but that's a process that's sort of in its infancy right now. I don't really think of them as being correlated.
This is your first year in your current role, in your first draft. What do you think will happen differently this year compared to last year?
David Griffin:
Obviously the pick pool, you have no control over what that's going to be at any given time. I feel really blessed that we're in this position and we will do all of the due diligence that we've always done and try to make the right decision. I don't think that anything will be inherently different, other than the fact that I'm here. I'm unique, I guess. That will be the only difference.
Wesley Edens, Milwaukee Bucks
Co-Owner
2nd Overall Pick
What are your overall thoughts on Milwaukee's position?
Wesley Edens:
Pick number two is a pretty great result. I think it gives us a great step in the right direction of building the team we want to have. I'm very, very excited.
Did you put a lot of thought about who you would take if you came in second or third?
Wesley Edens:
Not really. There's such a deep crop of players. Really, the process has just started in terms of evaluating them. Now, the hard work starts. If we were fourth we thought we'd have great options, obviously at two we have better options. It's wonderful. Really, it's a pivotal moment for the organization and a great step in the right direction.
Was it a thrill today to go through this whole process?
Wesley Edens:
It was kind of our first official day, and it's a dream come true. We're very excited to be here, and to be here with my family and our friend is really special. We're happy with the outcome. We could have been number one, but number two is pretty good.
You're confident you'll get a solid player at two?
Wesley Edens:
There's so many good players. It's a wealth of opportunity, and we're definitely excited about the opportunity. We have a couple of young guys with us here tonight in Giannis (Antetokounmpo) and Brandon (Knight), and the young nucleus of this team is terrific. We've got a good chance to add to it.
Julius Erving, Philadelphia 76ers
76ers Legend
3rd and 10th Overall Picks
Do you think the 76ers are on its way up?
Julius Erving:
Well, we still have to get the coaching staff, the players, the front office and the fans to do it together. They have to rise together. Getting one guy on the court is not going to do it. It has to be a cohesive effort.
Would you like to see them go big man?
Julius Erving:
We've got [Nerlens] Noel sitting over there. I mean, power forward would probably be good. And then you get the 10th pick, then maybe you get your guard there. We can get a power forward and a guard. I don't think we need a center.
So do you think Josh Harris will be happy tonight?
Julius Erving:
I think he's happy. Look at him, he's smiling.
Stephen Pagliuca
Co-owner, Boston Celtics
6th Overall Pick
The process is starting over in rebuilding another team with young guys. Are you looking forward to the process of coming back?
Stephen Pagliuca:
It's kind of rejuvenating. When we first bought the team we had to do this as a matter of course. We were probably criticized for breaking up the team to try and win a championship, and Danny (Ainge) made that happen. We went through a number of years where we were in the Finals, the Semifinals and we won an NBA Championship. It was a great feeling to walk into the building every night knowing we could win every game. The positives from last year are we have a great coach, and we won a lot of games with very young players, and you saw their development. At the end of the year, we beat Charlotte – who was in the playoffs – in a game they needed to win, with our core of (Kelly) Olynyk and (Jared) Sullinger and all the young guys out there. I think we're well on the way, these two guys will be great reinforcements, and don't discount the second round, because Danny has done great things in the second round as well.
A lot has been said about the top five players in this draft. How deep do you think the draft really is, and do you think you can get a couple of cornerstones in this first round?
Stephen Pagliuca:
Jay Bilas, who studies the draft inside and out, was saying there's even going to be great players in the second round of this draft. If you look at this board, this board is a lot better than any draft that I've seen. We've got the experts, and people who are really excited about the type of players you can get at picks 17, 18 or 19. You never know what's going to happen. Last year, there was a surprise first pick. We don't even know what's going to be there at six. Our guys are about as excited as they've been about any draft since we've been here.
You had the lucky tie, the rooster, but you're a numbers guy by trade. How difficult was it to sit there knowing that the odds just weren't in your favor?
Stephen Pagliuca:
I'm just honored to be here representing the Celtics. I felt a little nostalgic – Red gave me this tie when Wyc (Grousbeck) and I first bought the team. The funny thing is, when we looked at the tie, it says 'Boy and Girls Club Boston' on the back, so I think he got it at a function in 1955. It was a very nice gesture. I was thinking about Red and all of the great things about being a Celtic. Getting the sixth pick, I think, is good in this draft. Having that over with and now going to build a team – we're really excited about that.
Adam Silver
NBA Commissioner
Adam Silver:
Thank you all for being here and covering the draft lottery. Let me just say this class has a special place in my heart. It'll be my first class as the commissioner when we hold the draft this June. I met with seven of the potential lottery picks today. They seemed like an outstanding group of young men.
As you all know, I'm a big college basketball fan. I thought the NCAA Tournament was fantastic this year, particularly the Final Four, and now we're experiencing a Final Four of our own. This Playoffs continues to be one of the most exciting in recent memory, enormous buildup and expectation for our Finals.
I'll say my sense is that the collective bargaining/revenue sharing agreement is working. We have four teams competing all in the bottom half of the league at least in terms of market size. We're seeing management rewarded, strong management, ability for fans in every market to have hope that if their club is well managed that they'll have a chance to compete for championships. That's what we were hoping to see. And I think we're experiencing a basketball renaissance of sorts.
I met yesterday with Jerry Colangelo, who's the chairman of USA Basketball, and talked about more that we could be doing in the youth basketball movement. Jerry and his team have done a fantastic job leading our national teams to Olympic championships and national championships and will be competing in the World Cup of Basketball again this summer. I think there's a lot more work to be done on the youth side.
I've developed a closer relationship with Mark Emmert at the NCAA. As I've said before, I'm in favor of raising the minimum age from 19 to 20, but I think we and our Players Association agree that the NCAA has to in essence be part of the discussion and that we need to see things like the gap covered between the scholarship and additional expenses, ensure that these players are covered for career ending injuries, and ensure that college is the right environment for them if that's where they choose to go and play before they reach the NBA.
So my focus in my first few months of commissionership has been on the game. That includes officiating, which I've talked about before. We've instituted programs for more transparency. We're focused on the existing replay program and how we can improve it. I was out in Chicago last week at the combine, talked to the general managers there, the trainers and other constituents there about what we can do to improve that program to ensure our teams get the right kind of look at the young men coming into the league.
But I'll just conclude by saying the state of game is fantastic, and I think as I said, it's a renaissance for basketball in this country and increasingly globally, and I think our best years are ahead of us. I'm happy to take any questions.
You've talked about continuing to grow the game globally. Does the league have any plans to play any exhibition or preseason games in Australia in the future?
Adam Silver:
You know, no specific plans, but we're looking at it. Australia has been a terrific market for us historically. Ultimately we need to do more than play preseason games around the world to build our business. As you might imagine, it's incredibly labor intensive to take these teams overseas.
But I noticed you have a smartphone in your hand. I think that's our future, the ability to watch these games in real time on any device, to be part of a large social networking community, to be the equivalent of a fan in an arena. That's what we hope to do with our fans in Australia.