The casual basketball fan is more likely to know
Alade Aminu
's younger brother, Wake Forest star
Al-Farouq Aminu
, than they are to know Alade himself. The Georgia Tech graduate spent much of his first three years in Atlanta watching the action from the bench, stuck behind a slew of talented big men. Finally as a senior Aminu got his chance to perform, seeing his playing time nearly double, and as a result the power forward saw his scoring, rebounding and blocking numbers all double as well.
Still, even after a productive season, a losing record for the Yellow Jackets and a bevy of talented players in the ACC kept Aminu as a relative unknown amongst many pro teams. It wasn't until he took part in the Portsmouth Invitational that the former track standout started to make some noise and appear on draft boards. Already possessing an immensely long frame (6-10 with a 7-3 wingspan) Aminu exhibited great speed and athleticism for a big man, dominating defenses for stretches off the pick and roll. While he is still no means a lock to be selected come draft night, the fact that he is so athletic for his position and relatively young for his class makes Aminu a player who will certainly get plenty of looks by NBA franchises.
Now in the middle of his individual workout schedule with NBA teams, Aminu took some time to sit down with DraftExpress and talk about his sudden arrival on the draft scene, his time at Georgia Tech and his position as CEO of a charitable foundation he started for children in Atlanta.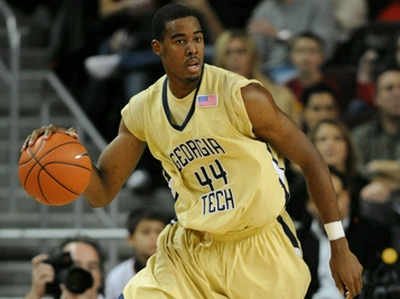 DraftExpress: Since the season ended at Georgia Tech what have you been up to? Where have you been training?Alade Aminu:
Since the end of the season I've been training down in Atlanta. I have a great AAU coach, Coach Cole, who has been helping me out. I've been working hard, doing some intense conditioning to make sure I'm in shape for the individual workouts.
DX: What have you been focusing on in your training?

AA:
I want to improve on my footwork, I feel like it's gotten a whole lot better already. Of course I want to improve my mid-range jump shot; I've been trying to extend my range out to the arc as well. I've been going real hard in those three areas, footwork, mid-range shooting and extending my range further.
DX: Give us a self scouting report of your game. What do you think are your strengths and weaknesses?

AA:
Well for strengths I think being 6-10 and able to run the floor very well is a big positive. I feel my ability on defense is a big asset to me; I'm able to block and alter a lot of shots due to my athleticism. I also think I'm real good with the pick and roll, I can guard as well. My weaknesses, I mean I could definitely put on more weight. I know a lot of NBA teams have programs where guys can come in and put on some pounds so they can get out there and bang with the bigger bodies. I need to be able to shoot the ball a little better as well.
DX: Your numbers jumped across the board this season, in part because of more playing time, but why else were you able to take your game to another level this year?

AA:
My whole motto at Georgia Tech was always to get better every year. I never wanted to feel like I had regressed or hadn't done everything within my power to get better as a basketball player. So every off season I'm always working, putting in twice the work that I did before. This year it was just getting to the gym all the time, either with my AAU coach or just on my own to work at my game. Even if it meant going in at like two in the morning, whatever it takes to get better. Obviously more playing time helped my numbers this year but I was able to show off all of the work that I put in also. When you put in the work the results come out. So it was just a blessing to work hard in the off season and be able to play well in the ACC.
DX: You had a fantastic showing at the Portsmouth Invitational and we got to see a lot of aspects of your game that we never saw at Georgia Tech. You ran the floor well and you really impressed with how you finished on the pick and roll. Do you think the system at Georgia Tech was one that didn't play up to your strengths or utilize your abilities?

AA:
It's hard to say really. I think at Georgia Tech you run an offense where shots come out of different positions, so at Portsmouth it was more that they wanted to see how we could play outside of a system. I think in the college game you want to follow the system and try to go about it that way while at Portsmouth I got to break out of that and have a little more movement. In that environment I guess I was able to show off more things because you don't play in a structured system as you do on a college team.
DX: You're listed as a legitimate 6-10 and you have a wingspan that is well above 7 feet. How much are these measurements going to help your stock?

AA:
As I look at the power forward position I think it's going to help a lot. I don't think it's a very strong power forward class this year, I think it's more of a point guard heavy draft. With there not being that many power forwards coming out this year and those that are being lottery picks mostly, I think those measurements will help a lot. It's really nothing but positives from my end with that.
DX: What teams have you worked out for so far?

AA:
Right now I have about six teams that I've worked out for and another seven to go. I've worked out for Miami, Houston was a group workout so Memphis, Portland and Boston were all there. After Houston I was at San Antonio, Cleveland, Milwaukee and then Phoenix.
DX: How do you feel the workouts went?

AA:
The Miami workout was tough, it was my first one and I know people say that it was a tough one to go to. I think since I've gone through more workouts I've definitely gotten more comfortable and performed better. So really, Miami was the toughest just with it being a new experience and being a novice to the whole process. I've gotten better as they've gone on though.
DX: Have you gotten and feedback from the teams you've worked out for?

AA:
Yes, but I don't really read too much into it. It's good to get positive feedback but I don't want to take it for any more than it is actually worth. Some teams are going to say, hey we love him, some say he's on the board for us, and some say he had a good workout. I've been getting good responses but I don't want to assume anything and then come draft night be left saying, hey what happened. I really won't know anything for sure until the day when I can call a team or a city my home.
DX: Do you feel like you're the type of player who excels more in a workout setting or who does better when he can just get out and play?

AA:
I think I do well with both. I work hard with my workouts and pretty much the same can be said for the games. I wouldn't say I'm a workout guy, I like the games and I think they bring out more of a competitive nature in me. So I'd have to say both really because I like working since I know I can get better there and I like games because I'm competitive.
DX: What kind of a role do you see yourself playing in the NBA?

AA:
I think I'll probably come in as a high energy, defensive guy. I think I can be a Chris Anderson type of guy, someone who comes in and blocks a lot of shots and brings energy, gets some baskets here and there. Like I said I feel like I get better every year so I'll probably expand my role to whatever a team needs. I can become a better defender; become more of a low post scorer, so I think my role will expand as I continue playing. But right away I see myself as a high energy that teams use off the bench.
DX: Before your senior year at Georgia Tech you started a foundation called Brotherhood of the World. Can you talk about the goal of the organization, and what inspired you to start it?

AA:
What inspired me to start it is I have a big passion for the community, for Atlanta, for the youth and for helping people out. I felt like I had enough cerebral and entrepreneurial skills to start the foundation so I went ahead and did it. Ever since the start of it, it's blossomed into a real nice organization. At the moment we have a camp coming up on June 5th and 6th for kids in Atlanta; I think we have almost 80 kids registered right now for it. It'll be myself, my younger brother
Al-Farouq Aminu
and a couple of Wake Forest and Georgia Tech guys working there as counselors. My AAU coach will be there as well to instruct the kids on different developmental drills for their skills. I have a partnership with Merrill Lynch who will come in and talk to the kids about finances and how to manage their money. We're also going to have a life coach who happens to be my mother; she has her own organization and will talk to the kids about healthy lifestyles.
For more information on Brotherhood of the World please check out the foundation's website at
www.brotherhoodoftheworld.org.