Moving down the line at the players who stood out the most at the Portsmouth Invitational Tournament, we look at
Mike Davis
,
Bill Clark
,
Casey Mitchell
,
Will Coleman
and
Dwight Hardy
.
-
All-Portsmouth Invitational Tournament, First-Team
-
PIT Measurements/Athletic Testing Data
-
Official PIT Website
-
DraftExpress Preview
-
Day One Recap
-
Day Two Recap
-
Day Three Recap
Mike Davis, 6'9, Power Forward, Illinois
10.7 Points, 7.3 Rebounds, 1.0 Assists, 1.3 Steals, 43.8%FG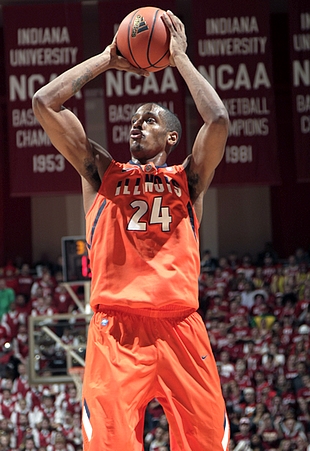 Matt Williams
Despite being one of the more intriguing prospects at this year's Portsmouth Invitational Tournament, this week was a culmination of what has been an up and down college career for
Mike Davis
. After showing great flashes as a sophomore (see our last report), but then struggling as a junior, Davis bounced back somewhat as a senior, but still never quite lived up the lofty expectations he created for himself early on. The Virginia native was solid in the three games we watched in Portsmouth, showing both the good and bad in his game.
One of the better athletes amongst big men attending the PIT, Davis managed to put together some good efforts on the boards, showing solid athleticism and pursuing the ball out of his area on occasion. He lacks strength, which limited him on the glass at times as a senior, but his 7'1 wingspan and quick leaping ability helped him stand out here. It would be nice to see him track the ball more aggressively in the future, but his play was a pleasant surprise considering how his rebounding has declined this year. At the same time, you have to wonder where this same effort was for much of the season playing for Illinois, and why he decided to wait for the last possible moment to fully exert himself.
On the offensive end, Davis showed an intriguing combination of finishing ability, mobility, and jump shooting. Davis is a good enough athlete to excel in catch and finish situations and can make his presence felt running the floor in transition, but it was nice to see him step away from the rim and knock down jump shots. Knocking down just 36% of his jump shots last season, Davis was far more consistent here, looking more confident and even making a couple of jumpers off the dribble. He's obviously a very talented scorer.
Davis is also capable of scoring in the post as we saw last season when he converted some 46.7% of his attempts down low according to Synergy Sports Technology. However, his lack of physical strength limited to some degree here. He made one terrific spinning hook shot, but will need to shore up his turnaround jumper or gain some weight to allow him to score with his back to the basket against bigger, more athletic players, something he's more than capable of doing considering his tremendously high skill-level.
Defensively, Davis had some nice moments contesting shots and getting in the passing lanes with his length, but also gave up a few easy baskets by leaving his feet and giving up position to stronger players. His motor and toughness often leave something to be desired, which is a big knock against him considering the role he'd be destined to play in the NBA.
Though Davis was not the best big man here, he was one of the few that showed the highly coveted combination of athleticism and skill-level at the power forward position. He still has a number of dots to connect, but his tools give him some upside for the future should he make some improvements. It's very possible that the obvious chaos surrounding his very talented, but underachieving Illinois team this season did not benefit him in the least bit. With a change of scenery and some increased focus that often comes from the realization of becoming a pro, Davis could very well be able to make better use of his talent, something we've seen happen in the past.
Bill Clark, 6-5, SG/SF, Senior, Duquesne
16.3 points, 6.2 rebounds, 2.5 assists, 1.5 steals, 2.0 turnovers, 46% FG, 75% FT, 38% 3PT
Joseph Treutlein
A late addition, but nevertheless one of the most surprising performers at the Portsmouth Invitational Tournament,
Bill Clark
certainly opened some eyes with his spot shooting ability, and probably earned himself a few private workouts at the least.
Clark posted the best three-point percentage (64%) and overall field-goal percentage (65%) of anyone at the tournament, and was absolutely unconscious knocking down shots at times, going 7-for-7 to start his first game. Clark possesses excellent shooting form with a high and quick release, maintaining good balance and consistently finding his way to open spots on the floor. Clark served as Duquesne's leading scorer and offensive focal point in college, but seamlessly fit into his diminished role here, looking far more comfortable as an off-the-ball offensive cog.
Only a 38% three-point shooter in college, Clark's outburst was somewhat unexpected here, but looking deeper into the numbers at Synergy Sports Technology, there's reason to be optimistic for the future. While Clark's 1.11 points per shot on all catch-and-shoot jumpers is solid, his 1.41 PPS on unguarded jumpers is outstanding, and moving from a first to potentially fifth option should lead to a higher percentage of those.
As for the rest of Clark's offense, he isn't a great shot creator off the dribble, having just a passable handle and first step, though he doesn't force the issue often, rarely turning the ball over, and showing very nice passing ability and a solid overall feel for the game.
His straight line speed with the ball is solid and is enough to keep defenses honest, while he also gets a good amount of finishes on off-ball cuts and in transition, where he shows good body control and isn't afraid of contact. Still, from an NBA perspective, Clark's scoring skill set is fairly one-dimensional at this stage.
On the defensive end is where the biggest question marks are for Clark. He didn't consistently impress here at Portsmouth, often showing good effort to start possessions but giving up once his man got the step on him, and looking underwhelming with his lateral quickness as well. His off-ball effort and overall awareness are solid, while he does put in good on-ball possessions at times, but could have trouble with quicker 2's and bigger 3's in the NBA. In order to find a niche in the NBA, maximizing his ability on this end of the floor will be essential.
To Clark's credit, he does do a good job on the glass for a wing, showing solid pursuit and effort, but he spent a good chunk of his time playing as his team's de facto power forward this season, and it's questionable if he could replicate his production as a full-time wing.
Looking forward, if Clark's Portsmouth shooting was no fluke, he could find himself a roster spot in the NBA at some point in the future, as role playing three-point shooting wings are abundant in the NBA, but his below average athleticism, just decent size, and lack of great defensive prowess leave him fighting an uphill battle.
Casey Mitchell, 6'3 Shooting Guard, West Virginia
23.3 Points, 3.3 Rebounds, 2.0 Assists, 2.3 Steals, 50% 3P, 53.7% FG
Matt Williams
The leading scorer at this year's Portsmouth Invitational Tournament,
Casey Mitchell
got off to a hot start and continued to score at a high level throughout the week, looking more and more comfortable inside the arc in each contest. A junior college transfer, Mitchell was a pleasant surprise, and while he's no lock to be drafted, he made himself a ton of money with the showing he had at the PIT.
A bit short for a shooting guard at 6'3, Mitchell has a compact frame and very solid physical strength. He's not going to dunk on anyone in traffic, or blow anyone away with his first step, but he showed that he's a savvy scorer who has a number of skills that complement each other extremely well, especially when he's making good decisions on the court—something that isn't always the case unfortunately.
Mitchell started the week with a dominant shooting performance, knocking down virtually every shot he attempted on the first day of the PIT, including a number of threes and deep twos coming off of screens. Last season Mitchell shot an average 31% on no dribble jump shots in spot-up situations according to Synergy Sports Technology, but was exceptionally consistent this week with his feet set from distance. He does a terrific job spacing the floor, working off of screens, and squaring himself to the rim and getting on balance before he receives the ball.
Once defenders began to respect his range, Mitchell began to pick them apart off the dribble. He shot a very solid 34.5% off the bounce last season according to Synergy, and showed why here. When he can use his defender's momentum against him, he can take a quick dribble to create enough separation to get his shot off. While he's far from comfortable in pure isolation situations, when Mitchell can get an edge, he's capable of taking advantage of it.
In his final game in Portsmouth, Mitchell did a terrific job getting to, and finishing at, the rim. He's not athletic enough to project as a quality finisher in the NBA, but this was a prime example of how Mitchell can take what defenses give him. He was not overly aggressive attacking the rim or pulling up off the bounce as a senior, but showed here that he can do some damage when he can get himself going. He's not a great creator, but he's efficient and strong at the basket when he finds an opportunity.
On the defensive end, Mitchell doesn't have great lateral quickness, but he's smart, has quick hands, and did a fairly good job this week limiting penetration. Though he would surely struggle against NBA caliber shooting guards, Mitchell has some nice offensive tools that should help him wherever he lands next season.
The biggest question marks about Mitchell have always mostly revolved around off the court issues over the course of his career, as he repeatedly clashed with West Virginia Coach Bob Huggins, and was in and out of his dog house continually. His body language isn't always the best and his shot-selection can often be very poor, something we saw pop up on quite a few occasions over the week. He's been extremely inconsistent over the course of his career, alternating between performing brilliantly and being completely ineffective, sometimes in the same game.
Whether Mitchell is quite talented enough to overcome any red flags that will come up in NBA teams' information-gathering process is debatable, but it's difficult to ascertain how much of an issue this is without doing more background research. He's obviously a very talented scorer, so if he can find a way to put these things behind him, it's not out of the question
Will Coleman, 6-8, Senior, Forward/Center, Memphis
12.7 points, 6.0 rebounds, 1.3 assists, 1.7 TO, 3.0 blocks, 56.0% FG, 83.3% FT
Kyle Nelson
At first glance, it's hard to fathom why
Will Coleman
averaged just 7.2 points and 5.4 rebounds per game over the course of his career.
One of the most physically gifted players at this event, Coleman stands 6'8, sports a chiseled 241-pound frame, has an impressive 7'1.5 wingspan, and is arguably the best athlete you'll find at his position in the senior class.
It becomes increasingly obvious while watching him play, however, that he is still a very raw player. He lacks the fundamentals and feel on both sides of the court that are expected of a 22 year-old collegiate senior and he rarely exhibited the consistent energy and focus to compensate—often having huge fluctuations from possession to possession.
Coleman's Portsmouth showing was a pleasant surprise given his disappointing collegiate career. Though his skill level remains low, he was very active, running the floor, scrapping for missed shots, and moving without the ball in his hands. He finished emphatically at every opportunity and he was responsible for more than a few highlight reel dunks and blocks.
On the few occasions when he was featured in pick and roll sets, he capably finished around the basket. His post game is still very limited, however, largely comprised of a basic jump hook and underdeveloped footwork. Anything more complicated often resulted in a turnover.
Along these lines, he spotted up from mid-range on a few occasions, but his mechanics were inconsistent and his shot lacked anything resembling arc. Though he made an impressive 83.3% of his foul shots, his overall mechanics here looked far more like his career average of 62.5% FT.
Coleman was not challenged much on the defensive end, rarely playing against a good post scoring threat, but his performance was interesting nonetheless. On one hand, his lateral quickness, explosiveness, and timing, allow him to be an intimidating shot blocker and an overall disruptive defensive presence.
His lack of fundamentals and basketball IQ, however, hurt him significantly in the post, especially when he struggles to maintain position against weaker players. His deny-defense left much to be desired, even against this competition. His rebounding was even less encouraging, as he grabbed just 18 rebounds in three games.
Ultimately, however, Coleman improved his stock at Portsmouth. After all, he was a last minute invite and there was little to like about his underwhelming senior season. While Coleman is still a severe long shot to hear his name called on draft night, he surely showed that he has a great deal of potential still left to tap into, and could very well be a player that can continue to develop in the D-League or overseas.
Dwight Hardy, 6-2, Senior, Guard, St. John's
15.0 points, 4.0 rebounds, 5.3 assists, 1.7 TO, 1.7 steals 41.9% FG, 16.7% 3FG, 77.8% FT
Kyle Nelson
Dwight Hardy
powered St. John's through an overachieving regular season and to a surprise NCAA tournament berth as a senior. He did the same at Portsmouth, showcasing his scoring instinct while averaging 15 points per game and leading his team to a second place finish.
At 6'2 with a decent 196-pound frame and above-average athleticism, Hardy is clearly undersized for a shooting guard—the position he played this season.
Hardy managed to score the ball effectively in this setting, and he made an impressive 51.6% of his field goal attempts inside of the arc. Utilizing a deceptively quick first step and his impressive separation abilities and scoring instincts, he was a threat to pull up from mid-range or to slash to the basket, usually finishing or drawing a foul. Though his lack of ideal size and explosiveness will likely hinder him at the next level, he scored a majority of his points inside of the arc and was easily one of the best shot creators at Portsmouth.
He did struggle shooting the basketball from the perimeter; however, making just two of 12 three point field goals. His shooting form actually looks solid and he is equally capable of shooting off of the dribble and with his feet set, though his mechanics get shakier with distance. The 37.5% he shot from 3-point range over his career at St. John's likely tells us a lot more about his perimeter shooting prowess than his performance here.
Where Hardy may struggle to convince NBA decision makers is with his ability to run a team, something he doesn't have a great deal of experience doing, as evidenced by the 1.9 assists he averaged this season, compared with 2.2 turnovers.
He made very few bad decisions on the floor at the PIT, but he was unable to maintain a point guard's natural balance of scoring and distributing. He had tunnel vision in scoring mode and passed up his own offense as a distributor. Furthermore, there was little overlap. While his ability to operate out of the pick and roll, in particular, showed that he could potentially transition into a combo-guard down the road, his scoring instincts ultimately seem better suited for the shooting guard position.
Hardy's defense is another issue as well, as he shows average lateral quickness and doesn't play with great energy on this end of the floor. He lacks the lateral quickness to stay in front of quicker guards and his overall effort was just average, especially evident when he passively ran under screens. He must improve his defense at the next level given his physical limitations as an undersized shooting guard.
Ultimately, while Hardy's lack of size may hamper him from being drafted, his performance at Portsmouth reinforced the notion that he has legitimate potential to compete at a high level of international basketball. Even if he doesn't make the NBA on his first go-around, he is someone that could get picked up down the road, as he's obviously a skilled offensive player with a good feel for the game and penchant for clutch play.