-Bracket projections reflect games played through January 21st. I use the exact same criteria that the selection committee uses to select and seed the teams in March.
-These picks are not a prediction of the future, but rather a checkpoint of where teams currently stand. In other words, they're done as if today was Selection Sunday.
-All projected conference champions are either in first place in their league/division or tied for it via the loss column. Those teams are North Carolina, Wisconsin, UCLA, Florida, Pittsburgh, Butler, Texas A&M, Air Force, Memphis, Nevada, Northern Iowa, Gonzaga, Massachusetts, VCU, Winthrop, Davidson, Western Kentucky, Long Beach, Akron, Holy Cross, Penn, Texas A&M Corpus Christi, Vermont, Oral Roberts, Idaho State, Sacred Heart, Austin Peay, Delware State, East Tennessee State, Texas Southern and Loyola, MD
-The Bracket Notes are below the bracket.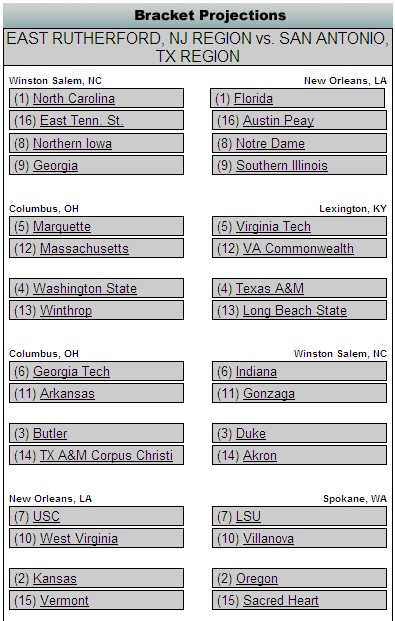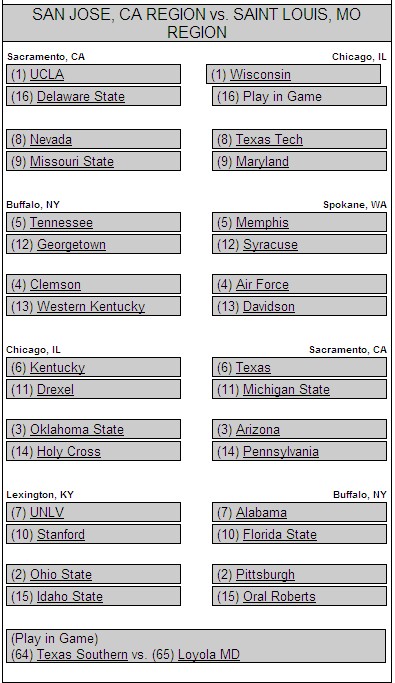 NOTES ON THE BRACKET
-Georgia was a #10 seed, but had to be switched with West Virginia in order to avoid a conference match-up prior to the Elite Eight.
-Gonzaga appears to be slipping. They still have a big win over North Carolina, and that will play a huge role in whether or not they make the dance if they need an at-large bid. They are still in first place in their conference, but are coming off a loss to Saint Mary's. Fortunately, none of their OOC losses are too bad, but they don't have a multitude of quality wins either other than North Carolina and Texas.
-Vanderbilt is a team that did not make the bracket, but they are certainly on the upswing. They have three wins against the RPI top 25 in their last four games, and their only loss was on the road against Georgia. They started off kind of slow and are still making up for lost ground, but they are playing excellent basketball right now and have a big road win against Kentucky.
OTHERS CONSIDERED: Creighton, Vanderbilt, Michigan, Illinois, Bradley, De Paul, California, Providence, Purdue, Wichita State, Virginia, New Mexico State, George Washington, Xavier, Kansas State, Colorado State.
-Every committee member that I have spoken to this year has mentioned winning away from home as a point of emphasis. Most of the teams that are not quite yet in the bracket have struggled on the road. There are other teams, such as West Virginia, LSU, Florida State and a few others that are in the field, but perhaps aren't seeded as good as people would expect. This is directly because of either a lack of quality wins or a lack of good wins on the road.
-Creighton isn't in this bracket. They've played really well in their last two games, but ended up losing both, and are one of the first teams out as a result. They'll have ample opportunities to get some decent wins and play their way back in, though.
-One team that isn't in the bracket and is not being considered is Connecticut. Their best win came against Saint John's. They've lost five of their last seven, and that simply isn't good enough.
OTHER RAMBLINGS
-Clemson is currently seeded #4, but they may not be there at the end. They have some decent wins, and they certainly have a good record, but they were blown out by North Carolina on their own floor, so it's hard to say whether they'll end up being seeded that good by the end of the year or not. They did blow out a Boston College team that had been playing pretty decently coming into that game, so I guess they were able to bounce back from it.
-Texas A&M is interesting because they don't have any big time road wins either, but at 16-2 and with some hard fought losses to LSU and UCLA one gets the impression that they would be ranked high in the NABC rankings, and probably still end up with a big seed. Still, I have them as a #4, and that is lower than their national ranking.
-Texas was beaten by Villanova, which was their second loss in a row. Both of the losses were road losses to pretty solid teams, so it isn't too damaging. As for Nova, it was a big win that they desperately needed. Texas's RPI is #56, but that is not indicative of the rest of their resume and the committee will realize that. That isn't too important because their RPI should improve if they keep playing the way they have been.
-I thought Syracuse was over their inconsistency, but I guess not. They are coming off a loss to Saint John's. That followed a stretch where they won six of seven, including big wins against Villanova and at Marquette. Some of their resume indicates that they should be seeded around #5 or #6. I believe they are solidly in, but it's difficult to put them ahead of any of the other teams in the bracket right now. For instance, they lost at home to Drexel, Arkansas and Gonzaga (who have also been inconsistent) have better wins than Syracuse does, and Michigan State has just been more consistent lately. Still, Syracuse is a good team and they should have a solid resume by the end of the year and end up with a better seed than #12.
HIGHLIGHTED GAMES FOR TUESDAY, JANUARY 23RD:
-TCU AT AIR FORCE (Mountain West). Air Force is coming off a close call, in which San Diego State nearly beat them. It isn't the first time the Falcons have struggled against a team you'd expect them to beat easily in conference. They're in good shape though, and even have a margin for error as far as making the field, but the way it looks now they might have an outside shot of making the pod system. They'd pretty much need to win out in order for that to happen though.
-ALABAMA AT AUBURN (SEC). Alabama must be on danger alert for this one. It's a rivalry game, and Bama has been struggling on the road. In fact it took a miracle for them to come back and beat Georgia at home in their last game. The Tide have not been playing well lately, and need to snap out of it. Auburn had a big upset win against Tennessee in their last home game, so they are going to be confident coming into this one.
-FLORIDA STATE AT BOSTON COLLEGE (ACC). Boston College was blown out in their last game, and really needs to string together some wins if they want to be considered safely in the tournament picture. The same can be said about Florida State, who has struggled on the road and needs some decent road wins in order to improve that part of their resume.
-INDIANA AT ILLINOIS (Big Ten). This is a big conference rivalry, and it should be another intense game. Indiana has been playing great and just got another nice win on the road against Connecticut. This will be another hostile environment against an Illinois team who needs wins in order to play their way onto and inside of the bubble. They played pretty tough against Wisconsin in their last game, but couldn't get it done. They really need to string together some quality wins, and this is a chance for them to do that. They really need to win this game. Indiana doesn't need it as badly, but their profile continues to get better and better and a road win against Illinois will add to that.
-VIRGINIA TECH AT MIAMI, FL (ACC). Virginia Tech is coming off yet another big win against Maryland. It's important that they take care of business against a Miami team that clearly doesn't appear to be as good as the Hokies.
-VILLANOVA AT PROVIDENCE (Big East). Villanova has been playing well in their last few games, but it seems like the Big East is a conference where it's hard to put together a long winning streak. Providence has been tough to beat at home and is still in the hunt for a spot in the NCAAs, but they need to win some more big games in order to get there. It's important for both teams because both are fighting for a bid.
-NORTHERN IOWA AT SOUTHERN ILLINOIS (Missouri Valley). Right now these look like to of the best teams in the Missouri Valley, but that is subject to change. This is another league that has tremendous parity and any sort of winning streak is difficult to manage. Northern Iowa has won their last two, which came against Missouri State and Indiana State, and Southern Illinois has won three of their last four. This is important because it's a chance for both teams to add a quality win to their resumes.
-NOTRE DAME AT SAINT JOHN'S (Big East). Saint John's has won some big games at home, but they are hardly an NCAA team right now. This is important for Notre Dame because they have struggled on the road and this is as winnable a road game as there is remaining on their schedule. They need to show they can beat non-tournament teams on the road.
-SAN DIEGO STATE AT UNLV (Mountain West). San Diego State is a talented team who nearly upset Air Force, so UNLV needs to be on high alert coming into this one. Still, they are at home and they have proven that they are a solid team, but this is the type of game that they should expect to win almost all of the time. They are playing a team that isn't as good as them at home.
Feel free to email questions, comments ore criticisms to xubrew@yahoo.com.