Traveling in Europe for the past two weeks finally gave us an opportunity to finish off David Falk's recent book,
"the Bald Truth."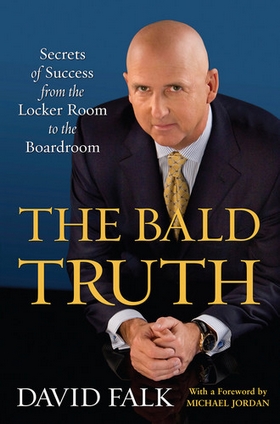 As likely the most influential agent in NBA history, Falk has been involved over the past three decades with all of the characters that shaped the way the league looks today. In this very well-written book, he does a wonderful job of compiling a myriad of stories about some of the most interesting people he's come across, including players he represented, players he didn't, league executives and owners he negotiated with, competing agents, former partners (particularly Donald Dell), David Stern and many others.
In almost every story, he holds absolutely nothing back, getting into all the nitty gritty details that hard-core basketball fans crave, some of which are about as juicy as they come.
Some of the highlights include:
-The chapter "the customer isn't always right," where he discusses
Ben Gordon
's agent reselection process, which Falk lost out on after being too blunt, telling him that "you need me to help you a lot more than I need you to let me help you."
-Falk's short tenure representing
Stephon Marbury
and
Allen Iverson
. Falk discusses how he terminated Marbury after he turned down a marketing deal he thought he should take—saying that "there probably weren't ten players in the NBA in 2008 that made as much money off the court as Marbury turned down in 1998-1999." He also talks about being fired because of
Allen Iverson
's mother when he refused to release money to her to pay for first-class class plane tickets to Seattle.
-Plenty of anecdotes about the likes of
Kevin Garnett
,
Grant Hill
, Terrell Owens,
Michael Olowokandi
,
Latrell Sprewell
and an especially harrowing tale about Duke's Jason/Jay Williams, who decided to sign with Bill Duffy over Falk, as well as other agents who he feels did a bad job for certain players -such as
Shawn Kemp
.
-The very critical chapter about the history of the NBA Players Association and their lack of leadership under
Isiah Thomas
and Billy Hunter. Falk believes Hunter was not doing enough to solve the rift that had formed between the NBPA and the player agents, whom they certify. In his mind, the lack of solidarity between them significantly weakened their negotiation stance with David Stern and the NBA owners. Falk compares the decision to hire Hunter, a former NFL running back and federal prosecutor, to an NBA team in need of a rebounder being sold on
John Stockton
. One quote stands out in particular when Falk attempts to advise Hunter: "David, you don't understand. I am a black man trying to seek my identity in this sport. I cannot have a white lawyer as my advisor."
-Falk's theories on the art of negotiation, why he negotiates directly with owners, and his insistence in ensuring that "both sides win" when parties sit down to get a deal done. Falk talks about his two main goals in the negotiation process, which include getting a deal his client feels good about, and maintaining a cordial relationship with the opposing party to help make deals in the future. He discloses why he never tries to argue with NBA decision makers about his client's talent-level, instead preferring to focus on the economic value the player brings to the team.
-A thorough run-down of many of the major deals he struck, often with detailed accounts of the negotiation process, including
Michael Jordan
's groundbreaking 30 million dollar contract with the Bulls,
Danny Ferry
's unprecedented move to Il Messaggero Basket Rome for two million dollars per year,
Patrick Ewing
's first contract with the New York Knicks,
Mike Bibby
and the Sacramento Kings,
Juwan Howard
,
Alonzo Mourning
,
Shawn Bradley
and others. Clipper fans will especially enjoy the part where he talks about
Elton Brand
and the drawn-out process with
Mike Dunleavy
and Donald Sterling this summer that resulted in Brand signing for Philadelphia.
A constant theme here is how much more money he was able to secure his clients compared to other players who were picked ahead of them in that particular draft. Agents used to have free reign to negotiate deals for as long or as much money as they were able to convince teams to sign them for—
Magic Johnson
for example signed a 25-year contract extension for 25 million dollars, which Falk believes was a huge mistake—"he never made the kind of money he deserved because the people around him didn't have the foresight to see where the market was heading…Magic never came close to making what he deserved."
A particularly funny story revolves around
Patrick Ewing
's 3-million dollar per year rookie contract, which was unprecedented for the time. Falk explains how the New York Knicks had already sold "a tremendous amount of season tickets with Patrick's picture on the cover of the season ticket brochure," but were only offering 1.2 million dollars per year, two and a half times less than what Falk was asking for. Fully knowing the embarrassment this situation could cause the Knicks based off the excitement Ewing had generated, Falk threatened to have him return to Georgetown for a year, or trade his rights. "What were they going to do, call up all the fans that had already laid out money relying on 'Saint Patrick' and tell them they couldn't afford to sign him?" Falk of course ended up getting his way.
-For hard-core
Michael Jordan
fans, this book is obviously a must. In fact, the foreword is written by his Airness himself, and there are at least a half dozen stories about him which likely have never been told publicly before. The negotiations around his first sneaker deal, with an outline of the sales pitch made by an upstart Nike company is described in great detail. Where did Gatorade's "Be Like Mike" slogan come from? The story behind Space Jam is told here too.
-Falk finishes up the book discussing the story behind the sale of his agency (FAME) to SFX for over 100 million dollars in cash and stock. He talks about how much the business was changing at the time, with the power shift that had occurred in terms of AAU coaches being in charge of the agent selection process, instead of college coaches, who had played a major role in him signing players such as
Patrick Ewing
,
Michael Jordan
,
James Worthy
and
Juwan Howard
. He gives us his thoughts on the NBA age limit rule—which he is in favor of—and helps us understand how different the agent-world was in the 80's and 90's and today.
The lone criticisms we can offer revolve around the tone of the book at times, which feels very self-righteous at times. Besides the
Adrian Dantley
story, which really wasn't his fault, there is very little discussion about some of the mistakes Falk may have made along the way, which are inevitable considering how many deals he struck. In spots, the book comes off sounding like somewhat of a sales pitch for potential future clients. It would have been nice to read about some of the moral dilemmas that Falk faced over the years, and what suggestions he has in terms of cleaning up the agent business.
Despite that minor criticism, this is definitely an excellent read for any serious basketball fan, as well as sports fans in general who are interested in what goes on behind the scenes. "Falk's fundamentals" at the end of each chapter—short observations of the principles and fundamentals in which he conducts business- could also appeal to people outside of the sports world.
The Bald Truth can be purchased on
Amazon.com
.