-Projections include all games played before November 29, 2006.
-These are not a prediction of the future, but rather a projection of where teams would stand if the tournament began today.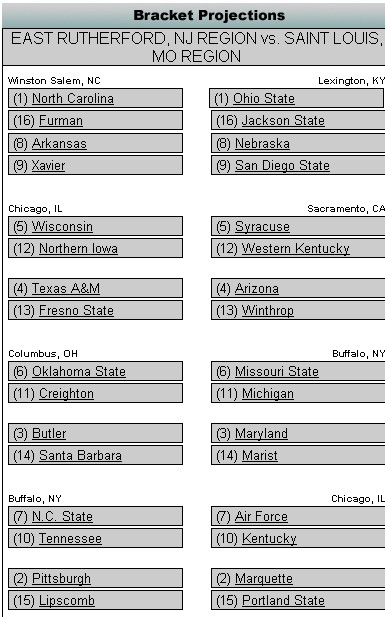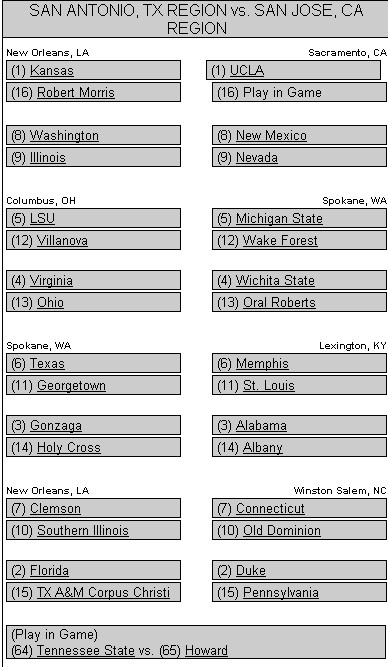 BRACKET NOTES
-Some of the seedings and selections may appear to be a bit unusual, but that is because it is early in the season and teams are being seeded based on what they've accomplished. Some of the higher ranked teams have not yet played and/or beaten any quality opponents and their seed reflects that.
-Butler has been the big surprise early. They have wins over Notre Dame, Indiana, Gonzaga, Tennessee and Kent State, all of which appear to be decent opponents. That is more quality wins than anyone else has at this point, which is why they are seeded so high. It will be interesting to see what they do between now and the end because they really don't have any big name teams remaining on their schedule. That's good in the sense that they will likely post a high number of wins, but bad in the sense that it is going to be hard for them to maintain their position because they can't get any quality wins between now and the end of the year other than the Bracket Buster.
OTHERS CONSIDERED:
Iowa State
Houston
Bradley
SMU
Dayton
West Virginia
California
Missouri
South Carolina
Georgia
Stanford
Washington State
Oregon
Loyola, IL
Kent State
South Florida
Many of the above are either unbeaten or only have one loss. Since most haven't beaten anyone that appears to be a tournament caliber team they have been left out. Dayton probably has the best win out of anyone on this list, and that was on a neutral floor against Louisville. Other than that, it's been a barrage of cupcakes up until now.
-Fresno State was the last team in. They haven't really beaten anyone notable either, but they are unbeaten and appear to be playing very good basketball. They are definitely a team to watch for.
-It's a big night for basketball. See all the highlighted matchups below.