The NBA draft is full of intrigue for all who are involved. Fans, players, and front office executives each feel the excitement and pressure of the unknown when it comes to finding the right fit for their needs. Countless hours are spent dissecting every facet of an athlete's skill-set and dedicating as much prep time toward improvement as possible, leading up to draft day.

Take a long, hard look at the list above. Equal effort was spent evaluating each of them and each, in turn, was drafted with optimism and expectation. Looking back, which names stand out as obvious "re-draft" risers and fallers, even after all that work?
It is extremely difficult to know whether or not a draft pick will be a "steal" or a "bust" – despite what grades the analysts give on draft night. First round success rates vary wildly. Even those prized lottery picks are a relative mystery for a number of years. So, what happens between draft day and that magical moment five years later when players reach free agency?
Certainly, all that time and effort spent scouting gives teams a solid understanding of both talent and potential. More often than not, teams also have a solid grasp on the general "character" of players as well. What's harder to account for is how that player's personality is going to be impacted by the situation he's asked to perform in.
Think of it this way, how many jobs have you had? Was your experience the same each time? How often was your work impacted by the relationships you had with your co-workers? Overbearing boss got you down? Have a co-worker who constantly rubs you the wrong way? What about that promotion that never seems to come, no matter how much time you put in?
This age-old question regarding the balance of Nature vs. Nurture has become a mainstay in sociological research within the corporate world. Companies such as Google are investing in "Behavioral Analytics" to match their best candidates to their ideal work environments.
Research of this type has been more difficult do in the NBA due to limitations in the sample size of quality personality data. Appropriate metrics for quantifying work environments have further muddied the waters. However, things are beginning to change.
Analyzing data collected on 358 of 420 draftees from 2007 to 2013 reveals some promising trends when it comes to understanding some of the factors that lead down the road to the coveted draft day "Steal," as well as the dreaded "Bust".
Both of these terms are highly subjective, determined by using executive level expert opinion on the available player list. However, the descriptions of "Busts" and "Steals" below are based on personality assessment data collected from over 800 potential draftees during the past eight years.
Now, onto the good stuff:
THE "BEHAVIORAL ANATOMY" OF BUSTS AND STEALS
From our research, draft day "busts" tend to be colder, more impulsive, less disciplined, less rule-bound, over-analytical, and quicker to seek change than their "Steal" counterparts. Simply put, "Busts" are much more geared for doing things their way than they are designed to be accountable to group standards.
Draft day "Steals" put more stock in building relationships, are more accountable to authority, set higher personal standards for themselves, and tend to rely on established structure and well-practiced routines to get them to the top. They are process-oriented thinkers who seek their opportunities through patience and persistence instead of trying to force their agenda on others.
But, it's more complicated than that. General trends make for easy analysis. Anyone can look at those character qualities and get a general sense of what works and what doesn't. But, every situation is
not
created equal and one team's trash can be another's treasure when it comes to blending talent, role-responsibility and situation-specific fit. A player's observable behavior and performance are highly influenced by how his core personality fits with his interpretation of the situation he's placed in. Smart teams do a good job of understanding their existing personnel and know how to blend new players in, while taking advantage of their strengths and attempting to minimize their shortcomings.
With that in mind, let's have some fun and look at three specific comparisons of "Busts" and "Steals" subgroups. The idea here is to compare similar subgroups to each other, one being a "Bust" and the other a "Steal". The descriptions of each are meant to show how a few measurable differences in personality can lead to entirely different results. The comparison groups are made up of players who shared a similar set of expectations coming into the league. As mentioned earlier, situation and "fit" are often the critical difference between success and failure. Adjusting expectations to fit the person, and not just the talent, can often be the difference.
The terms appearing in italics are descriptive facets of the actual personality measures from the player assessment data. For the hardcore nerds, there are tables listing the percentile scores for these measures in the "Methodology" section at the end of the article.
THE "WILD CHILD" vs THE "YES MAN"
"BUST" – The Wild Child
This set of players appears to be where lottery picks go to die, making up 28% of the "Busts" list. Clearly, the Wild Child comes into the league with great expectations. Most have displayed the type of competitive energy or intensity that intrigues teams. Their passion springs from a tendency to
act on emotion
and
react
to the magnitude of a situation that is fueled by
nervous energy.
Where the Wild Child falls short is in their lack of
self-discipline
and ability to
control their impulses
. Without a great degree of
accountability to others
, or need for
group approval
; their self-indulgent tendencies can quickly sour initial expectations. When things start to go south, they often begin to
question authority
and
push for change
that fits their self-interest.
Translation:
The Wild Child is just plain difficult to control. They simply aren't terribly interested in changing how they do things for the sake of others. This attitude is one of apathy at the start. They're "free spirits" without the typical professionalism found in most players. They aren't overly concerned about how they're viewed and don't have that internal drive to work beyond their comfort levels. If they burn bridges early in a situation where other options are available, that can be the final nail in the coffin.
"STEAL" – The Yes Man
This set of players is heavy on All Star level talent and makes up 22% of the "Steals" group. All are
independent-minded
thinkers whose decisions aren't heavily influenced by
personal relationships
or a need to "fit in". They are
private
people who tend to keep a low-profile by showing an outwardly
relaxed
attitude while carefully managing their public image.
However, they are also
threat-sensitive
and far more
accommodating
to the demands of others, which reinforce their motivation to avoid rocking the boat. They also have higher
anxiety
and are more emotionally reactive, constantly reviewing their own decisions.
Translation:
The Yes Man makes up for their lack of "team mentality" with an overabundance of fear and a healthy degree of flexibility. They don't challenge authority or seek control, choosing the path of least resistance to satisfy their needs. Their desire to maintain their independence and avoid scrutiny helps them to remain self-aware and to moderate their actions in order to fit in. They find success in situations where the organization knows what it's trying to build and understands how they fit into the puzzle. This allows them to keep their heads down and stick with the program as they observe and adjust to a more predictable developmental plan.
THE "TERMINATOR" vs THE "UNIVERSAL SOLDIER"
"BUST" – The Terminator
This set of players is robotic to a fault and make up 19% of all "Busts". The Terminator has a systematic approach,
focusing on the moment
and boiling out
emotion
in order to make objective decisions based heavily on
their own experience
. They are
aggressive
competitors who are
easily agitated
and quick to assert their
authority
, with little regard for consequence.
Many of these qualities would be an asset if it weren't for their short-sighted inability to
question their actions
and understand how they affect the needs of others. Terminators are
detached
and
unsentimental
, unable to sacrifice their own agenda to accommodate the differences and limitations they see around them.
Translation:
The Terminator's path to success is frequently short-circuited by their inability to internalize feedback and make adjustments. They fool themselves into believing that their strong work ethic and competitive drive make them perfectly honed killing machines, with no assembly required. In their mind, their way is absolute and all lesser beings are obsolete. When they find themselves in situations that present challenges, they expect to be given the necessary opportunity to prove themselves. When that opportunity doesn't come, they often convince themselves that change isn't necessary because they weren't given the chance to prove their righteousness in the first place.
"STEAL" – The Universal Soldier
This set of players is full of "best supporting actor" nominees and makes up 24% of the "Steals" group. They are compulsively driven by a strong
respect for authority
, with clear objectives that can be met by
practical
action steps that are well-practiced and
highly familiar
. They are focused on executing strategy, working to get the best out of the tools at their disposal.
Their high
self-discipline
and
impulse control
allows the Universal Soldier to set defined goals and avoid distractions in their pursuit of success. They have good
self-confidence
and are less
reactive
to stress than most players in competitive situations. This allows them to maintain consistency while still playing with an "edge" when the stakes are raised.
Translation:
The Universal Soldier is a classic "lead by example" type. They set the standard for others to follow and can be pretty unforgiving to anyone who fails to live up to their responsibilities. However, they have enough empathy to understand that every soldier may need to be motivated differently. This allows them to adjust tactics to get the whole unit up to snuff. They're pretty reliant on outside instruction, best utilized when receiving orders from the general. They'll do better in situations that give them the high level of responsibility they are looking for within a group that has pretty clearly defined roles for its members because they thrive off of order and certainty.
THE "TRUST FUND BABY" vs THE "RAINMAKER"
"BUST" – The Trust Fund Baby
This set of players is littered with talent that had high accolades in their immediate and long-term past, making up 28% of all "Busts". They are typically pretty likable individuals who are
cool
,
calm
, and
collected
in their interactions with others while showing a genuine interest in building
relationships
.
The Trust Fund Baby runs into trouble when their unflappable belief in themselves and desire to gain influence within the group runs into organizational resistance. Their high
personal expectations
for reaching their objectives are not always filtered through a healthy
respect for authority
. Because of this, they are prone to
seek change
more readily when things don't match their expectations. That same
sentimental
quality that makes them sensitive to others' needs also makes them susceptible to irrational, emotional decision-making when their needs aren't met.
Translation:
Trust Fund Babies simply expect things to work out for them regardless of circumstance. Their track histories of success tend to reinforce their belief in themselves and they are often slow to react to warning signs. Because of this, they tend to overplay their hands and miscalculate the security of their position. Their belief that people should adjust to them, instead of the other way around, often makes them blind to both the opportunities and threats in front of them.
"STEAL" – The Rainmaker
The Rainmaker is made up primarily of upperclassmen that were team leaders in college and quickly gained the attention of their organizations on the next level, making up 35% of "Steals". They get people to believe in them through both their charm and competitive fire. They aren't afraid to
take risks
and actively
seek control
in competitive situations. They are take-charge types who make careful,
calculated
decisions by collecting as much information as possible. They are
conscious of the rules
that govern the team and are
conservative
when it comes to picking their spots and challenging that authority.
Rainmakers are good at getting what they want because they spend so much time trying to understand the needs of those around them. They're fairly
collaborative
enjoying the process of working with the group to solve problems. Rainmaker's gain influence through this process based on a genuine interest in building strong personal
relationships
and are more prone to allow
emotional sentiment
to influence their decisions. So, when a Rainmaker makes his move, he's typically holding all the right cards.
Translation:
The Rainmaker gets what he wants by figuring out what other people want and then working his agenda into theirs. There is often trial and error in this process early on, as they learn how to hone their skills. This could explain why so many of them were "later bloomers" who were sometimes criticized for being "BS artists" earlier in their developmental process. The Rainmaker is definitely a manipulator of situations, but most often with a genuine interest in seeing all parties get what they want. They thrive best in situations where there is immediate opportunity to start working their way up the food chain.
METHODOLOGY
Personality Traits:
standardized personality assessment data that measures specific personality traits based on percentile rank relative to the normal distribution found in the US population. If you were ever graded on a curve, you understand this. (ex. 95th percentile = score higher than 95% of the US population).
Behavioral Types:
Twenty-Nine descriptive groups, organized by category - Team Identity(TI), Internal Motivation(IM), Dominance(DM), Mental Toughness(MT), and Awareness(AW) - determined by cluster analysis on 800+ draft participants over the past eight years.
Situation:
Twelve descriptive groups, organized by category – Individual Story(IS), Team Environment(TE), Anticipated Role(AR), and Opportunity Given(OG). These groups are based on formulas created using both team and individual player performance data points.
The categories and their descriptions are purposefully vague to protect the proprietary nature of the formulas – business before science, it seems. Be that as it may, their structure and the subsequent findings are meant to provoke thought. So our interest in process trumps panic in the search for truth.
RESULTS OF PERSONLITY ASSESSMENT DATA FOR SAMPLE
Comparison Group One: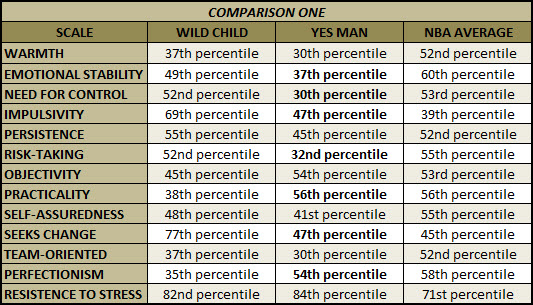 "BUST" – The Wild Child
Behavioral Type Classification:
INTERNAL MOTIVATION: Uncontrolled/Non-conformingDOMINANCE: Competitive/CreativeAWARENESS: Intuitive/Instinctive
Situation Type Classification:
TEAM ENVIORNMENT: Group Cohesion/LowOPPORTUNITY GIVEN: Role Responsibility/Low
"STEAL" – The Yes Man
Behavioral Type Classification:
TEAM IDENTITY: Guarded/CalculatingINTERNAL MOTIVATION: Open/EngagedAWARENESS: Unbiased/Objective
Situation Type Classification:
TEAM ENVIRONMENT: Organizational Direction/HighOPPORTUNITY GIVEN: Development Structure/High
Comparison Group Two:
"BUST" – The TerminatorBehavioral Type Classification:
TEAM IDENTITY: Guarded/Calculating
INTERNAL MOTIVATION: Serious/DisciplinedDOMINANCE: Bold/Combative
Situation Type Classification:
INDIVIDUL STORY: Background History/HighANTICIPATED ROLE: Perceived Talent/HighOPPORTUNITY GIVEN: Workload Volume/Low
"STEAL" – The Universal SoldierBehavioral Type Classification:
INTERNAL MOTIVATION: Dutiful/CompulsiveDOMINANCE: Obedient/Conservative
Situation Type Classification:
OPPORTUNITY GIVEN: Role Responsibility/HighTEAM ENVIRONMENT: Group Cohesion/High
Comparison Group Three: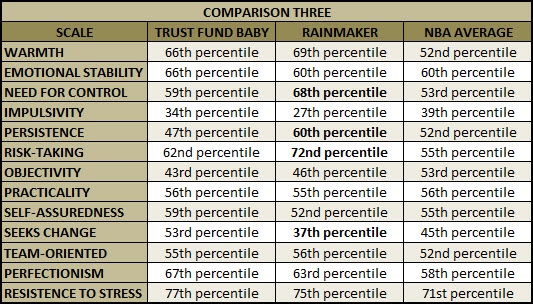 "BUST" – The Trust Fund BabyBehavioral Type Classification:
INTERNAL MOTIVATION: Open/EngagedDOMINANCE: Competitive/CreativeAWARENESS: Intuitive/Instinctive
Situation Type Classification:
INDIVIDUAL STORY: Background History/HighANTICIPATED ROLE: Perceived Talent/High
"STEAL" – The Rainmaker
Behavioral Type Classification:
DOMINANCE: Bold/CombativeMENTAL TOUGHNESS: Composed/PoisedAWARENESS: Intuitive/Instinctive
Situation Type Classification:
INDIVIDUAL SITUATION: Background History/HighANTICIPATED ROLE: Developmental Readiness/High