Deviating from the normal scouting approach to the draft, we take a step back to analyze how this year's class and those before it fit together demographically.
After a few years off, we've recompiled our data to do another analysis of how the NBA draft looks on broad level hisorically. We performed a
similar analysis in 2006
and a more in depth summary
a little under two years ago
. After taking some time to refine our data and let the NBA age limit begin to settle in, we've decided that its time to take another stab at identifying some underlying trends that could have some bearing on this draft and those in the future.
First Round Breakdown by Position and Class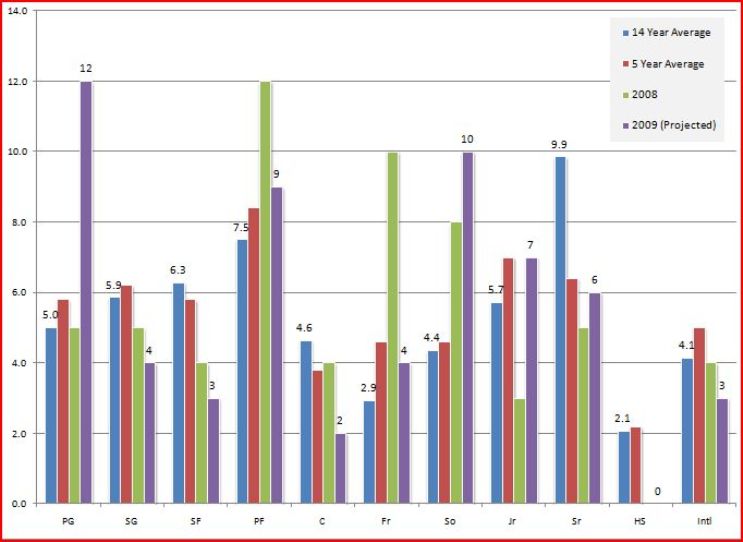 Four numbers are listed for each category, starting with the 14-year average (blue) on the left and finishing with DX's 2009 projected total on the right (purple). In between are the 5-year average (red) and last year's total (green)
While the chart above is a bit tougher to follow than the others we'll look it, it offers a lot of historical perspective on the this and last season's drafts. The 2009 draft is one of the deepest we've ever seen at the point guard position, with 12 players currently slated to receive a guaranteed contract based on our most recent projections. Last years freshman class can be held in a similar regard, producing an incredible number of first round draft picks in comparison to the 14-year and 5-year standards. The age limit was an obvious factor in that class, and has increased the number of underclassmen declaring for the draft on the whole. The numbers also suggest the importance of the power forward position on the NBA level, perhaps speaking to the growing number of roles and versatility required at the position.
Point Guards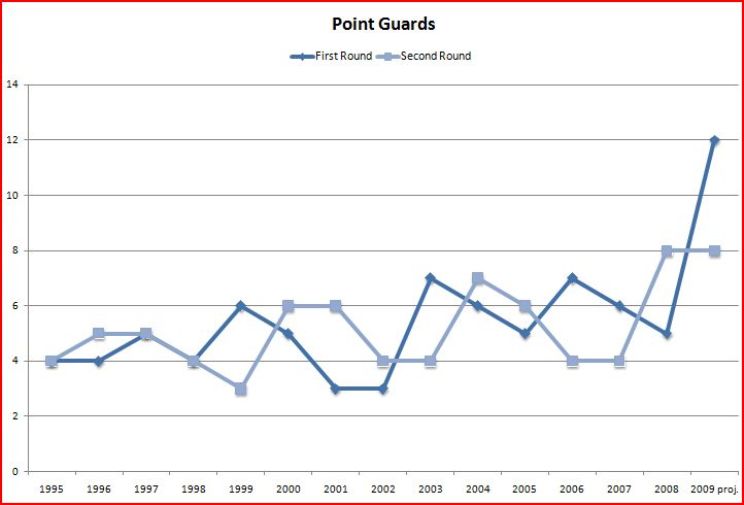 Easily the deepest position in this year's draft, it seems pretty clear that this will be the best opportunity to pick up a young point guard that NBA teams have come across in quite a while. While that speaks to the quality of the prospects available to some extent, its also a representation of the relatively weak crop of players available at other positions.
This may also reflect a change in perception in the NBA regarding what a "real" point guard is these days, as we're increasingly seeing combo guard types find real success as a team's primary ball-handler.
Our mock draft has no less than 20 point guards hearing their names called on draft day, and though its entirely possible a few slip out of the draft in the coming weeks, this draft should still include the most point guards in recent history.
Shooting Guards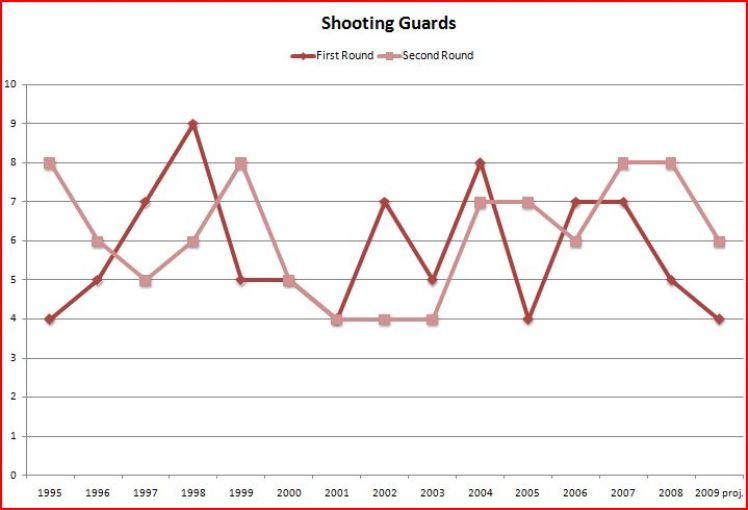 This year's shooting guard crop isn't the best we've seen, and while we project it to coincide with some of the weaker classes of the last 14 years, that could be a bit misleading. This year's class includes quite a few players that spent time at the two in college, but may be too small or be better suited for a different position, leaving the likes of James Harden, Gerald Henderson, and Marcus Thornton to hold down the fort. Teams aren't as scared as they once were at running a 6-2 shoot first/dominant ball-handling type at the point as they once were, which has blurred the lines somewhat between positions, causing us to more aptly distinguish perimeter players as being either "lead guards" or pure "wings."
Small Forwards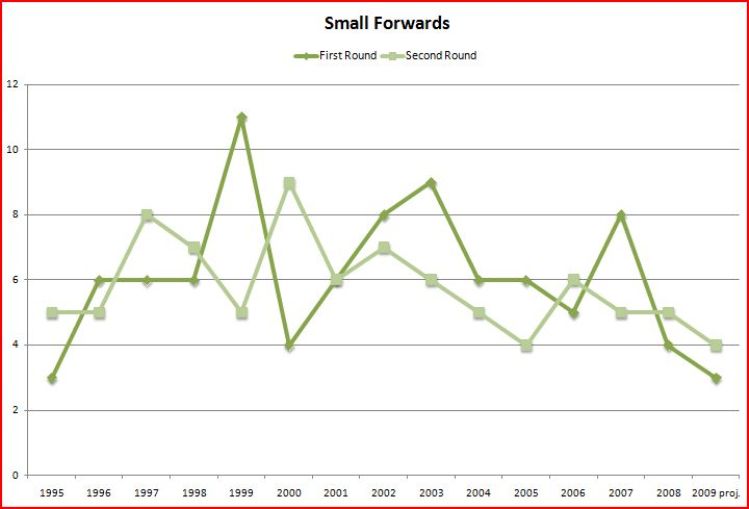 Much like their counterparts at the off guard position, this group of small forwards doesn't offer much depth either. As we saw in the first chart, the importance of the power forward position has led some players who would be considered small forward to fit better as a face up fours and less-traditional, perimeter-oriented big men. We're increasingly seeing players such as Thaddeus Young, Marvin Williams, Lamar Odom and Rashard Lewis find more success at the hybrid power forward spot, which may bode well for the likes of James Johnson, Earl Clark and Jonas Jerebko. Regardless of the causes, this wing class leaves a lot to be desired.
Power Forwards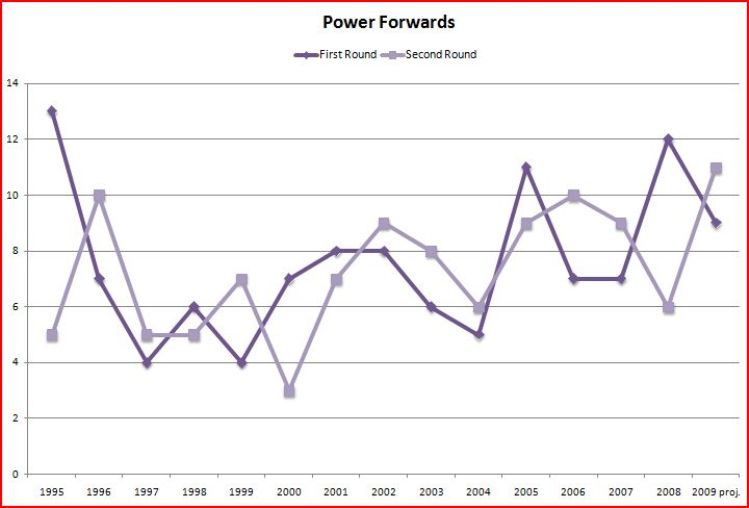 In addition the the point guard position, this years group of power forwards is the deepest and most intriguing. Headlined by Blake Griffin, this class fits in well historically in terms of shear numbers, with as many as 20 players hearing their names called on draft night. It isn't hard to see why when you consider the versatility this group offers, featuring high-post options like Earl Clark, an elite rebounder like Jordan Hill, face-up players like James Johnson, productive bruisers like DeJuan Blair and Tyler Hansbrough, international entrants like Milan Macvan, and potential role-players like Jeff Pendergraph. While it isn't immediately apparent in the numbers, a closer look makes it pretty clear that the power forward position has grown in its applications on the floor over time.
Centers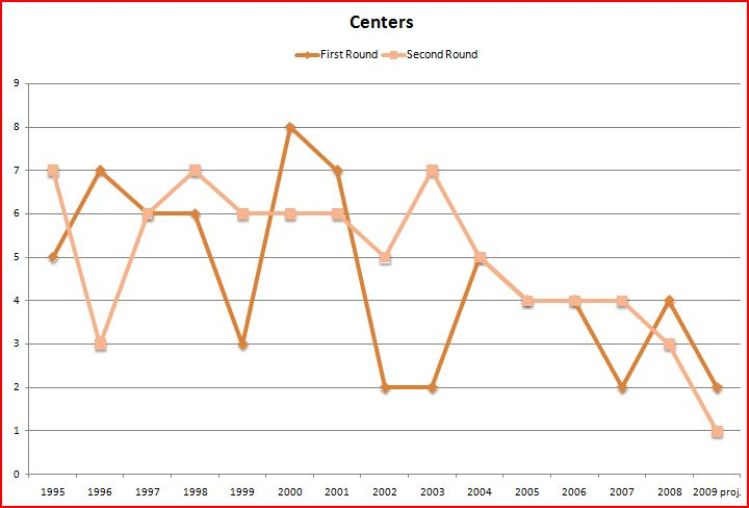 The much maligned 2009 center crop represents something of a downward trend in the quality of big men we've seen available in the past few seasons. Though B.J. Mullens and Hasheem Thabeet tie the class for the least number of projected first rounders with a few past seasons, the issues with this class lies in its depth. The only pure center we have projected to go in the second round is the huge, but very raw, Slava Kravstov from BC Kyiv. By no means a lock to be drafted, Josh Heytvelt is the only other potential center we project in the second round, but his outside shooting ability makes him more multi-positional than his peers. Each year there are always a few picks late in the draft that surprise fans and scouts alike. It seems reasonable for those picks to be used on centers since its hard to see merely three centers hearing their names called on draft day. That could bode well for the likes of Luke Nevill and Goran Suton.
Overall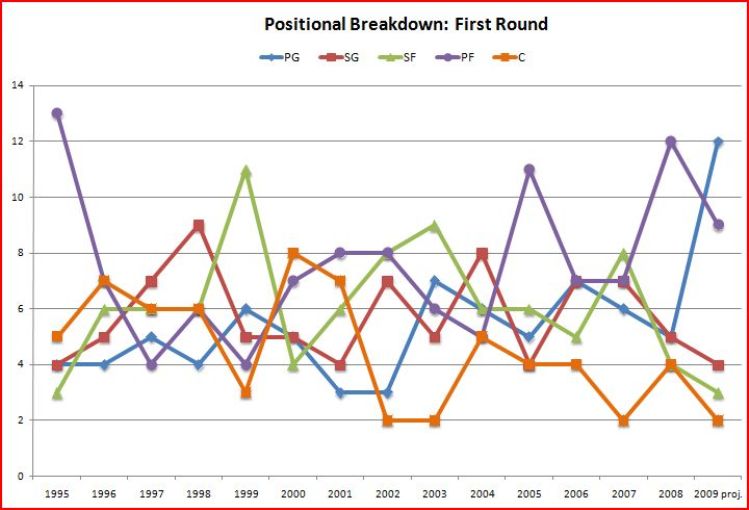 By no means does this graph offer much clarity, but it does show how heavy this and last year's drafts are at certain positions.
Freshman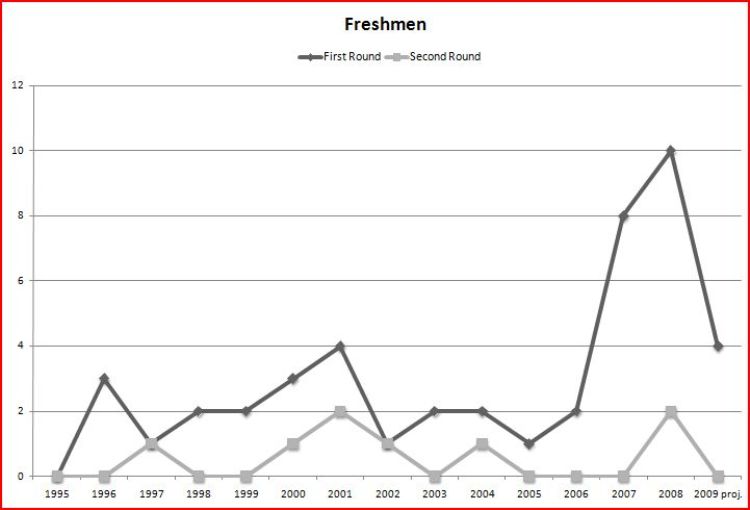 This season's crop of freshman had zero chance of living up to the standards set last season and even the season before it. A substantially weaker recruiting class, we can how the age limit his impacted the draft -placing this years class right at the pre-age limit record despite its shortcomings. With an abnormal amount of freshman warranting high draft slots in the past two years, this class had little chance to measure up. The question now is--are we going to go back to seeing 8-10 freshmen drafted in the first round in coming years? Or is this year's crop of four "one and done" players a more reasonable expectation?
Sophomores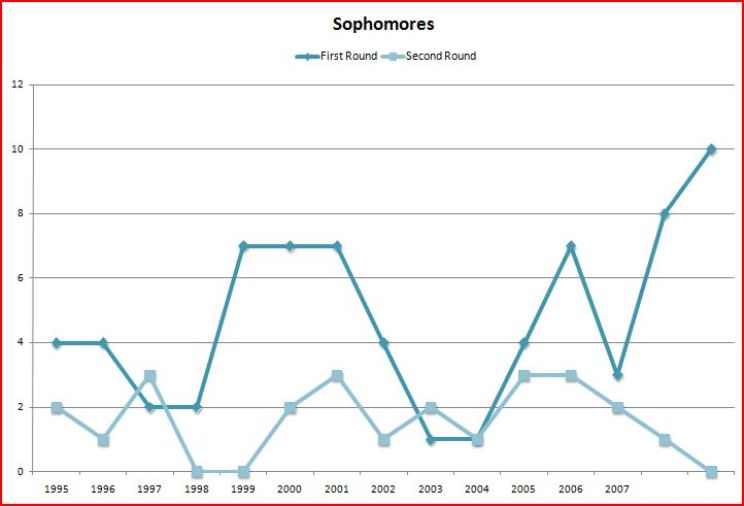 Easily the most impressive story of our investigation, the high school class of 2007 is projected to leave its mark on another draft. After putting 10 players in the first round last season, we have 10 tabbed in the first 30 picks again this season. As far as we're concerned, the
high school class of 2007
is a gift that just keeps giving and giving. Take into consideration that the likes of Cole Aldrich, Evan Turner, Patrick Patterson, Craig Brackins, and Kyle Singler all returned to school, and you have to wonder how many NBA players this class will produce when its all said and done. It couldn't have come at a better time
if you consider how some of classes before it have fared by comparison
. When it's all said and done, will the class of 2007 end up surpassing the
incredible class of 2004
, widely considered the deepest ever?
Juniors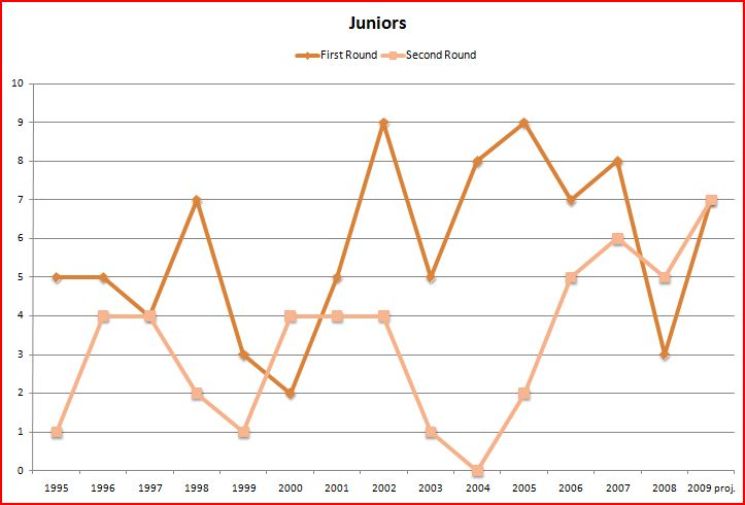 One of the strong groups this season, this class doesn't project to have as many first round picks as some past classes, but it offers a lot of depth in the second round. Featuring a dearth of players from perennial powerhouses, while some of the players projected to land in the second round are testing the waters, they are part of an upward trend that has more and more players leaving school early. The economic allure of the European game plays some role in this, but we feel that the turnover experienced at big college programs plays a role as well. With the recent one-and-done trend, teams that were competitive one season, fall out of contention in the next. Juniors are the group that likely puts the most stock in what they can accomplish if they return to school, and the instability the early-entries cause will cause many of them to explore other options.
Seniors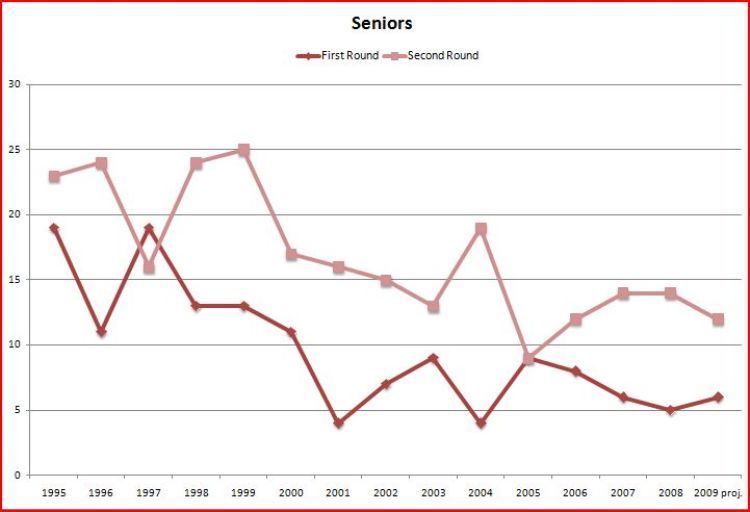 The four-year player is edging closer to becoming an endangered species in the NBA draft landscape. Note the range on the independent axis on this chart, since it tells the whole story. At one point in time, seniors routinely accounted for nearly two-thirds of the picks in the entire draft. This season, we project that they'll account for no more than one-third. Still one of the most frequently tabbed groups in the second round, it seems probable that the decline of seniors has reached its in, since the sheer number of player made automatically eligible by graduation generate numerous picks. However, there is no question that the era of underclassmen controlling the draft landscape is in full effect.
International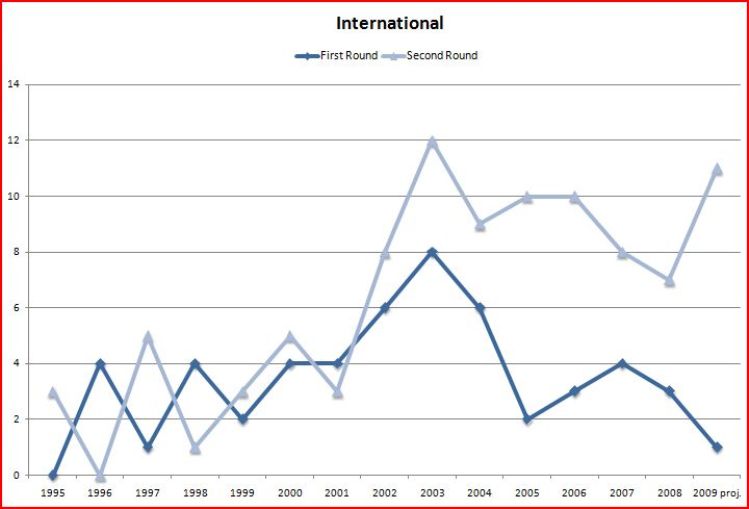 Much like the four-year college player, international prospects have seen their first round numbers decline significantly over the past six years. After the trend of drafting raw and unproven European players became a common practice in the early 2000's, this fad seemed to reach its peak in 2003. It would be convenient to blame Darko Milicic for the decline, but the likely culprit is the increased availability and exposure international players now receive. Whereas scouts used to rely on trips to Europe and a handful of videos to observe low-level European prospects, most have access to every game played in the top countries at the click of a button. While the struggles of some international players necessitated more thorough analysis, the tools are now in place to take such steps easily.
From our vantage point, it's become increasingly clear that the NBA is now most interested in European players who have proven themselves at the highest level of competition--see Danilo Gallinari, Rudy Fernandez and Marco Belinelli most recently, and the likes of Ricky Rubio, Omri Casspi, Jonas Jerebko and Sergio Llull in 2009.
Another obvious trend in this group is the increasing popularity of the draft and stash tactic. Our chart shows the increased number of international players draft in the second round, but it doesn't account for the NCAA players drafted for the purpose of stashing them in Europe--such as Deron Washington, James Gist and Trent Plaisted just last year.
There are all kinds of advantages to picking a college player and letting him gain extra seasoning in Europe without having to commit a guaranteed roster spot, and we expect this trend to continue to become more popular, particularly amongst teams with multiple second round picks. We've seen some teams--such as the San Antonio Spurs for example--be very proactive in keeping track of the development of their "stashed assets" in Europe for example.
In some regards, Josh Childress' decision to play overseas opened the eyes of many players who may not have been as open to the prospects of going over to Europe after being draft in the past.
The financial ramifications play a two-fold role in that trend as well. Teams in economic trouble can relieve potential costs by drafting players with no intention of bring them on board in the short-term. The recession has made such a move very attractive in certain situations. However, this is a two-way street. We saw a situation last year, where Nikola Pekovic, an NBA ready center, was drafted in the second round due to the fact that the salary scale in the late first round couldn't compete with his financial options overseas. Those situations obviously have a bearing on whether or not a team can draft an international player as we saw with Pekovic, and are seeing with Ricky Rubio's potential buyout issues.
With players like Brandon Jennings and Jeremy Tyler making this situation all the more interesting, there is no question that the international contingent entering the NBA draft will remain one of the more volatile over time.
First Round Picks by Class Year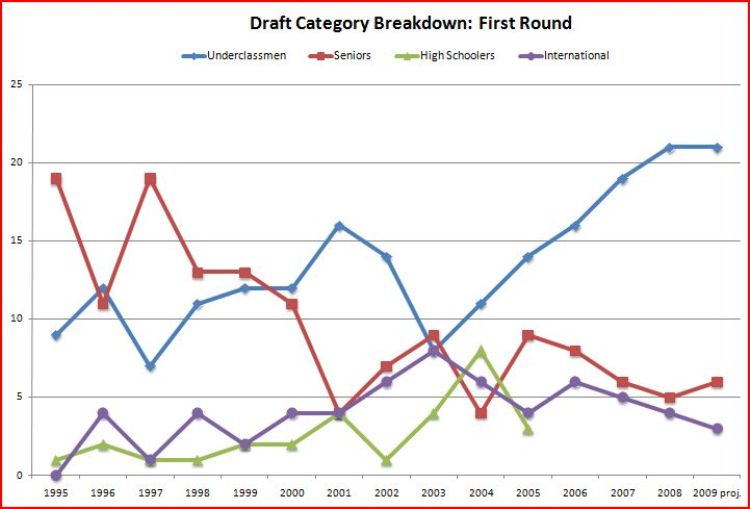 This graph sheds some light on the underclassman phenomena that started growing even before the NBA instituted an age limit. The general youth movement seems to be in full effect, which makes each CBA debate worth keeping an eye on for draft fans, since stakeholders in this process will be jockeying for changes to the age limit every chance they get.