Scouting Report by Jonathan Givony. Video analysis by Mike Schmitz
Not as heralded as some of his counterparts in the 2014 high school class, D'Angelo Russell nevertheless emerged as one of the best players in college basketball as a freshman. He was named a first team All-Big Ten player as well as freshman of the year, and led Ohio State to the Round of 32 in the NCAA Tournament, where they fell to #2 seed Arizona.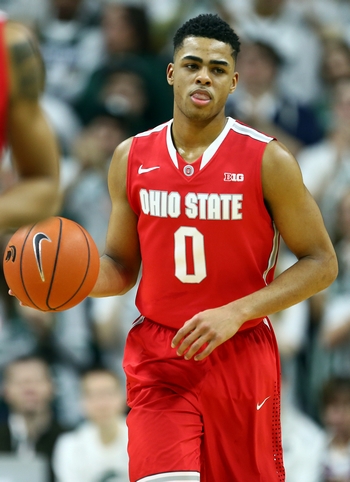 Russell is not your typical uber-athletic, high-flying one and done lottery pick, relying much more on skill, feel and instincts than most freshmen. He has great size for the point guard position at 6-5, with solid length and a good frame that should fill out in time. His size, combined with his shooting ability and basketball IQ, gives him (and the coaching staff that will eventually utilize him) intriguing versatility, as he can be paired with many different styles of guards and wing players, allowing his team to take advantage of all kinds of mismatches and get very creative with the lineups and play-calls they throw out.
(Video may not load with Internet Explorer. Use Chrome or Firefox)
Russell is already an advanced offensive player despite only turning 19 at the end of his freshman season, scoring an impressive 22 points per-40 minutes pace-adjusted, on solid efficiency (58% TS%). He was a much better shooter than he was billed as coming into college, hitting an outstanding 41% of his 3-pointers on the season despite being the focal point of every defense he went up against.
While very capable with his feet set (39% FG%, 1.11 points per possession), he's especially impressive with his ability to make shots off the dribble, hitting 44% of his shots in those situations, good for 1.04 points per possession, which ranks second among all college basketball players according to Synergy Sports Technology.
Russell is extremely difficult to contain in pick and roll situations for this reason, as he has an elite ability to operate at different speeds, utilize smooth hesitation moves, and take what the defense gives him. His passing ability is arguably his best attribute at the moment, as he sees the floor wonderfully at 6-5 and shows incredible creativity and skill for a player his age, constantly probing the defense and whipping balls all over the floor with utmost confidence.
He's extremely unselfish, not afraid to throw the ball ahead in transition to ignite the offense, even if he won't get credited with an assist. He often sees plays developing before they actually materialize in the half-court, and will move the ball calmly and quickly in the flow of the offense, getting his team an easy quick-hitting basket before the defense can react.
Russell's size and length allows him to contribute as a rebounder from the guard position (6.5 rebounds per-40, second best among Top-100 prospects), and also gives him the potential to develop into a better defender in time. He has a very laid-back demeanor on this end of the floor, but his instincts and anticipation skills should allow him to improve here despite the fact that he does not have great lateral quickness. Russell struggled badly early in the season on this end of the floor and likely will do the same in the NBA initially, and it's hard to see him ever developing into a lock-down type down the road.
(Video may not load with Internet Explorer. Use Chrome or Firefox)
While Russell is incredibly smooth, his lack of freakish explosiveness in terms of his pure first step and ability to elevate around the basket could make for an adjustment period in the NBA as he transitions to playing against bigger, longer and more athletic competition. Russell's splits against the best teams Ohio State faced this season (especially his mediocre 43% 2P% against BCS teams at or over .500) reveals how much he struggled at times against defenses that were familiar with his strengths and weaknesses and had a specific game plan for slowing him down. With that said, the lack of alternative scoring options on the Buckeyes roster surely played into that as well.

For that reason, Russell might not project as a player that can carry an NBA offense from day one like some of the worst teams in the league drafting in the top five probably hope. He'll need the right type of players around him, but thankfully he possesses the type of complementary skills (passing, shooting, positional versatility) required to help facilitate that. He'll have to continue to improve his frame and do a better job of taking hits around the basket and finishing through contact, particularly with his off-hand, which he tends to avoid like the plague.
Russell is clearly a special talent who looks hard-wired for success mentally, which should give NBA teams plenty of confidence in his ability to develop into an outstanding player down the road.