We kick off a new series evaluating the names of underclassmen who have decided to make themselves eligible for this year's NBA draft, starting with N.C. State's
J.J. Hickson
and Missouri's
Leo Lyons
. Are they making the right decision? Will they be returning to school? Here's our take.
J.J. Hickson
Vitals:
Size: 6-9 (possibly 6-8)
Weight: 242
Age: 19 years old
Class: Freshman
Team: N.C. State (15-16)
NBA Position: Power Forward
Stats:
14.8 points, 8.5 rebounds, 1.5 blocks, 1 assist, 2.7 turnovers, 59% FG, 29 minutes
In Short:
Aggressive, long, athletic freshman power forward who likes to play and scores mostly inside, and isn't afraid of contact. Rebounds well. Doesn't possess a great skill level or feel for the game, and is a poor passer and average defender, but is very good at what he excels at has excellent tools to continue to improve as he is only a freshman. Needs time to develop, but is a big talent.
Chances of returning to school:
5%. N.C. State has been a mess this year, underachieving badly in conference play (finishing dead last in the ACC), and struggling with chemistry issues right from the get-go according to many reports. Hickson's emergence, demanding plenty of touches in the paint while rarely kicking the ball back out, didn't seem to sit too well with the rest of their talented frontcourt.
We were told by his people before the season already that he's highly unlikely to return to school, and NBA teams were surely informed of the same. Although he will play it safe for now and not hire an agent, if Hickson hears he's a first rounder, then he's likely gone. Whether or not he's making the right choice remains to be seen, as he would clearly have been better suited working on his very correctable flaws (perimeter skills, defense, passing ability/team play) in college rather than hoping his new NBA team will be patient enough to stick with him until he's ready to contribute, which may not be for a while. On the other hand, with very little hope in sight for N.C. State in terms of their guard play coming in next season, there is no guarantee that his situation would be any better a year from now.
Early Projection:
15-30
Source:
N.C. State's Hickson to enter name in draft
---
Leo Lyons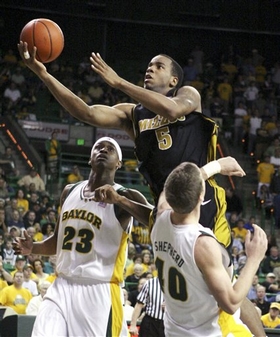 Vitals:
Size: 6-9
Weight: 225
Age: 20 years old
Class: Junior
Team: Missouri (16-16)
NBA Position: Power Forward
Stats:
13.1 points, 5.7 rebounds, .7 blocks, 1.6 assists, 1.7 turnovers, 58% FG, 22 minutes
In Short:
Smooth, versatile power forward with a very high skill level facing the basket. Shoots a terrific percentage from the field and is the
11th best PF scorer in our database
on a per-40 minute basis. Can create his own shot, hit mid-range jumpers, and is an excellent passer. Very far from being a complete player at this point—lacks strength, struggles with mental lapses and severe inconsistency, doesn't always play hard, and is a very poor rebounder and defender. Largely an unknown.
Chances of returning to school:
90%. Is obviously testing the waters to get his name out in NBA circles, like a sea of other juniors will do, since they have nothing to lose. Will likely participate in the NBA Pre-Draft Camp if invited. Lyons was in Coach Mike Anderson's dog house off and on, as he wasn't willing to give the same effort defensively that he did on the offensive end, but at the end of the day, he will likely make the smart decision to return for his senior season, where he could be an interesting player to keep an eye on if the light bulb comes on.
Missouri suffered through a tumultuous season, plagued by injuries and off-court issues, finishing 10th in the Big 12, and they will both need him back next year and will be relying on him heavily for production, meaning he has a great opportunity in front of him if he decides to return.
Early Projection:
Late 2nd round to undrafted
Source:
Still not official, but sources within the Missouri program have told us as much. Media reports seem to indicate the same.